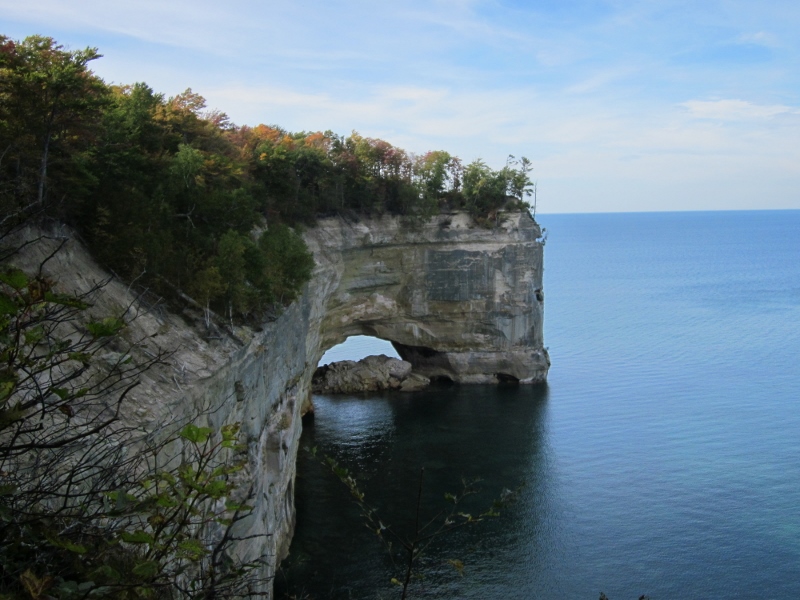 Grand Portal along Pictured Rocks National Lakeshore
Backpacking Pictured Rocks National Lakeshore, September 20-27, 2014
We had the pleasure of having Craig and Lora join us again this year for a backpacking trip. Our destination this time was Pictured Rocks National Lakeshore in Michigan's beautiful Upper Peninsula. Kathy and I had previously day-hiked some of the trails in the park, but this time our goal was to backpack the entire 42 miles of the Lakeshore Trail from Grand Marais to Munising.
Craig and I did some preliminary planning during the family gathering in Wisconsin this summer. I sent in an application for trail permits with three options for our choice of campsites; the park service granted us our first choice. The next step was to arrange transportation from Munising Falls trailhead, where we would leave the truck, to Sable Falls, where we would start on the trail. Tom Funke, author of 50 Hikes in Michigan's Upper Peninsula and owner of Trailspotters of Michigan, proved to be quite responsive to my emailed questions. I ultimately reserved transportation with him for our party of four intrepid hikers. Kathy handled hotel reservations for the nights prior to and immediately following our hike.
The one factor I couldn't control, but which concerned me greatly given the cool wet summer we've had, was the weather. As we drove north on Sunday, the rain and cold wind did nothing to soothe my concerns, but when we awoke on Monday, the sky had cleared, and beautiful weather would prevail for the duration of our trip. Temperatures in the 60's during the day and high 40's to low 50's at night made for perfect backpacking weather. Lake Superior proved to be unseasonably calm, bringing Craig to question our stories of how vicious she could be.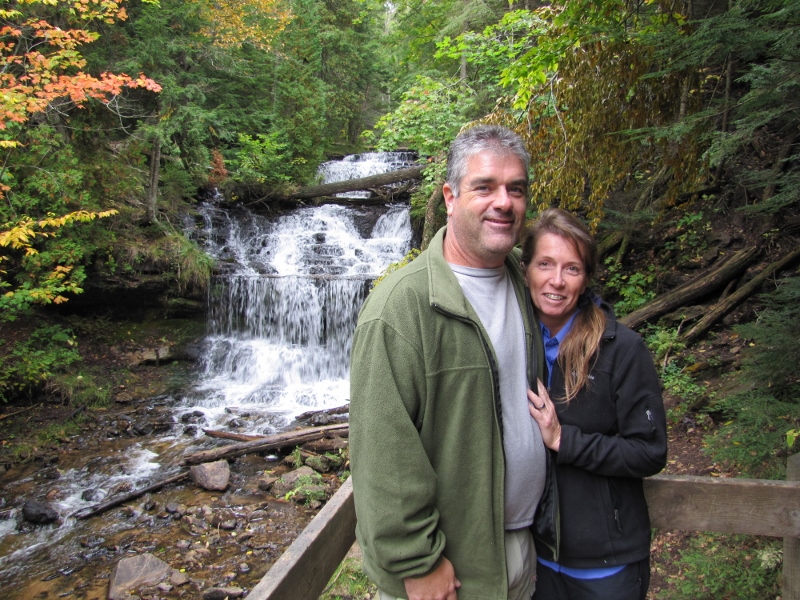 Craig and Lora at Wagner Falls
We spent Sunday afternoon getting moved into our room at the Terrace Hotel and visiting some of the local falls where we stretched our limbs on the short trails.
The Park Service building was open Sunday evening, so we were able to pick up our permits. That made for a more relaxed Monday morning, and we took advantage of it by tanking up on a huge breakfast at Sydney's in Munising. Tom met us at the Munising Falls trailhead and delivered us to our starting point, imparting an enormous volume of information in the relatively short hour-long drive. I had ordered a detailed map of the trail from him, but they were on back order, so we were to stop by the Grand Sable Visitor's Center a mile along the trail to pick up one, if they had it (they didn't).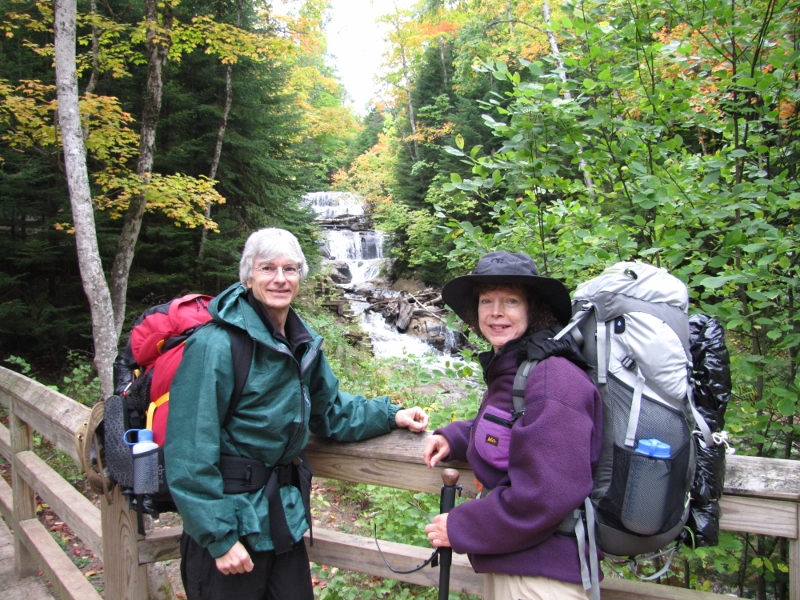 Steve and Kathy at Sable Falls
We headed out on the trail after viewing and photographing Sable Falls. The trail led us across fields then woods, and past Grand Sable Lake before returning to the Lake Superior shore on top of a high overlook called Log Slide. There, lumbermen would slide logs down the steep Grand Sable Dunes to Lake Superior, where they would be loaded on ships for transport. From there on, the view back along Grand Sable Dunes was beautiful. Looking the other way, we could see the Au Sable lighthouse sitting less than a mile from where we would camp that evening.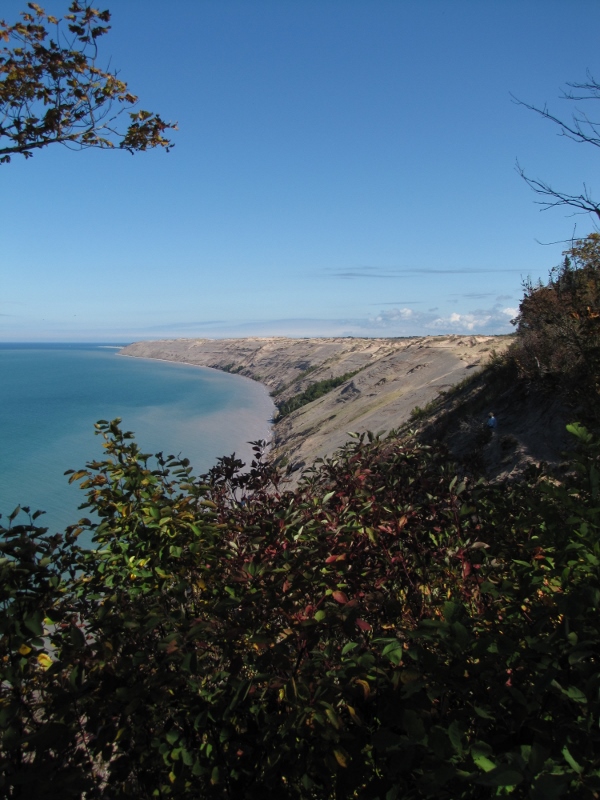 Looking back at Grand Sable Dunes. We started way down there, at the end.
Au Sable Point East, our campground for the first night had several sites from which to choose, and we were the only inhabitants (well, there were some very persistent Chipmunks). Once we had camp set up, we took a short walk to the lighthouse to walk around the grounds. Back at camp, Craig and Lora prepared a fine campfire, while Kathy and I gathered some very cold water from Superior. Fortunately, the beach was rocky, so the water was clear and easy to gather. After dinner, we enjoyed drinks and stories around the fire as the stars began to fill the sky.
Ship wreck remains at Au Sable Point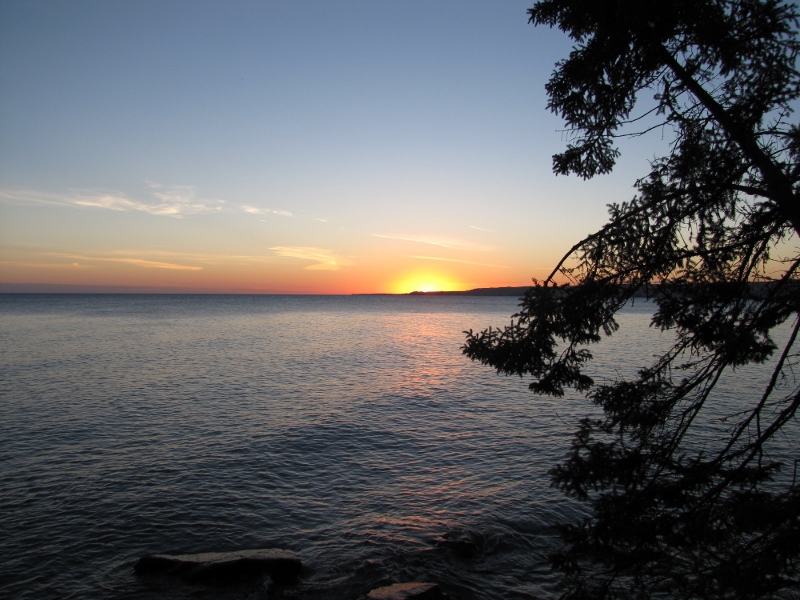 Kathy got up early and caught the sunrise from our first campsite.
The next morning we headed back to the lighthouse to descend down to the cobblestone beach. After a short distance, we came upon the remains of two old shipwrecks along the shore. We rejoined the trail which led to Twelve-mile campground, at the beginning of Twelve-mile beach. We walked the beach most of the way to our second campsite, Pine Bluff. Along the way, we forded Hurricane River, giving us an opportunity to cool our feet a little. The beach walk was nice, but we were pretty hot and tired by the time we were finally able to ascend back up to the trail. Further ahead, we could see the cliffs of of Pictured Rocks, where we would hike the following day. Kathy had developed a couple blisters on the tips of her toes during the beach walk, so she was glad to get off her feet for the day.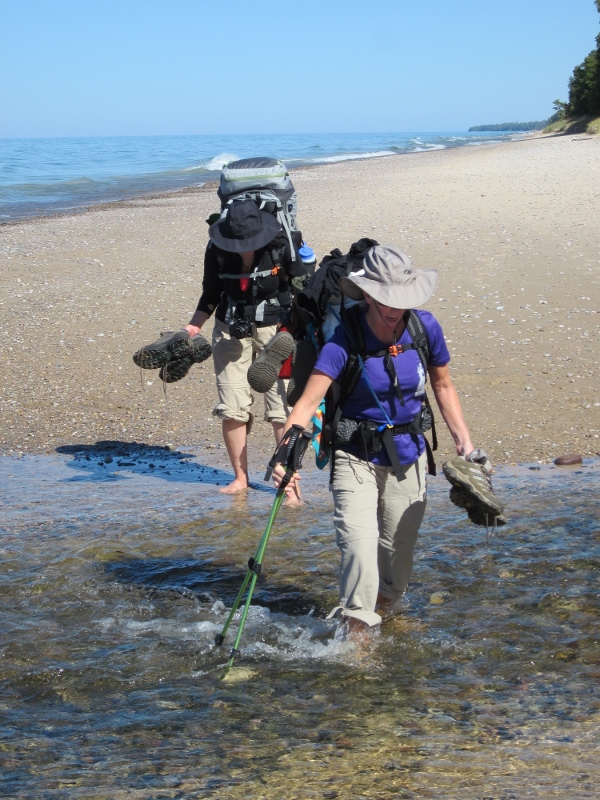 Lora and Kathy crossing Hurricane River
We had Pine Bluff campground to ourselves, too. Water collection was a little more challenging, with the sandy beach forcing me to wade out a bit to get water without so much sand swirling in it. We had another crystal clear, star-studded night under which to enjoy our campfire.
Sunset from Pine Bluff campground
Our third day on the trail would bring us several interesting sights. A huge log jam slowed Beaver Creek as it flowed into Lake Superior. We crossed the quiet water on a log bridge, stopping briefly to chat with a lone canoeist, who seemed to be into Native American spirituality. A couple picturesque coves with surrounding cliffs lent their name to the Coves campsites we passed. Spray Falls was impressive as it plummeted 70 feet to Lake Superior. A little later, we came out on a really weird sand "beach" high atop the cliffs. We stopped at Chapel Rock to take pictures, before descending to Chapel Beach, where we freshened up in the cold Superior water. From there it was another 4.4 miles over Grand Portal to Mosquito River.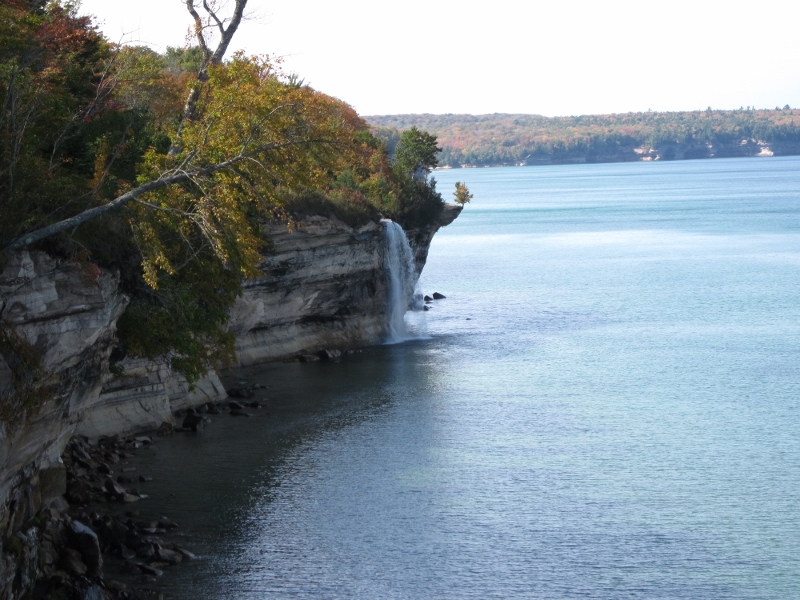 Spray Falls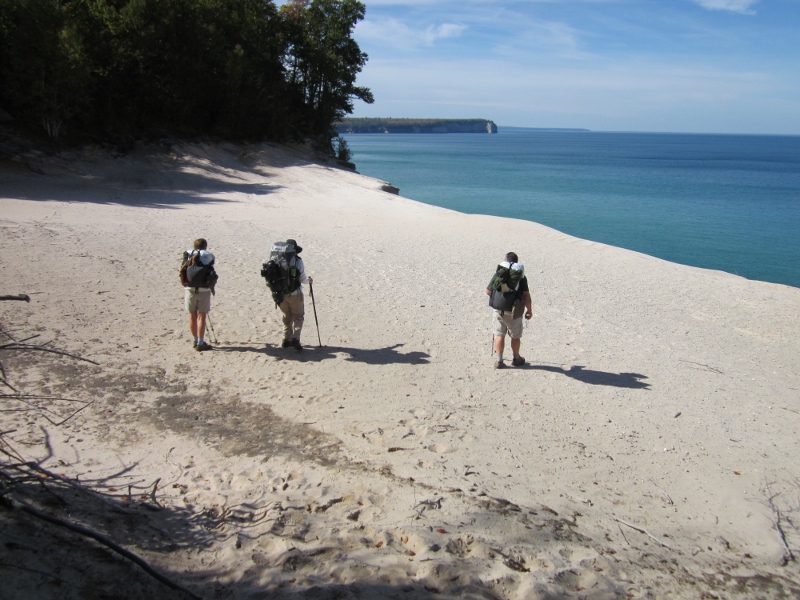 An odd beach sitting high above Lake Superior
As we neared camp, Craig and Lora recognized a couple backpackers heading the opposite direction. This lively couple were fellow Tennessee Trail Association members, and at 80-plus years of age were hiking twice the distance we were covering--impressive!
Mosquito River campground was larger and more spread out than our previous two sites. We settled on a site not too far from the river, where we could get water relatively easily. The bear box there was apparently accessible to mice, so we hung our bags from a branch to protect them. Fires were prohibited here, so we headed to bed shortly after dark.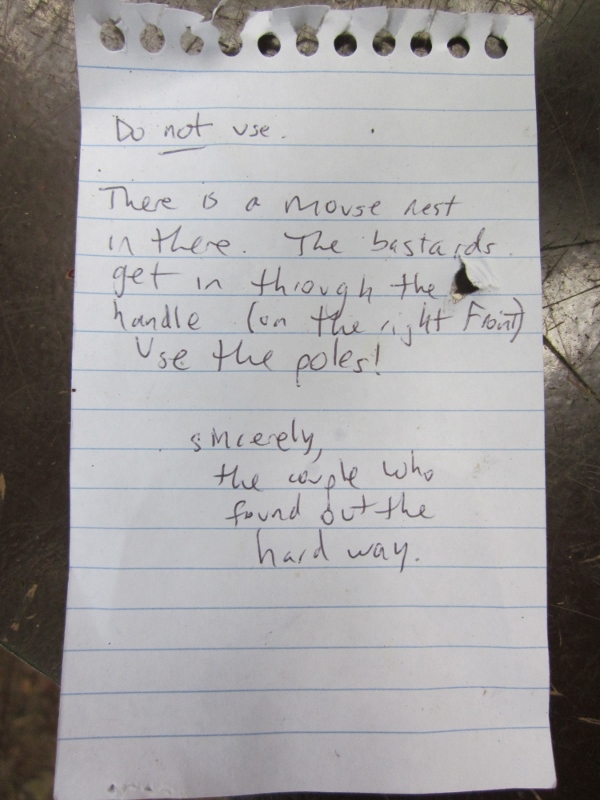 A note left to warn us about the attack mice
Our final day of hiking took us along more cliffs to Miner's Beach, where we took a break and played in the cold water. Then, it was on to Miner's Castle, which was relatively busy with tourists. We saw another eagle here (I had spotted one during the shuttle drive to Sable Falls). The picnic tables made a welcome spot to enjoy lunch before heading on to Munising Falls, where we had left our truck. We had covered 43.5 miles in four beautiful days. During this final day of hiking, Kathy finally solved the mystery of her blisters--she had inadvertently brought an old pair of hiking boots rather than her newer lighter ones (oops)! It was back to Sydney's for a celebration dinner with Margaritas, then off to bed at the Terrace Hotel.
Miner's Castle
Friday, we played tourist and took Craig and Lora to the southern part of the Upper Peninsula to visit the ghost town of Fayette, where we enjoyed a little ice cream at the visitor's center. Then we were off to Indian Lake State Park to set up camp. Once we had secured a place to stay, we visited Kitch-iti-kipi Springs, followed by dinner at Big Spring Inn. Then it was back to camp for a fire before bed.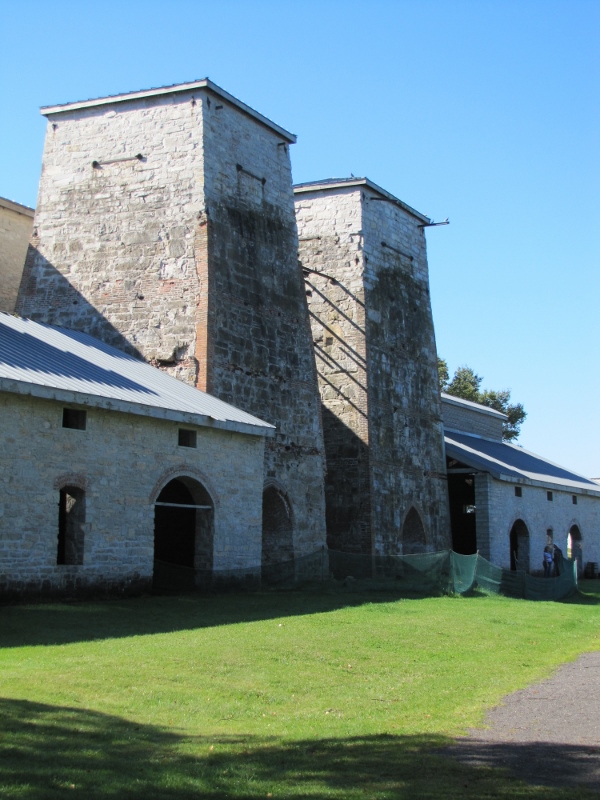 The old furnace complex at Fayette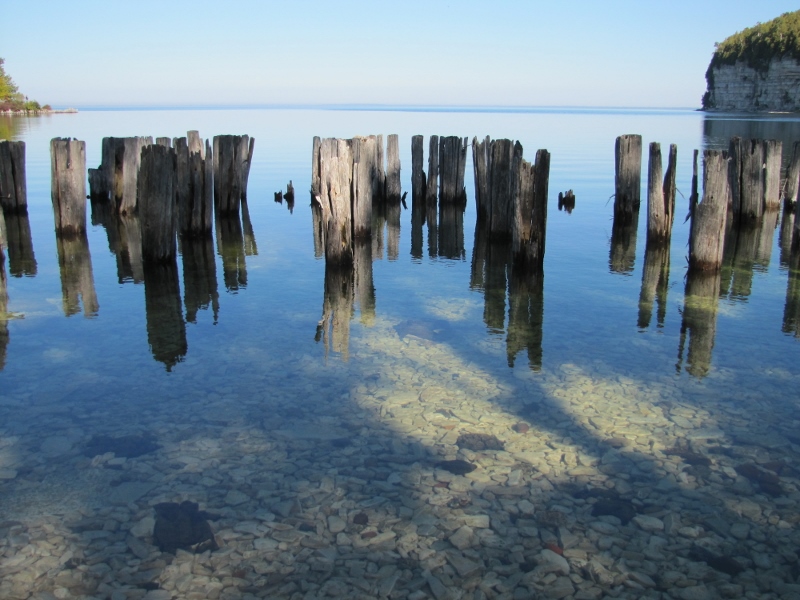 Old pier remains at Fayette
Saturday, we toured Seul Choix Point Lighthouse then stopped in Mackinaw City to walk around, enjoy some more ice cream, then tour the U.S. Coast Guard icebreaker, Mackinaw. Finally we headed home for a late dinner at Betty's place. Craig and Lora would head for home early the next morning. We really enjoyed sharing this adventure with them and were thrilled the weather had been so perfect.