LeConte Lodge, Great Smoky Mountain National Park, 2005
The family's assault on Mount LeConte began as Mom's idea. Last Fall, Craig related to us the previously unknown fact that Mom had been cooking up this idea of the family hiking to LeConte Lodge for quite some time. We promptly delegated the initial planning to Deanna, a task she undertook with graciousness. An Easter weekend expedition was planned. It wasn't until late this winter that we started paying attention to the weather up there, which could be summarized in two words: cold and snow. As Kathy and I left Grand Rapids, the latest news from LeConte was 2 inches of snow on the ground with highs in the low 40's and lows in the low 20's--picnic weather! To add to our anticipation, the weather forecast for the region included thunderstorms for Sunday, with cooling temperatures. The family members gathered at the parental palace in Maryville and the packing began in earnest--packs everywhere. Dan and Dee did a great job of pre-packing plenty of treats for the Easter Bunny to deposit along the trail, which would provide ample rest stops and extra energy for the climb (Dan and I were the Easter Bunny's pack-horses). We gathered around the kitchen table to tune into the latest NOAH weather forecast--a 100% chance of thunderstorms, with gale force winds and hale! The very real possibility began to emerge that we would be canceling the trip.
I awoke at 5:00 the next morning for one more desperate try at the NOAH forecast. Remarkably, it had changed to scattered showers and thunderstorms. The nasty stuff had been dropped from the forecast. After a brief consultation with Dad, we decided to go for it. Jim wisely decided to stay home with Garrett, the weather and trails not being suitable for carrying a youngster along.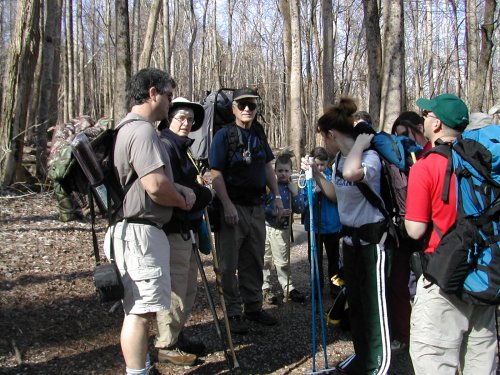 Gathering for the hike. Yes, that is a 3-pound stick of summer sausage Craig is packing (otherwise known as "bear bait")
Two vans packed with people and packs arrived at the trailhead parking lot. After getting everyone outfitted and making minor adjustments on packs, we headed up Rainbow Falls trail (6.5 miles, 3820 foot net elevation change) with the sun shining overhead. A couple of threatening clouds appeared over adjacent peaks, but none succeeded in attacking us. (We would find out later from another hiking group that Zeus was playing over on the other side of the mountain, where they climbed in rain and storms the whole day.) Dan rushed ahead to help the Easter Bunny while I tried my best to slow Adam and Jacob--those two would be at the head of the group for the next two days, forging ahead at full speed.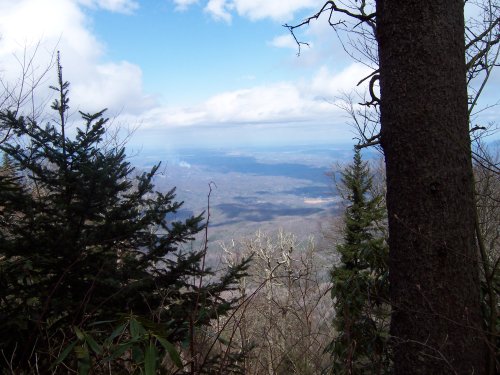 A view from the trail
Rainbow Falls provided an excellent lunch site, with plenty of boulders on which to sprawl out and a nice river from which to refill our water bottles. The temperatures gradually dropped and the winds increased as we gained more altitude after lunch. Arriving at the top of LeConte, we encountered snow and ice on the trail that slowed our progress substantially. The clouds were hanging out at our altitude, and visibility was appreciably decreased.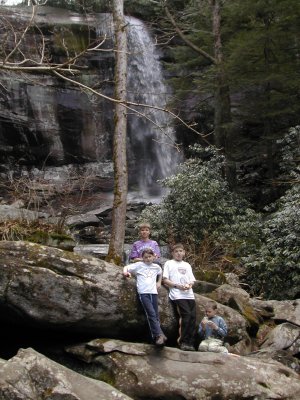 Rainbow Falls
After checking in at the lodge, the friendly staff at LeConte introduced us to our cabins and directed us to the warm water supply for bathing and the dining hall for hot chocolate and coffee. There was no electricity up there; lighting was provided by kerosene lamps. Warm water was collected in a bucket for transport to our cabins. We cleaned up and organized our packs for the evening before heading off to dinner. One thing they do very well at LeConte is feed you. Food is served family style, and even our ravenous crew couldn't finish it off. The lodge provided a convenient gathering place for cards and enjoying the wine we packed in. We celebrated Melissa's birthday with brownies.
By the time we were ready to head for bed, the wind was really whistling, light rain was falling and the fog was so thick that navigating to the restrooms was a little challenging. The winds were clearly gale force by late evening. A late night bathroom break proved to be quite exciting for Mom and Kathy as the wind turned Mom's poncho inside out and wrapped it around her head. Word has it there was more than one moon shining out there. We had quite the laugh after they were safely back in the cabin. Craig and his girls had to lock their cabin window closed with his knife to keep it from banging. One hiker from another group had his window blown completely out.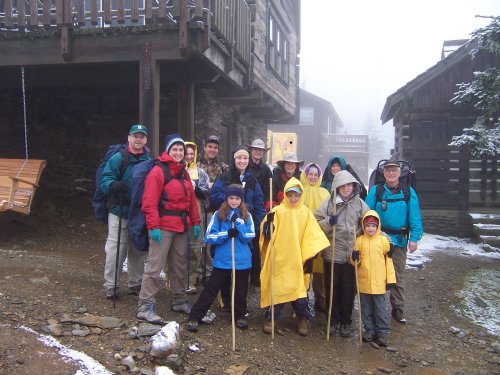 The group ready for descent
By morning the winds had died and a gentle snow was making the scenery even more beautiful. Breakfast was another to-much-to-eat feast. We gathered after breakfast for a brief discussion on safely negotiating slippery downhill trails and headed down Bullhead trail (7.2 miles, 3820 foot net elevation change). Bullhead trail was described in the guide books as a dry trail. Apparently they had never hiked it following snow and rain. Most of the trail was a shallow stream, and we crossed numerous waterfalls. The downhill stretch proved much more popular with the inexperienced hikers' legs than the uphill trek. Deanna entertained us toward the end with her hysterical laughter over some inside jokes. The laughter only intensified after she turned turtle in the middle of a muddy section of the trail, doing a graceful slow-motion roll that I only wish could have been captured on film.
The traditional Scotch toast, some very welcome showers and a pizza party celebrated the conclusion of another successful family gathering.
More pictures of LeConte Lodge are available here