Our Telstar II Trimaran
Why a Telstar?
Our search for the ideal boat came to a conclusion with our new Telstar II trimaran by Performance Cruising. It started with a desire to have a sailboat that was large enough to permit us to stay aboard for a weekend or longer. Sailing our WindRider 17 was a blast, but there was no place to "go indoors" to rest or escape the weather (sun or rain). We learned a lot sailing her, but at the end of the day, we always had to break her down for trailing and head for home (or a hotel). If only we could stay aboard, both our sailing weekends and our sailing range could be extended.
I wanted a boat that could be trailered; that way we could expand our sailing grounds. My preference was for a used boat (for economic reasons, and because I wasn't convinced our first choice would be the right one). Other considerations included the ability to singlehand the boat and seaworthiness in the Great Lakes. From an esthetic point of view, I leaned toward the traditional "salty" look. I did, however, appreciate the speed of our little Windrider trimaran--it was just plain fun!
Kathy was more concerned about not feeling claustrophobic onboard. She also wasn't terribly fond of the heeling motion of monohulls, a fear I hoped she might overcome with experience. Kathy also placed more emphasis on "creature comforts", particularly the placement of the head and the galley accommodations.
Our first shopping experience was the 2008 Strictly Sail show in Chicago. We braved the cold and snow and took the Amtrak train to the Windy City for an extended weekend. One-by-one, Kathy eliminated the smaller boats. The 18-21 foot boats I had scheduled us to see were just too small for her comfort level. Later that Spring, Rob from the Great Lakes Sailboat Company spent a couple days introducing us to the Com-Pac 23 IV sloop and the smaller, but still lovely, Com-Pac Horizon Cat. We spent a lot of time sitting below decks, assessing the comfort factor. Ultimately, Kathy still felt uncomfortable. I was starting to get a little nervous, because these boats represented the upper limits of trailerability.
We had researched the trailerable trimarans, but the prices really put them out of my comfort range. They looked like fun, but most were designed primarily for racing, not cruising. The Telstar was the exception. Dan, of Adrift at Sea, a blog detailing his adventures with his Telstar, Pretty Gee, proved to be an invaluable source of information on the Telstar and its comparison to other trimarans. Unfortunately, it was difficult to view a Telstar in the Great Lakes region, but late in the summer, a used one was advertised in Chicago. It had been moved there from the East coast. We drove down and spent a couple hours crawling around the boat and sitting below decks. Finally, a boat Kathy found comfortable! I think the standing headroom below probably helped a lot. That particular boat had a racing rig, which I didn't really want, but we had confirmed the boat was a fit for both of us.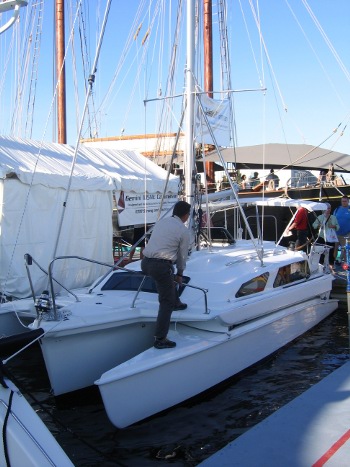 Will demonstrates the folding amas on the Telstar at the Annapolis Sailboat Show
The Annapolis Sailboat Show provided the big opportunity to study both the boat and its manufacturer, Performance Cruising. I was impressed by both. Will Hershfeld was particularly helpful with his patience and thorough understanding of the boat. Several current owners of Telstars also stopped by and added their own helpful comments, including Dan, whom I had previously known only via the Web. Rob, who traveled to the show with me, provided invaluable assistance asking the questions I didn't know enough to ask and guiding me through the buying experience. By the last day of the show, I was sold, and left a down payment before heading out of town.
Getting the boat home
The boat was built over the winter, and, before we knew it, it was time to travel to Annapolis to pick it up. In preparation for the trip, I ordered a set of McKesh Mirrors from Hensley Mfg., Inc. and picked up a license plate for the trailer at the local Secretary of State office. I also had Performance Cruising order an Equal-i-zer Hitch to make trailing a bit safer; I figured anything I could do to help my 2000 Toyota Tundra handle this big load would be worth it. The equalizer hitch paid for itself by the time we got out of Maryland, just by helping us deal with strong gusting sidewinds.
A blustery test sail on the Chesapeake Bay
Rob joined us in Annapolis for the commissioning and test sail. He was a big help driving home. Will did a thorough job of going over all the onboard systems and directing us in practicing raising and lowering the mast. The rainy weather broke long enough for an exhilerating test sail on the Chesapeake aboard one of their demo boats, with winds in the 20 knot range, gusting to 30. At least we had an appreciation for how the boat handled in those conditions. My biggest challenge was learning to steer with a tiller, a new experience for me. For some reason, my mind wanted to direct my hand in the wrong direction.
Arriving home in the wee hours of the morning, we squeezed the boat up our neighbor's driveway and got it turned around. There was no way it was going to fit in our drive. This would be her temporary home while we prepared her for launching. Preparation included getting familiar with all her systems, cleaning and waxing the hull and changing out the anchor light with an LED replacement.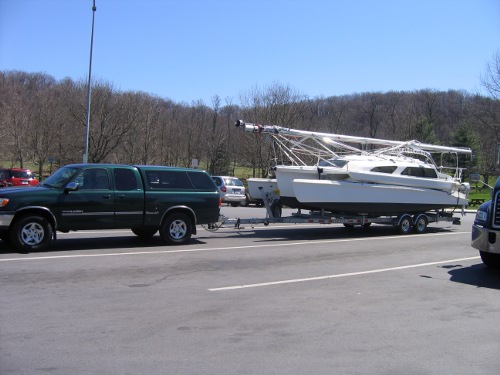 Our new Telstar behind the Toyota Tundra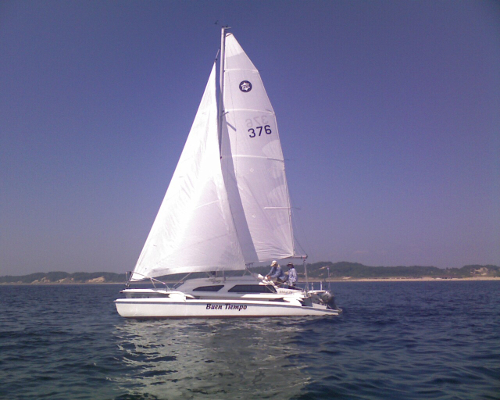 Buen Tiempo under sail in Lake Michigan, July 2010