Costa Rica, 2011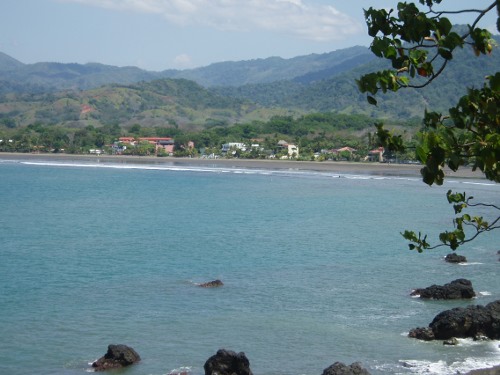 A view of the southern portion of Jaco beach where our condo was located
Sunday, February 27, 2011
Our flights went well. We met Jane and Paul in Houston, where they surprised us by arriving earlier than we expected and were waiting for us. Their flight from Springfield had been changed at the last moment. We flew into San Jose, Costa Rica and cleared Immigration and Customs without incident. Initially, we planned to pay our exit taxes before leaving the airport, to avoid delays when we departed in a week, but our ride was waiting for us as we exited the arrival terminal, holding a sign up with "McBride" on it. I had arranged for transportation to Jaco through DayStar Properties, the condominium management company.
The relatively new highway from San Jose to Jaco was closed for repairs, so we got to take the scenic route, a narrow winding road through the mountains. The traffic coming from Jaco was incredible. Our driver explained that it was the weekend crowd of "Ticos", as the locals are called, returning from the beach. I had the driver stop at the bridge over the Tarcoles River, so we could walk across and view the large crocodiles below. We arrived without incident at La Paloma Blanca, and after checking in, were shown to our condo. The condo was definitely one of the main attractions of the visit; it was stunning, occupying the third floor with a large terrace overlooking the Pacific Ocean. From the roof top terrace, we had a 360-degree view of the mountains behind us, the condominium complex, and the ocean. There were three spacious bedrooms with attached baths, each with a walk-in shower, a large kitchen and a living area. The complex itself was enclosed by a security gate and the grounds contained four pools.
While we were exploring the complex, we met Bruce, who owned a condo in the same complex. He gave us some advice on restaurants, and we picked one, Pili Pili, for dinner that night. Afterwards, we hit the local grocery store, Mas x Menos, to pick up food, drink supplies, sunscreen and mosquito spray. Taking a cab between town and the condo only cost $2-3, depending on time of day.
Monday, February 28, 2011
I had scheduled this day as a rest day, to allow us to recover from the flights and get to know the area. Kathy and I awoke relatively early and took a morning walk on the beach. Flocks of Brown Pelicans are a constant sight over the water there. The sand is very fine and almost dirt-like, not the coarser, lighter-colored sands like we have on Lake Michigan. The beach slopes very gradually, so the surf rolls up quite a way. There are zillions of little crabs buried in the sands and tiny mollusks that leave curving trails before burying themselves.
Paul cooked eggs and bacon for breakfast, then, after a rest, I went swimming in one of the pools. In the afternoon, we walked the beach into town to explore a little, then stopped at Pancho Villa for Margaritas at Kathy's insistence. The bill, including some Guacamole and taxes came to $90! We found that a bit outrageous and would let everyone we spoke to that week know about it. We would note later in the week that there was never anyone at that establishment, and we now knew why.
Returning to the condo, we had cocktails and snacks, then hit the pool again. Dinner would be had at the Seaside Diner, and was quite good. Our waitress had recently moved to Jaco from Canada, after finding the job online. We made reservations to return there again on Saturday.
Tuesday, March 1, 2011
We got up early to be ready for the Carara and Mangrove Boat Tour scheduled through Costa Rica Nature Journeys. We sprayed ourselves for mosquitoes, but they turned out to be not a problem. Gary, our guide, and Martin, the driver, picked us up at 6:30 to take us to the Carara National Park for a morning hike and birding tour. He was quite adept at spotting wildlife and pointed out many species of birds and plants. The only animal we saw was a Coati, which seemed totally unconcerned about our presence. Gary's spotting scope allowed us to see the birds up close. We watched two Tucans breeding in a tree. The most spectacular sight was a tree full of Scarlet Macaws.
Scarlet Macaws resting in a tree at Carara National Park
Following the hike, we climbed back into the van for a trip to the Tarcoles River, where we boarded a tour boat and went for a cruise of the mouth of the river. Gary proceeded to show us more birds and several crocodiles. He compiled a list of all the bird species we saw, so we wouldn't forget them. Back on land, we were served fresh pineapple and watermelon, while we awaited the van.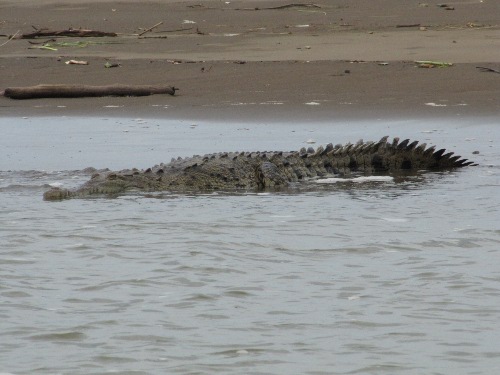 A crocodile gets ready to approach our boat in the Tarcoles River
After our showers, we enjoyed lunch and Margaritas. Siesta time followed shortly thereafter, then it was time for some wine and reading (rough life!). Dinner that night was at Lemon Zest, which we decided was our favorite restaurant thus far.
Wednesday, March 2, 2011
Kathy and I started the day with another beach walk. We found a stretch of beach of maybe 200 feet where there were lots of sand dollars for Kathy to collect. That stretch seemed to yield more sand dollars on later walks too.
The women went shopping, while Paul and I swam, visited on the terrace and read. That afternoon it started to cloud up a bit. We walked to El Hicaco that evening for the all-you-can-eat-and-drink Lobster and Seafood Fest. It started to sprinkle a little as we walked, then subsided as we were seated on the patio for dinner. There were tons of food, and shortly a band began playing for us. Then, the sky opened up and it poured. We had to make a dash to the covered portion of the restaurant, where we got another table for dessert. We had enjoyed plenty of wine with dinner, but Kathy ordered a coffee with Cafe Rica (the local varient of Kahlua) in it. I was intrigued, so ordered a shot of it for myself. The waiter kept bringing them, and by the time we were done, neither of us was feeling any pain.
We stopped by a little liquor store to pick up another bottle of tequila for the women's margaritas, where the guard called us a taxi to take us home. The locals are very helpful here. We all took a swim in the pool to help dinner settle before turning in.
Thursday, March 3, 2011
Kathy and I were up for our morning walk on the beach. Too full from last night, we pretty much skipped breakfast. We did some reading on the terrace and later walked into town for more groceries, stopping by a little coffee shop for a Chai Latte for Kathy. We found a used bookstore and browsed around. I found a copy of Slocum's Sailing Alone Around the World, which I had been waiting to discover, so purchased it.
We carved up a fresh papaya to have with our cheese and wine for lunch, then did some more reading. We had decided to return to the Seaside Diner for dinner and change our Saturday plan to Lemon Zest, so we returned to the Diner to eat. Shortly after our order arrived, Paul began feeling poorly. He and Jane left for the condo; Kathy and I enjoyed our meals (well, Kathy enjoyed her salad--the soup she ordered was too spicy for her), then carried theirs home for them. We stopped at Lemon Zest for desert (awesome berry cobbler). It was late enough we got to view the local prostitute scene on our walk from the Seaside Diner. I will say they are very nicely dressed and quite good-looking, not what one typically thinks as prostitutes.
Friday, March 4, 2011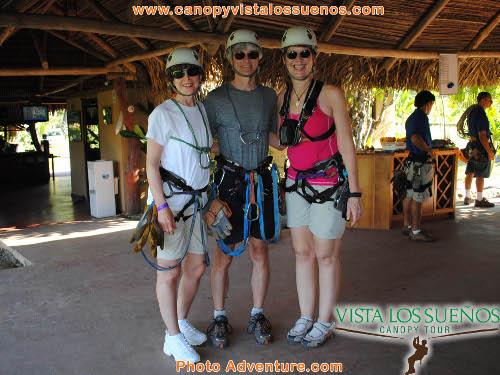 Ready to attack the zip-lines
This morning we arose and ate breakfast early to be ready for our 7:30 pick-up for the Vista Los Suenos Canopy Tour. Paul was still under the weather, so just three of us made the trip for the zip line adventure. Miguel, our driver, spoke little English, so I got to practice my Spanish. He was very friendly and seemed to enjoy my attempts to communicate. The tour was great; we had a lot of fun. Kathy overcame a significant amount of initial anxiety to enjoy the adventure and performed admirably. They offered us watermelon and cantaloupe when we were finished. On the way home, Miguel took us on a mini-tour after dropping off the other riders to see an overlook of Jaco beach.
We ate lunch on the terrace, and the ladies enjoyed more Margaritas. Paul was becoming more and more proficient at making them using the limited locally available ingredients. Kathy and Jane hailed a local vendor of watermelons on the beach in front of the condo. He was asking $2 for a melon, but they had only carried $1 and some Colones down with them; he made the sale anyway.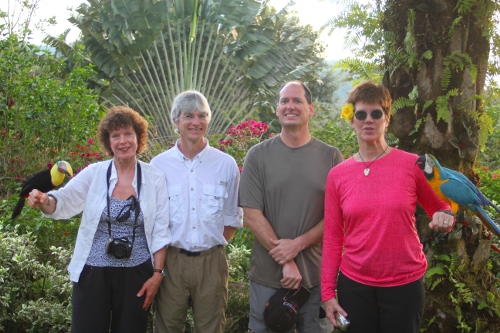 We pose for a picture before touring the gardens at Adventure Dining
In the evening, Martin showed up as our driver again, this time to take us to Adventure Dining. The drive up the mountain was a very steep and twisting dirt road that might have been quite the challenge during the rainy season. It was a beautiful evening. We arrived and had our pictures taken with the resident Toucan and Scarlet Macaw then wandered the gardens before congregating at the restaurant. They had an open bar and homemade salsa to enjoy while we watched the sun set on the mountains. The dining area is built out over a cliff overlooking the waterfall in one direction and the mountains and Pacific Ocean in another. Dinner, a combination of beef, Mahi Mahi, and shrimp, was excellent. Jack, the owner was entertaining and made an excellent host. The drive home was pretty funny, with a loud (slightly intoxicated) group in the back of the van as we made our way down the steep mountain side.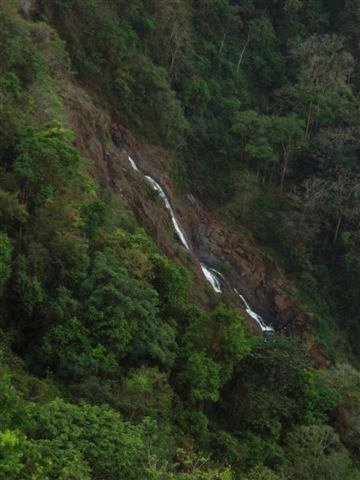 Bijagual waterfall as seen from Adventure Dining
I spotted a shooting star from the upper balcony as I was enjoying the stars before going to bed.
Saturday, March 5, 2011
Another walk on the beach introduced the day, followed by breakfast then reading time. We swam before lunch and cocktails, then I took a siesta while the rest visited or read. Kathy and Jane had more cocktails, then asked me to join them for a walk into town to see the scheduled horse parade at 4:00. We stopped by the coffee shop; Jane and Kathy ordered iced Chai Latte, and I had an iced chocolate. The parade didn't actually get going until about 5:00, when a uncoordinated group of horses appeared, led by the local police. Several of the horses were fancy gaited. Each rider stopped individually at the viewing stand to get handed a can of beer before riding off. A truck full of musicians passed, then the local paddy wagon, and the parade was over.
We walked the road home, and I took a brief dip in the ocean, showered and watched the sunset. We headed into town to Lemon Zest for another excellent meal. Returning home, I had some wine on the terrace while Paul played us to the amazing voice of Spanish singer, Buika, on his iPod attached to the stereo in the condo. We watched the fireworks from the rodeo on the north end of town from our vantage point on the upper balcony, then packed our bags for the return trip before turning in for the night.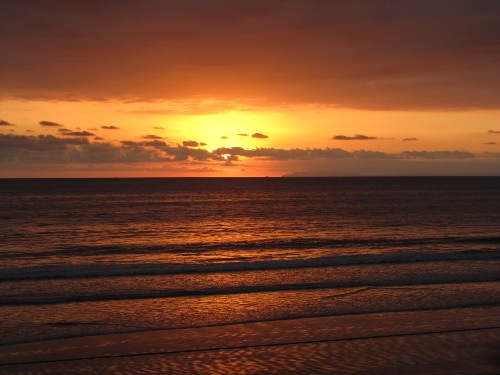 One of many beautiful sunsets we enjoyed
Sunday, March 6, 2011
We were up at 6:00 to shower and prepare to leave. Jane made bacon and eggs for breakfast. The trip to the airport was uneventful. We paid our exit tax of $26 per person, then headed for the security lines. The security personelle seemed to be a bit overzealous, confiscating two pair of tiny manicure scissors from Kathy and my wine opener that had survived many a previous flight. At the gate, another round of security checks took away our water purchased after the first check, and resulted in Kathy pitching her apple after it had been thoroughly handled by the gloved guard. She got the full pat-down, while my luggage got mauled.
We were a little delayed taking off, and Jane and Paul were pressed for time at the Houston airport, so we bid them a hasty goodbye before facing the lines at Immigration and Customs. The government again proved to us how disorganized they can be while trying to "protect us".
We arrived home to snow-covered grounds and 20-degree temperatures, quite the shock to our systems. Susan picked us up at the airport and delivered us home just after midnight. It was another very nice vacation adventure.
Bird list from the Carara tour:
Melodious Blackbird
Pale billed Woodpecker
Tropical Kingbird
Dot winged Antbird
Chestnut backed Antbird
Little Blue Heron
Great Egret
Snowy Egret
Tricolored Heron
Osprey
Yellow headed Caracara
Yellow crowned Night Heron
Boat billed Heron
Black necked or naped Stilt
Mangrove Swallow
Scarlet Macaw
Great tailed Grackle
Amazon Kingfisher
Rofous naped Wren
Dusky Flycatcher
Violet Sabrewing
Green Heron
Great Kiskadee
Clay colored Robin
Anhingo
Spotted Sandpiper
Chestnut mandibled Toucan
Bare throated Tiger Heron
Turquoise browed Motmot
Scarlet rumped Tanager
Magnificent Frigatebird
Woodstork
Roseatte Spoonbill
White Ibis
Common Tody Flycatcher
Neotropical Cormorant
Common Black Hawn Juv
Thamnophilus doliatus
Baltimore Oriole
Turkey Vulture
Southern Lapwing