Ouray & Durango, Colorado, September 1-14, 2005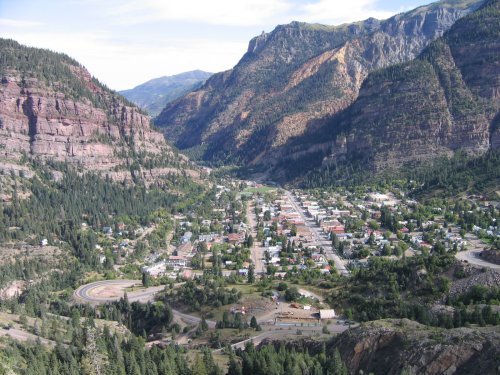 Looking over Ouray from the Sutton Mine Trail
This was our fourth visit to Ouray. We always find new things to see and do there, and this year we planned to extend our trip to include Durango and the Mesa Verde National Park. Our visit this year was about two weeks earlier than we usually visit the area, so we knew we would see a little less color on the aspens. The weather was cooperative, with temperatures usually in the upper 60's to lower 80's during the days, and ranging from the 40's to 50's at night. There were the typical afternoon showers on several days, but we experienced no full-day rains or severe weather to hamper our plans. Two years ago, some of our scheduled trips were derailed by snow in the higher elevations, but this wasn't a problem this year. In fact, we were finally able to get up to Bridge of Heaven, which was snow-covered last year. One constant from previous trips was food. Both the Buen Tiempo and Mouse's Chocolates are highly cherished establishments for us--nothing like great mexican food, margaritas and a chocolate truffle to celebrate the day's adventures!
On our first day in Ouray (Friday), we hiked the Angel Creek, Ouray Ice Park and Baby Bathtubs trails to stretch our legs. All three are short easy trails, literally right out of Ouray. Angel Creek trail starts at Angel Creek campground off Camp Bird road, just outside Ouray. The campground features several sites accessible only with a 4WD vehicle, and was mostly empty every time we passed it. We decided it would be a good place to hang our hammocks if we needed a convenient place to camp sometime. Angel Creek is a pretty little creek, and we enjoyed exploring its banks. Kathy found some interesting rock patterns to photograph. Later in the week, we would return to Angel Creek to sit in our camp chairs and read a little.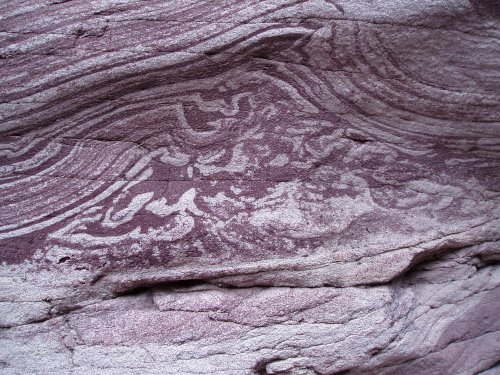 Patterns in the rock along Angel Creek
The Ouray Ice Park is a park devoted to the sport of ice climbing. In the winter, the walls of the Uncompahgre Gorge are covered in ice formed by spraying water over them. The water comes from a large pipe that once served as the water source for Ouray. A hiking trail permits exploration of this interesting site during warmer weather. We enjoyed seeing the old water supply set-up and exploring the walkway that extends along the edge of the gorge.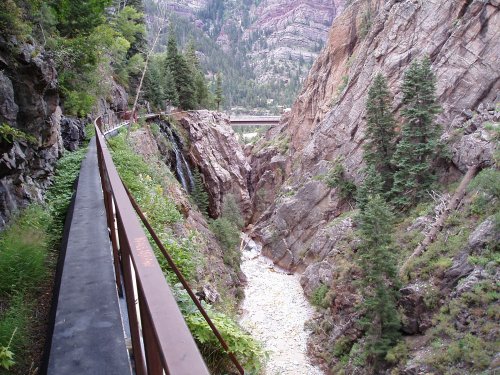 The Ice Park
Before heading back into town, we stopped by the Baby Bath Tubs to view the rock structures and the associated river, falls and gorge. This short but scenic trail leaves from the Amphitheater Campground just outside Ouray. It provided a convenient spot to rinse off our trekking poles, too.
Saturday we did the Sutton Mine Trail, a newly established trail that took us up to the mining building we had seen so many times from the highway that is jokingly made up to be an antique shop that has no access. Our timing turned out to be good, and we hid out from a storm in the building, the old blacksmith shop.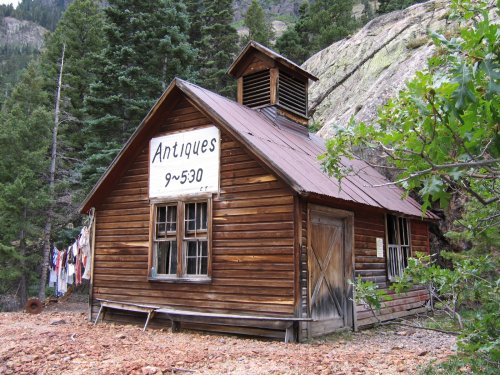 The Blacksmith's Shop at Sutton Mine
Sunday we hiked the Albany Gulch loop out of Ironton, another newly marked trail. The Ouray Trail Group has to be given a lot of credit for the excellent work they are doing establishing and maintaining the trails in this area. We've seen tremendous progress over the last few years.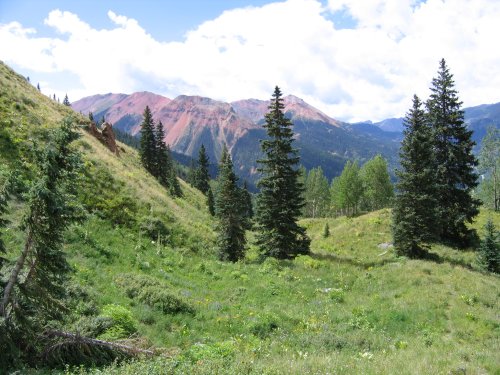 A view of Red Mountain #1 and #2 from the Albany Gulch Trail
On to Durango, rafting the Lower Animas River and 4WD tour of La Plata Canyon
Skip to day six: Mesa Verde
Day eight: Black Bear and Imogene Passes
Day nine and ten: Oak Creek and Mears Trails
Day eleven: Bridge of Heaven