Black Bear Pass and Imogene Pass, Thursday, September 8, 2005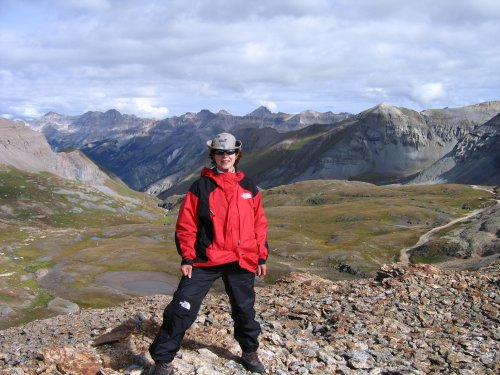 Kathy on the top of Black Bear Pass
Thursday saw us back in Ouray for a great jeep tour over Black Bear Pass to Telluride and back over Imogene Pass. We hired the services of Switzerland of America Jeep Tours for the trip--Pat, our driver, did a great job. Black Bear Pass is a very scenic but very difficult four wheel drive road, and we wanted to leave the driving to someone with experience. What makes it so challenging is an area called the "steps", where the trail descends steeply over a series of small shale dropoffs, or cliffs, some of which are three feet high. Shale has a bad habit of crumbling under you. One mis-step and you are airborn for a few hundred feet. The steps are followed by a series of very sharp switchbacks that require multi-point turns, even in a vehicle with a short wheelbase. The ascent is really not all that bad, it's the second half of the trail that will get you.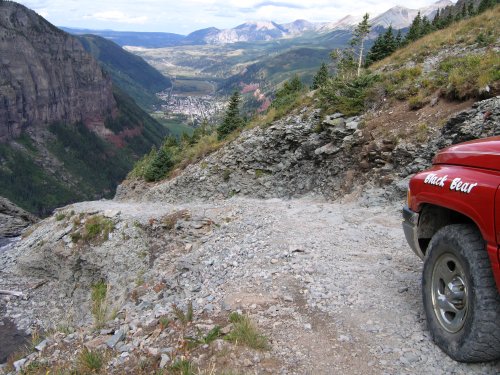 The trail descends into Telluride
After lunch at Smugglers in Telluride, we returned to Ouray over Imogene Pass. This trail is every bit as scenic as Black Bear, but not nearly as precipitous. Rain storms caught us as we were descending through Yankee Boy Basin, and we were glad we had worn our heavy weather gear.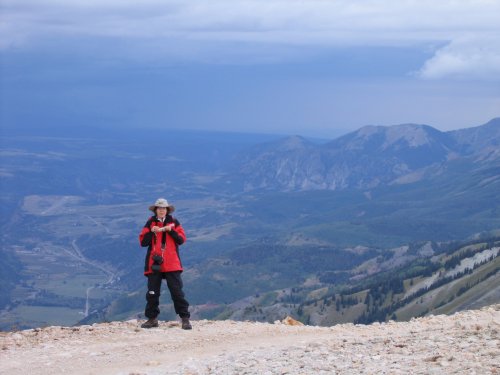 A storm approaches over Imogene Pass
On to Days 9 and 10