The WindRider 17 Page
In early July 2005, we became the proud new owners of a WindRider 17, a sailing trimaran. Rob at Great Lakes Sailing Company gave us great service on a very cold and rainy Spring day to help us decide it was the right boat for our needs. After several years of sailing our Nautiraid, we wanted to move up to a boat designed for sailing that still gave the flexibility of wilderness exploration and cruising that we had in the kayaks.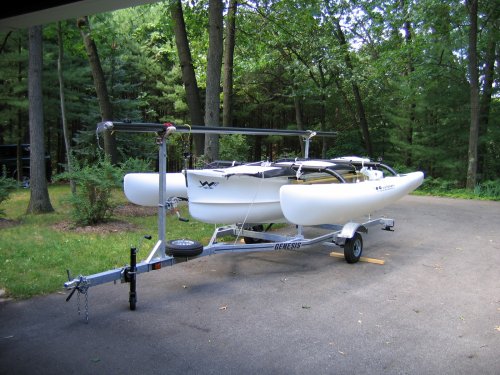 Our new Windrider 17 on its trailer
And rigged for sailing
It took us just over an hour to get the rigging right the first time. We had cut that time to 35 minutes on the second try.
July 2, 2006: Motor mount for electric motor
October 2, 2006: Sailing in Lake Superior and Independence Lake, September, 2006
2006-2008: Northport Sailing
We sold the WindRider in March 2009. With the Telstar coming home from Annapolis, we were afraid our little WindRider wouldn't get the use she deserved. Here's to hoping Josh in Ohio has a lot of fun with her!