Sailing Vacation, September 7-17, 2011, Muskegon to Ludington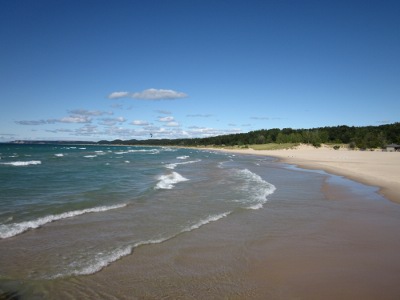 Lake Michigan shoreline north of Pentwater
In preparation for this year's sailing trip, I added two new pieces of equipment: a new Den Haan bronze oil lantern and a portable propane grill. The trouble started right away. When the lantern arrived, I could hear broken glass in the box--the chimney was broken. To Defender Industries' credit, they rushed to provide me with a replacement, even though they had just suffered a hurricane and were without power when I contacted them. Then, as I was setting up the grill for the first time, I managed to slice a nice flap off the side of my thumb on a bracket. Could this be a sign of things to come?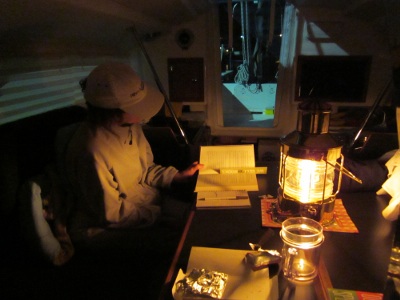 Kathy reading by lamp light on Buen Tiempo
Sailing trips have plans, but they are always somewhat loose, given our dependence on the weather. This year, fog and high seas would conspire to shorten our range significantly. I had intended to get further north than we did two years ago, now that we were more familiar with the boat and experienced, maybe even as far as the Manitou Islands. Relaxation and adventure are the two components of a good vacation (in my humble opinion); this year we would get plenty of the former with a bit less of the latter.
Wednesday, September 7 we arose early to finish packing and drive to Muskegon where Buen Tiempo was awaiting us. By the time we paddled out to the mooring in our kayaks, loaded them on the boat, motored to the dock, and loaded all our gear aboard, it was almost noon. Our destination was Pentwater, some 40 nautical miles to the north. Once out on Lake Michigan, the winds, which were supposed to be from the northeast instead were coming right from where we wanted to head--northwest. They were also building a rather uncomfortable chop. We made it to White Lake and decided to call it a day, anchoring along the quiet north shore.
The waves continued to build the next day, so we sailed on White Lake and headed up the lake to Whitehall for a little exploration. The winds were topping 20 knots on the smaller lake, and made docking at the Municipal Marina a bit of a challenge. We completely blew the first attempt and circled around for a second. This time we were successful, but not before I stumbled off the higher bow deck of the port-side ama to its lower deck, painfully spraining my foot in the process. Not one prone to injuring myself, I cursed my second injury in less than one week's time. Stepping off the dock, I managed to impale a finger with two nice splinters!
Whitehall offered some browsing opportunities for Kathy and a chance to get some fuel for Buen Tiempo. We ate lunch at the Harbor View Grille and found some ice cream for a treat later. My foot throbbed a bit, but walking was possible. The downwind trip back to our anchorage was a great sail, and we anchored under sail for practice. An eagle sighting during the day and a rainbow at sunset provided a nice atmosphere. We opened a bottle of wine and toasted to our voyage.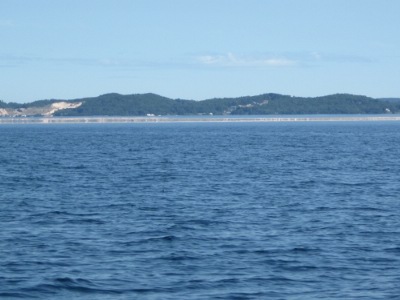 That narrow sandbar or spit of land really doesn't exist--it's a mirage.
Friday we arose early in anticipation of a long sail to Pentwater. As the temperatures rose during the day, we got to experience some great mirages. Kathy came rushing up on deck to warn me of a giant wave bearing down on us from the north. Long spits of land appeared where none existed. Boats appeared and disappeared. Most impressively, houses grew and shrank along the distant shoreline. As we approached Pentwater, another phenomenon appeared that wasn't a mirage: dense fog. The channel disappeared from view while we were still a few miles off. We switched on our navigation lights only to discover the bow light wasn't working. Fortunately, we had a compass bearing on the channel entrance and coordinates programmed into the GPS. As we approached the coordinates, Kathy went out on the bow to stand watch. We slowly zigzagged toward the invisible mouth of the channel. Finally, Kathy spotted the south breakwater, and we circled around it to the channel. Kathy breathed a heavy sigh of relief once we were tied up to the dock at the Pentwater Municipal Marina. We found ourselves docked next to a 76-foot yacht, Chateau Thierry, out of Chicago. They played great music all afternoon and evening, which helped provide a wonderful setting for our evening cocktails on deck.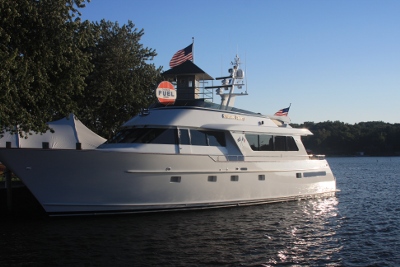 The Chateau Thierry in Pentwater
Ludington was our destination the next day, a short motor-sail up the coast. We found the marina there had been remodeled since our last visit. There were now several spots along the seawall that would accommodate Buen Tiempo. Ludington would be our home for four days. Dense fog one day, intermittent fog the next and heavy wave action another kept us mostly in port. The Admiral had ruled that she would not venture forth with any hint of fog in the air, so our northward voyage was halted. Relaxation was now the order of the day. We spent our time touring the town, testing the margaritas at multiple establishments (the Admiral voted Jamesport Brewing Company's the best), sailing on Pere Marquette Lake and hiking the beach and piers. Our grill worked out well, and the nearby market provided a source of fresh food.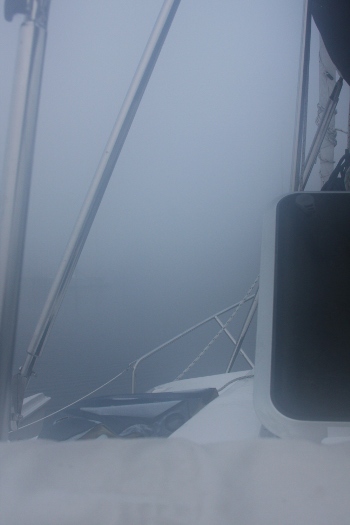 Buen Tiempo is fogged-in
I managed to stub my toe, tearing a nail, stepping through the companionway one day--there was no excuse, I hadn't even been drinking yet! Could I find another way to injure myself this trip?
One of the more unique events we encountered was the christening ceremony for a 37-foot trawler, built by a interesting gentleman from a converted hull over a nine year period. He and his wife hope to use it to complete a Great Loop cruise once he sells his business. They invited us on board for a tour of the very nicely finished boat.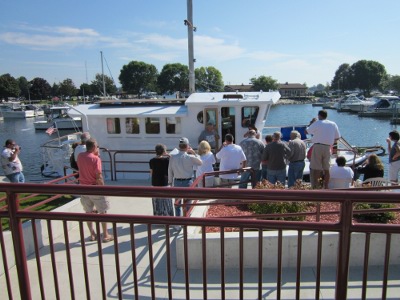 The christening ceremony for a trawler in Ludington
On Wednesday, we headed back to Pentwater under threat of a Small Craft Advisory. The winds kept us moving at high speed, and we arrived in short order. It was too rough on the big lake to drop the main sail, so we waited until the relative protection of Pentwater Lake. Docking was ugly. We were blown off the dock on our initial approach and had to take a second shot at it. By that time, the dock-hand and a very nice individual from Storybook Village, the children's book store across the street, had arrived to help catch our lines.
Kathy pulled out her wool cap for bed—it was supposed to get down to the mid-30's that night. As the full moon was rising, I took a nice kayak trip around the little lake. I dropped my headlamp after getting back aboard Buen Tiempo and broke it—my bad luck continued! We spent the next day and night in Pentwater, so Kathy had plenty of time to do some shopping. I tried unsuccessfully to locate a replacement bulb for the bow light. For exercise, we hiked a trail in nearby Charles Mears State Park to an overlook of the channel.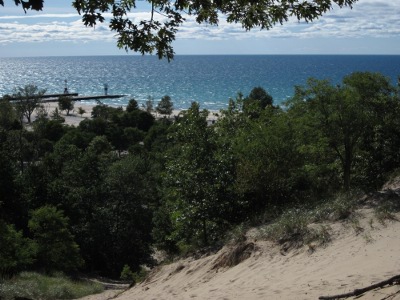 A view of the Pentwater channel from on top of Baldy, an old sand dune in Charles Mears State Park
Friday we headed south to White Lake. The first half of the trip was a nice sail, but once we rounded Little Sable Point, the ride became a somewhat pounding motor-sail. We returned to our previous anchorage. A light rain kept us in the cabin that evening, where we read by oil lamp.
Saturday brought beautiful conditions for our final leg, sailing south to Muskegon. This was the only day of the voyage that we saw any significant number of sailboats on the lake. Finally, it was time to return to our marina, where I performed yet another very ugly docking maneuver in the high winds. The first attempt to come alongside resulted in us being blown off. The second attempt, I tried to back in to the dock. How does one crash into a dock one is being blown off? Who knows? Anyway, we got temporarily trapped against the dock and bent some framing on the stern pulpit. Finally, we got it docked. It took a while to unload the boat, then we returned to our mooring (where Kathy nailed another perfect pick-up of the lines--she batted 1000 this season), closed up Buen Tiempo and launched the kayaks to get back to the launch ramp.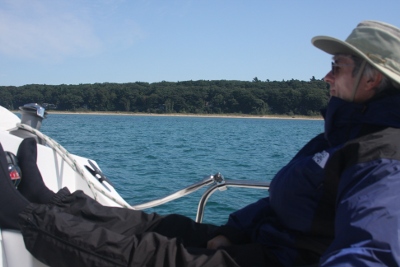 Casual sailing on Lake Michigan
More pictures of our trip can be found here.