Old San Juan and Vieques, Puerto Rico, February 7-17, 2013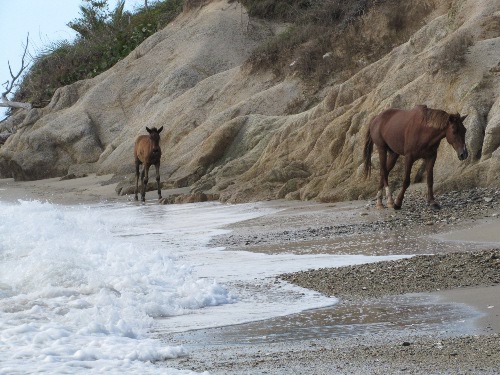 Wild horses on Playa Negra, Isla de Vieques
After a bit of trouble locating the trailhead, we finally parked our rental Jeep and walked down the dry river bed to beautiful Playa Negra. The women searched the surf zone for treasures; Paul and I took our own solitary walks down the black sand beach. Finally, the appeal of the beautiful Caribbean water was too much, and I took a swim. The others soon followed. From around a headland to the West came a pair of wild horses and a foal. We watched as the trio passed by us and casually took a drink from the water hole at the back of the beach, against the cliff. Their thirst quenched, they turned around and sauntered back from where they had come, the foal frolicking in the surf. Where else could we have had such an incredible experience, but on Isla de Vieques?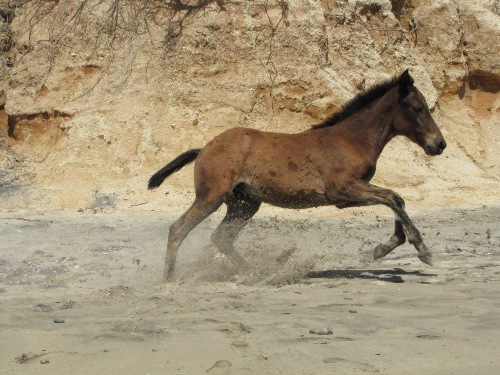 Foal playing on Playa Negra, Isla de Vieques
This year, Paul and I joined forces to plan a surprise getaway for Jane and Kathy. Jane and Paul had expressed an interest in our previous trip to Vieques, and I was interested in returning for further exploration. One of the things Kathy and I wanted to do if we returned was to stay at the Hotel El Convento in Old San Juan, so we started there.
Our first challenge was to coordinate airline schedules, so we could fly into and out of San Juan together. I managed to score an outbound flight that had us flying Delta first class from Grand Rapids to Atlanta, where we would meet Jane and Paul, then again on first class to San Juan. We would return through Dallas-Ft.Worth, but not first class.
Thursday, February 7, 2013: Jane's reaction to seeing Kathy in Atlanta was priceless! They were both enjoying their first class flights, and the weather had been great for travel. When we arrived at El Convento in Old San Juan our rooms were not quite ready, so we stowed our luggage and headed for the El Picoteo, the Spanish tapas restaurant, for lunch. Afterwards we wandered around the old city, enjoying the views. Every evening, El Convento offered a wine and cheese reception, which we enjoyed. Dinner was soup and salad at Patio del Nispero, in the hotel. Sleep came easily after our early morning and full day of travel.
Friday, February 8, 2013: Following the advice on TripAdvisor, we walked in a light rain (the only day of rain we were to have) to Cafeteria Mallorca, a very reasonably-priced local breakfast favorite just off Plaza Colón. Afterwards, the women did some shopping. We stopped by the local grocery for several bottles of wine to take to Vieques, not knowing what we would be able to locate on the little island.
The Galeria Nacional and Museo de las Americas were our afternoon destinations. After getting our cultural experiences, we headed back to the hotel for a quick snack of chocolate outside our rooms and some rest time before heading to the wine and cheese reception. We had made reservations at Aguaviva for dinner, and enjoyed excellent food there. After walking home, Kathy and I weren't quite ready to turn in, so headed down to the bar in the Patio del Nispero for drinks. When I asked for a sipping rum, the bartender poured me a large shot of Ron del Barrilito Three Star, which was pretty good.
Saturday, February 9, 2013: We arose early and had a quick banana for breakfast, so we could catch a taxi to the airport for our flight to Vieques. I had a little mix-up in communications with the driver, and we ended up at the International Airport in Isla Verde as opposed to our destination airport at Isla Grande. After a brief argument with the driver, I convinced him we needed the other airport, and off we went. We still had plenty of time to catch our Vieques Air Link flight to Vieques.
Arriving in Vieques, we called AVIS for pick-up. They delivered us to their rental site, where we signed for our Jeep, then were off to Esperanza in search our our rental house, Casa Des Moines. Joe Popp met us at the house and showed us around, then gave us a run-down of places to go on the island. We were starving by the time he left, and immediately walked down to the Malecon to have a late lunch at Tradewinds. Our hunger satisfied, we headed out to visit the grocery stores on the island in search of food for the week.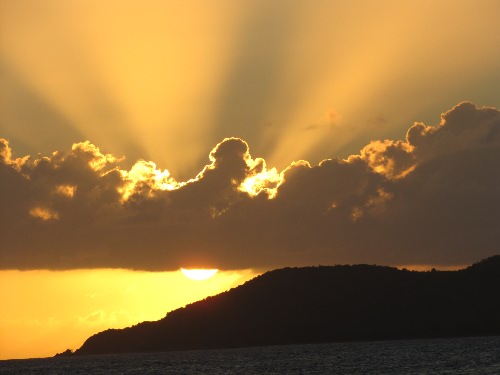 Sunset from the Malecon in Esperanza, Isla de Vieques
After resting and doing some reading on the porch at our house, we walked down to the pier to join Mimi and Joe for sunset. There we met one of their friends, Anne, who was also visiting. She turned out to be an artist and active sailor and was quite familiar with Bob Bitchin' and the gang from the now-defunct Latitudes & Attitudes, who we cruised with in the Grenadines (their new magazine, Cruising Outpost, has had a great start). Joe served up some of his homemade Bilí (Quenepa-infused rum), and Anne supplied rum punch. Later, we ate an excellent dinner at Bilí Restaurant.
Sunday, February 10, 2013: Kathy and I got up Sunday morning and took a walk down to the Malecon and out to Sun Bay, where we enjoyed a brief swim before heading home for breakfast. After breakfast, we headed for Playa Negra (where we encountered the wild horses mentioned at the beginning), stopping in Esperanza to order a couple roasted chickens and side dishes from Marco's BBQ, run by a local family who sets up a large grill along the road every Sunday morning.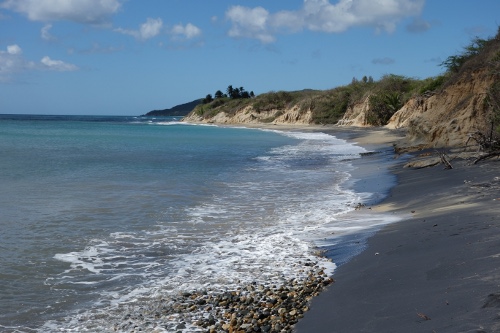 Beautiful Playa Negra, Isla de Vieques
After our adventure at Playa Negra, we grabbed a quick shower at home, then headed over to Isabel II, where most of the stores were closed for Sunday. We stopped by Al's Mar Azul for drinks, then ordered fish tacos and more drinks. Al's is kind of an ex-pat dive, but really has good drinks and food. Kathy and I had been here on our last trip, and likely wouldn't have stopped by, but for the recommendation of Joe.
One of the roasted chickens served as a fine dinner back at home, along with the side dishes: a Mexican rice and a cooked plantain dish. We finished off the evening with drinks, reading and visiting. Jane's iPod, pumped through the speakers in the house, provided us with a wide variety of background music for our reading and dining times.
Monday, February 11, 2013: Today we chose to go snorkeling, and Playa Arenas (also known as Green Beach) served as our destination. We packed the remaining chicken and side dishes in a cooler for lunch. The snorkeling was excellent, although I got a little too much sun on the backs of my legs, where I forgot to apply sunscreen. On the way home, we stopped by Mosquito Pier to see what that offered by way of snorkeling opportunity. It looked like an interesting place, but we never got back to it.
We ate an early dinner at Duffy's in Esperanza, so we could be ready for our tour of the bioluminescent Mosquito Bay with Island Adventures. This fascinating place was on our must-see list for Jane and Paul since we had enjoyed it so much three years ago.
Tuesday, February 12, 2013: We got up early so we could visit the produce market when it opened. We picked up several things, but the most amazing were the giant Avacados. At first, we couldn't identify them, thinking they must be some other fruit. The box was labelled "avacados", but they were bigger than any we had ever seen. Kathy and Jane visited a gift shop across the street while Paul and I hunted down a chicken for dinner at the grocery store. Later we headed into Isabel II for exploration. Kathy and Jane had become quite hooked on Albariño wine, and we located a couple more bottles there.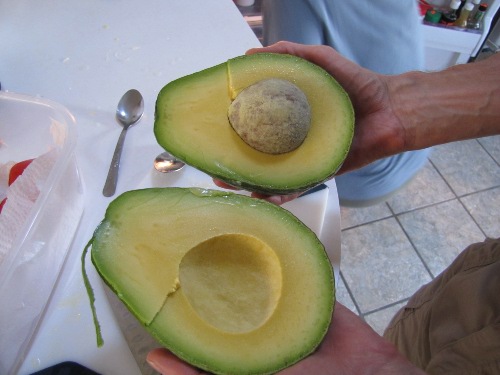 One of the giant avocados being readied for guacamole
Returning to Esperanza, the women headed off to do some shopping. Paul and I visited a bit, then walked down to the Malecon to visit the Vieques Conservation and Historical Trust where they have a nice little museum. Back at home, we made Margaritas and a fine Guacamole from the giant avocados we had purchased. Paul split open the chicken and roasted it on the grill for an excellent dinner.
Wednesday, February 13, 2013: Kathy and I drove into town to walk the beach and over to Sun Bay. We returned and made omelettes for breakfast, then it was off to Playa Chivas (also known as Blue Beach) for swimming and snorkeling. Jane and Paul made a big circle, going out to the island. On the way home, we stopped at an archaeological site, where they had uncovered the 4000-year old skeletal remains of a Puerto Ferro man amongst a circle of giant volcanic boulders (Jane and Paul got quite a kick out of my affectionate naming of him as "the dude"). Apparently this site is of mystical significance to many locals, and we discovered a recent offering consisting of a cross made of sticks, a wreath of sage, coffee beans and an apple placed on a nearby rock.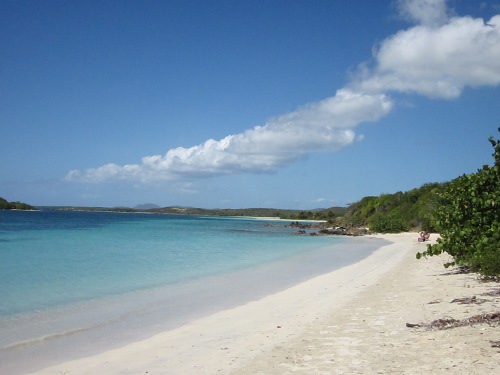 Playa Chiva, also known as Blue Beach, where we enjoyed some nice snorkeling
Back at home, we enjoyed wine and lunch, and confirmed reservations for Valentine's Day dinner tomorrow. Joe and Mimi would be able to join us. Dinner tonight was at Belly Button's, where Chef Waldo was serving ,seafood paella, an excellent meal, and quite reasonably priced.
Thursday, February 14, 2013: After breakfast, we headed out in search of a beach for snorkeling. The wind and waves were heavier today, and most of the beaches we examined were too exposed, so we retreated back to Chiva, where we explored the center section of beach and associated reefs. Lunch was held back at home, then Kathy and Jane went off in search of bargains while Paul and I solved the world's problems. When the women returned, we enjoyed Pico de Gallo and Guacamole appetizers with wine.
We met Joe and Mimi at Carambola Restaurant at the Inn On The Blue Horizon for an 8:00 dinner. There was a Surf & Turf Dinner of lobster and steak being served for Valentine's. We had a nice visit and dinner.
Friday, February 15, 2013: After breakfast, we drove to the north side of the island, where we waited in line for gasoline, then worked our way back out to Green Beach for snorkeling. We saw a lot of different fish, and Jane and Paul spotted a couple rays. Lunch and Margaritas were served at home, then we walked down to the Malecon and out to Sun Beach. The crowds were significantly larger with the weekend approaching. We enjoyed wine and cheese appetizers at the house before going out for our last dinner on the island at Next Course.
Saturday, February 16, 2013: It was time to head back to San Juan. We packed and tidied-up the place after breakfast, then turned in the Jeep at AVIS. We were happy to have purchased gas when we did, because there were huge lines at the two stations; the fuel truck had failed to arrive yesterday, and they were waiting for it today. The island was out of gas! Joe had warned us to pick up gas when we could, and AVIS had warned us that they would charge a whopping $18 per gallon for any gas they had to add when we returned the Jeep.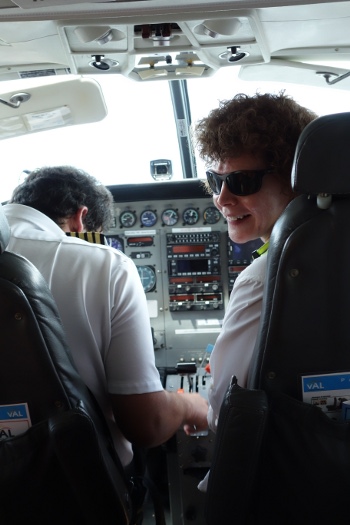 Kathy gets to play copilot again
Kathy got to play copilot for the flight back to the main island, just like she had three years ago. In Old San Juan, we checked into Casa Villa Herencia, a charming hotel built in building from 1885. We left our luggage and walked down to St. Germain for an excellent lunch. Afterward, we walked around Old San Juan. We decided to eat our final meal on the upstairs terrace outside our room, so we ordered traditional Mofongo and Trifongo meals "to go" from Fefo's Deli and Tapas and picked up a couple bottles of wine from the grocery store. The evening turned out to be perfect, and we had an intimate dinner for four on our private roof-top under the stars.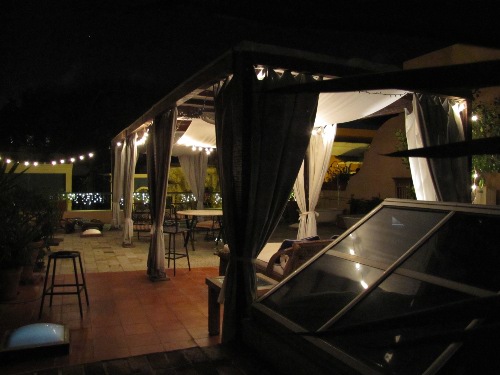 Private roof-top dining at Villa Herencia
Saturday, February 16, 2013: We flew together from San Juan to Dallas/Ft. Worth and ate lunch at the Blue Mesa Taco & Tequila Bar in the airport. There we enjoyed one last round of margaritas, then it was time to say "goodbye" to Jane and Paul. Our flight home was good, and Brian and Susan were there to pick us up. The snow was a bit of a rude awakening, but we have some great memories to help us through the rest of winter.
More pictures showing off the colors of Old San Juan and Vieques