Family Trip to Maine for Mom and Dad's 50th Anniversary, August 2 - 9, 2009
The plan developed last year at Elk Lake. We wanted to do something to celebrate Mom and Dad's upcoming 50th anniversary, and they decided a family trip would be more fun than throwing a party. After discussing various options, they settled on Maine. That was one state they hadn't yet explored. We spent a year chasing down options, but finally Lynelle came through with a resort that participated in her time share plan, making accommodations reasonable for everyone. The plan was each family would supply one dinner, the remainder of the meals being a combinded effort. One dinner was reserved for Maine lobster. So, we all set off from various points of the country to converge on Sugarloaf Resort in Carrabassett Valley.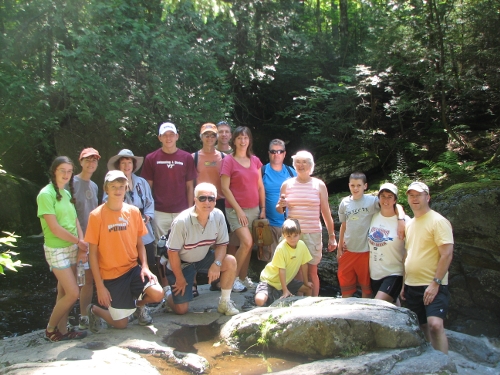 The McBride family goes to Maine
Saturday:
Kathy and I left Grand Rapids Saturday morning taking the most direct route out to Maine. We would leave the sightseeing for our return trip. We crossed into Canada at Port Huron and made pretty good time until we hit the parking lot that had developed on the highway around Toronto. We would later find out it was an unofficial holiday weekend in Canada. We stopped in Kingston to find a hotel and found the hotels booked. Finally, we found the last room in town. A quick call from Dan and Dee confirmed they were having issues finding a room in the Ottawa area. We took a brief trip down to Kingston's very nice waterfront area. It was very congested though, and we were too tired to fight the crowd, so we returned to the hotel to get some rest.
Sunday:
We reached the province of Quebec in short order the next morning, where the quality of the roads deteriorated rapidly. The last portion of the drive was quite scenic as we crossed into Maine. The border guard told us the Brewer family had passed through no more than 30 minutes ahead of us. We entered Carrabassett Valley and located Sugarloaf resort, arriving just after Dan, Dee and family. Mom and Dad greeted us all as we arrived along with Nate and Garret who had traveled up with them. After settling into room 531, we Walked around the resort to stretch road weary legs and get our bearings. Sugarloaf is a large resort and no doubt very busy when the snow flies, but it was peacefully quiet this time of year.
Monday:
Today, the crew hiked Burnt Mountain Trail to the summit (minus Kathy and Mom who decided to do some shopping). It was a convenient trail to take, starting right from the Sugarloaf complex. The trail was very pretty, but muddy from all the rain they had recently. Adam, as usual, led the way. Garret impressed us all with his determination to reach the summit in spite of his young age and short legs.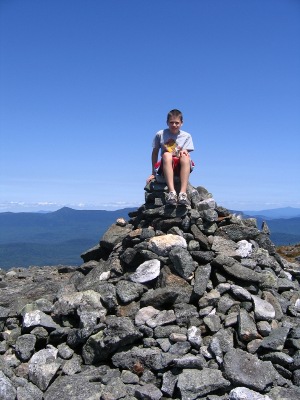 Adam at the summit of Burnt Mountain
Craig and Connie arrived that afternoon after having flight troubles yesterday. Apparently the airline decided to fly them to New York after the flight out of Washington D.C. was screwed up with bad weather. Unfortunately there was no flight from New York to Maine, so they spent the night then flew back to D.C. to catch their flight to Maine!
The remainder of the Moyar family arrived later that afternoon, and we were finally all together. It was our night to cook dinner, so we whipped up our Mexican dinner: chicken fajitas, refried beans, chips and salsa, and, of course, Margaritas. Under the influence of Margaritas, Dee and I worked out a plan for the following day.
Tuesday:
Today's itinerary would be a driving tour of the area with stops to hike and play. We spotted our first moose on the way to Rangely and pulled over so everyone could get a view. Our first stop was Cascade Stream Gorge for a short but scenic walk to view the waterfalls. Then it was on to where the Appalachian Trail crossed the road and a hike to Piazza Rock and "the caves". Finally, we hopped back in the vehicles and stopped at Small's Falls where the young and more foolish frolicked in the cold water and rode a small waterfall.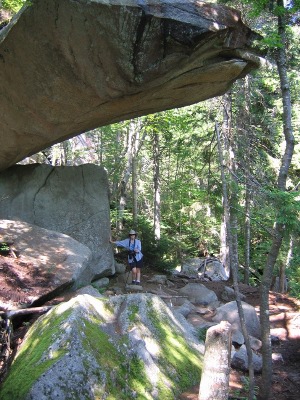 Kathy stands under Piazza Rock on the Appalachian Trail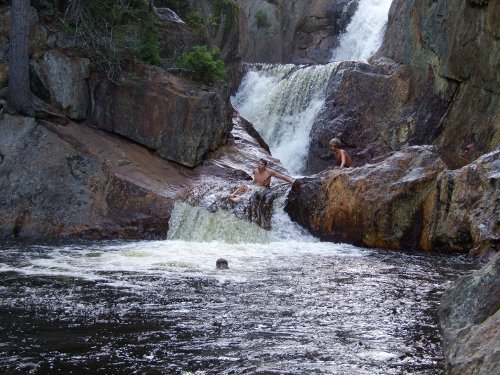 Nate rides Small's Falls
Wednesday:
Dan and Jim took advantage of the resort's impressive golf course, while Dad, Craig and I got some serious hiking done on the Appalachian Trail. Kathy and Mom conquered some more shops. There was swimming in the pool for the kids.
We were impressed with the ruggedness of the Appalachian Trail in this area. The climbs and decents were steep, and without switchbacks. At one point, it appeared the trail just stopped right at the edge of a cliff. In fact, it went right down the face of it! Our original plan included summitting North and South Crocker Mountains then Sugarloaf Mountain and hiking right back to the hotel, but we called it off after the first two peaks. Kathy and Dee came to our rescue, picking us up on a rutted Caribou Valley road.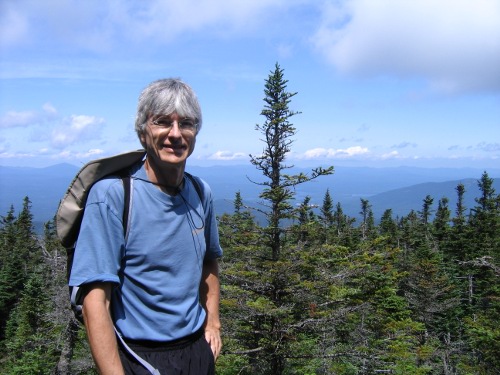 Steve on Crocker Mountain
Craig wonders if the Appalachian Trail really goes over that cliff--it does!
We ate dinner that night at the local park, where Jim wielded the spatula and whipped out burgers to go with the corn on the cob. After dinner, Dad and Craig tried to play tennis, wearing them both out.
Thursday:
Thursday was coastal tour day. We headed for Boothbay Harbor to get a flavor of the Maine coast. The guys hiked around town while the women shopped, then we regrouped for lobster for lunch at Kayler's Crab & Lobster House. After lunch we drove out to the point to climb on the rocks and observe the tidal pools. Lynelle really wanted to see the LL Bean complex, so we detoured to Newport on our way back to Sugarloaf.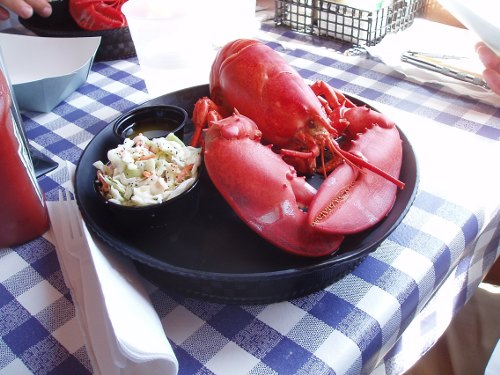 Lobster dinner in Boothbay Harbor
Friday:
Kathy and I took a morning walk around the complex, getting some exercise after yesterday's long drives. The family debate was whether to go canoeing or rent a pontoon boat, but the windy weather definitely favored the bigger boat. We headed to Rangeley Lake where Craig played captain and took us on a circumnavigation of the beautiful lake. We dodged rain storms, and raced a big one back to the dock, barely outrunning it.
On the way home we encountered a couple moose on the side of the road. Stopping for picture taking, our intrepid photographers were surprised by another moose approaching them from the rear. It made for some good photographs and a lot of laughs.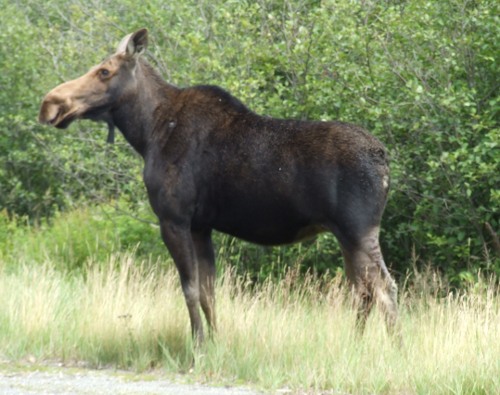 Moose cow approaches us
Saturday:
We got up early and left for home, taking the more scenic route through northern New Hampshire, Vermont and New York. We took a ferry across part of Lake Champlaine. The White Mountains, Green Mountains and Lake Champlaine regions were beautiful, and we wouldn't mind spending more time exploring those areas. The Adirondacks were not as nice, and I wouldn't likely return. All in all, it made for a very nice trip, even if it did take a little longer. We finished the day holing up in a hotel in Syracuse.
Sunday:
Torrential rain and thunderstorms greeted us as we got out of the Toronto area, at times making driving almost impossible. Then the heat settled in. The border proved to be a little challenge, where we waited just over an hour in traffic getting through customs in Sarnia. After sitting in the heat that long, we sought out the first Dairy Queen we could find after crossing into Michigan. It felt good to arrive home and find everything in good order.
Read Craig's story of the Maine vacation on his blog