El Conquistador Resort, Fajardo, Puerto Rico, March 23-27, 2012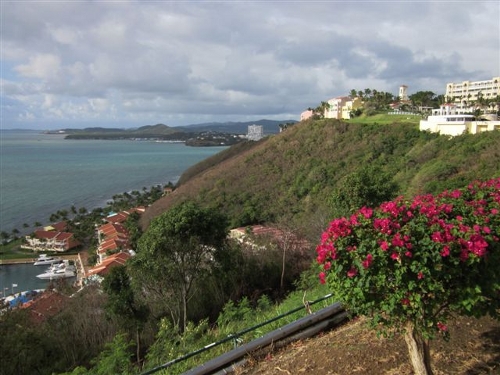 El Conquistador Hotel overlooking its marina and lower condominiums.
We were quite tired by the time we arrived at El Conquistador Resort in Puerto Rico. We had been up since 3:00 Friday morning, and that was after a busy week. The previous weekend we had made a quick trip to Wisconsin to view a boat and visit Dee, Dan and family. It was definitely time for a little relaxation.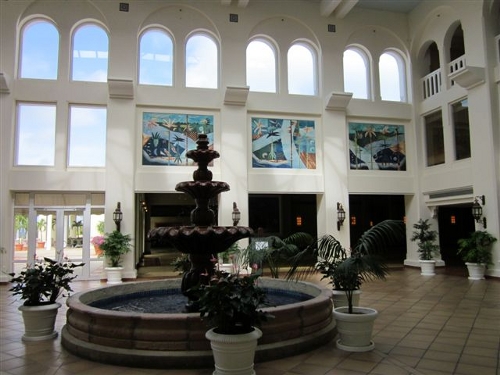 El Conquistador's lobby.
The flights were good. We transferred planes in Atlanta, sprinting through the airport during a very brief layover. Novartis had arranged for a shuttle to pick us up at the airport in San Juan and transport us to the resort in Fajardo, a little over an hour away in heavy traffic. They started us out right, with cold drinks available on the bus, and more ready when we arrived. Rum is definitely the drink of the island. Our room wasn't quite ready when we checked in, so we wandered the grounds, getting a feel for the resort.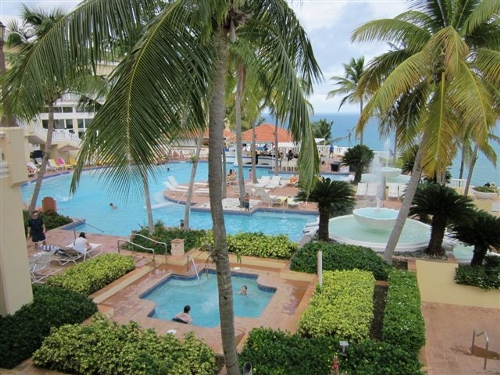 The pools looked pretty inviting.
The welcome dinner was held indoors due to the threat of rain. We didn't stay too late, eager to get some sleep. It poured that night, but quit by breakfast. I attended some morning meetings, then we were off to Palomino Island, a private island owned by the resort, for a beach party and sand sculpting competition.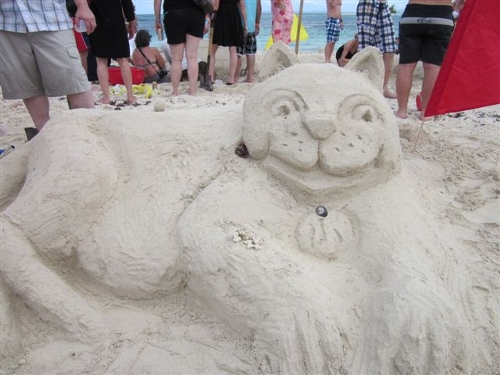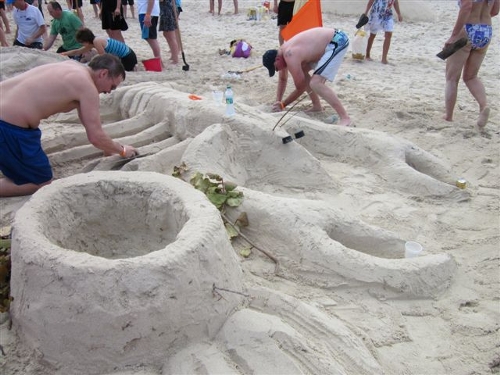 Making sand sculptures on the island
The following day the party was moved to one of the pools, with more drinks and a disk jockey. Rain interrupted the party a little early, but that gave us a chance to retreat to the room to rest briefly before a great dinner at the Stingray, one of the on-site restaurants.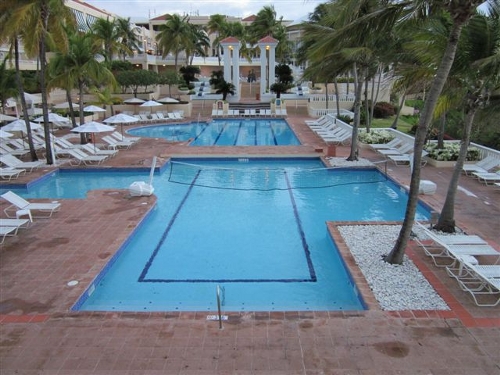 Another look at the pools
The final day was pretty much a rest day in the afternoon, following a short morning meeting. We walked around the resort, and read by the pool, with a couple trips to the lap pool to break things up. That night we headed back to Palomino Island for the final beach party and dinner. Excellent grilled lobster, ribs, chicken and beef were available for the main course, with plenty of Puerto Rican inspired side dishes. Wine and rum drinks made everything go down well. A live band provided entertainment and dancing opportunities.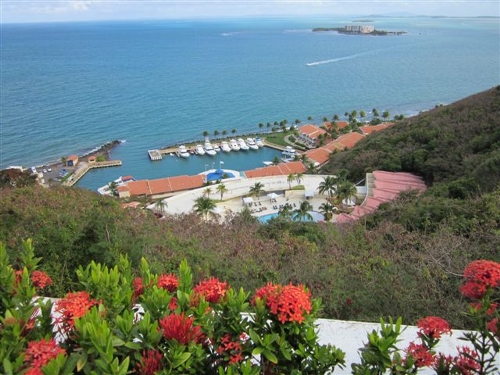 The view down to the marina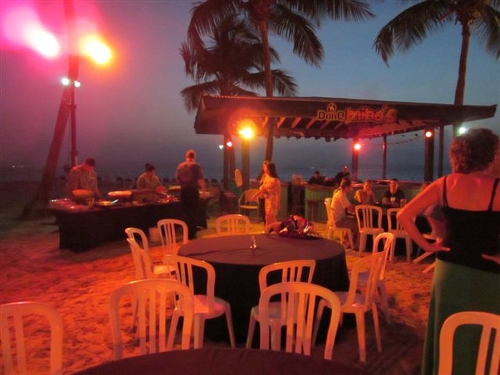 The beach party gets started
Our shuttle departed at 4:30 the Tuesday morning to get us to the airport in time to catch our flight home. The flights were again good; this time with a long layover in Atlanta. Kathy helped entertain a very stressed out mother's baby on our final leg. At least it kept her from worrying about the flight.