Trailer camping in Michigan's Upper Peninsula, September 2013
Wednesday, September 11, 2013
Well, we got off to a bit of a slow start, but, hey, it's vacation, right? I slept in until 8:15, and it felt great! Kathy was already up, getting things ready for the final packing. After breakfast, we finished loading the truck, then took 'Stache in for boarding. Picking up ice in town, we returned home and hitched the trailer. It was noon when we finally pulled out of the driveway.
The trip north went well. There was almost no traffic, and we took a casual pace to save gas and take the strain off our poor old truck. We stopped in Mount Pleasant for a late lunch at Panera Bread, then traveled north to the bridge.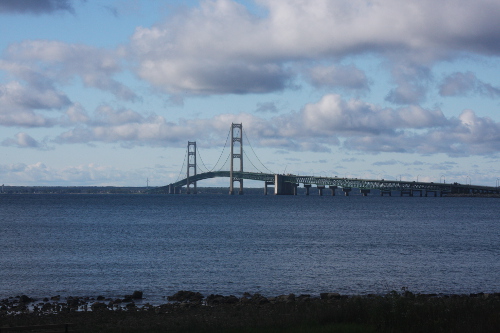 The mighty Mackinac Bridge
The mighty Mac always looks impressive. There were high wind warnings, so they enforced a 20 mph speed limit on trucks and trailers. That made for a slow trip over the straights, but it allowed us to enjoy the view. I originally intended to make it to Taquamanon Falls State Park, but we opted to stay at the Straights State Park in St. Ignace to allow for a more casual evening. We had decided in advance that this was to be a very loosely structured vacation, with no set plans. Really, we only have a general outline of what we want to do: see the Shipwreck Museum in Whitefish Bay, do some hiking and paddling as weather and circumstances allow, meander up to the Keweenaw Peninsula, then come back via the southern route, taking in Kitchi-iti-kipi Spring in Palms Book State Park.
There were more folks in Straights State Park than I expected, but it was still not crowded. We registered for camping at the entrance (they now require a copy of your vehicle registration, so we had to hunt that down) and selected campsite #84, which has a view of the water, but isn't right on it (for future reference, site 85A looks pretty nice, and we think it might be where we stayed 29 years ago). We got the trailer set up, and cooked a dinner of sausages and greens, which went well with the Malbec Kathy picked out to celebrate our arriving in the U.P. We enjoyed the wine enough to finish off the bottle.
Thursday, September 12, 2013
We had a bit of rain overnight, so it took a little while for the kayaks to dry off (we carry them in the trailer when traveling, but store them on top of the truck in camp). We didn't get up until shortly after 8:00, and by the time we ate breakfast and had everything organized to go, it was about 11:20.
My original plan was to head to Tahquamanon Falls State Park, but Kathy saw Muskallonge Lake State Park when we were online looking at travel ideas and thought it might be less crowded and present some paddling opportunities. So, we headed up through Newberry, where we stopped for lunch at Timber Charlie's. Traffic was very light on the road, but Muskallonge Lake State Park was almost full! Apparently there is an Agate celebration here tomorrow--who knew? We found a site, but can only occupy it one night (everything is reserved tomorrow). Our site is fairly secluded and has great access to Muskallonge Lake. Many of the sites here are crowded together, especially in the lower numbered loops.
It turned out to be quite breezy today, and the high was only around 62 degrees, so as evening approached, it got a bit cool for kayaking and a bit too windy. We had planned to see the Shipwreck Museum, but that would require too long a drive from here, so we'll try again tomorrow. Tahquamanon Falls would have been the better option for the night. We hiked down to Lake Superior, which was really kicking it up with the 30-knot NNW winds, then took advantage of the showers before dinner. Hot tea tasted good tonight to warm up after showering. It is to get down in the low 40's tonight.
Friday, September 13, 2013
It was a bit brisk in the camper when we awoke around 7:00. I fired up the little electic heater we carried for just this purpose, and crawled back in bed. The temperature inside was considerably less intimidating when we finally got up an hour later. We ate a quick breakfast and packed up to travel back toward Tahquamanon, somewhat concerned we might not find a campsite. Our fears were for naught; there were several sites available at the Lower Falls unit. We selected #11, which backed up to the river, and unloaded the trailer before heading out for Whitefish Point. We stopped in Paradise for lunch at The Berrypatch Restaurant, a small mom-and-pop place with a somewhat limited menu (but, heh, this is a tiny town in the UP).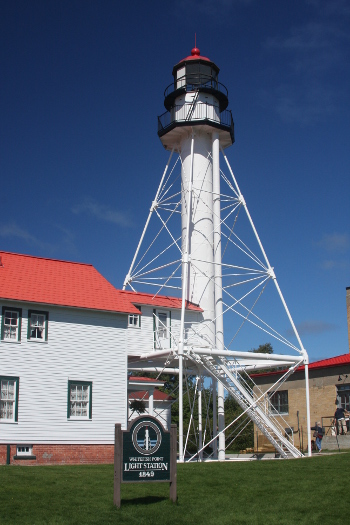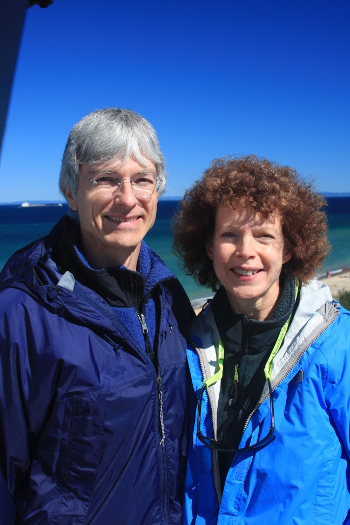 The lighthouse at Whitefish Point provided outstanding views from the top. See the freighter over my shoulder?
The Shipwreck Museum was worth visiting. The guides were excellent, and we enjoyed our visit. The view from the lighthouse was magnificant, especially since the weather had cooperated and delivered a sunny cloudless sky.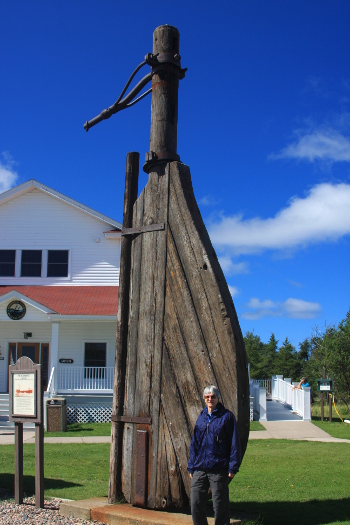 That's one big rudder!
We ate dinner back at the trailer, then settled in for some wine and reading. The forecast warns of frost in the morning, with the lows getting into the 30's. The little heater unit was earning its keep before we even settled in tonight.
Saturday, September 14, 2013
It was cold this morning! We rolled out of bed around 8:00 and slowly got our act together. I hauled the stove out to the picnic table and cooked omelets for breakfast; we watched a canoe race get started right behind us on the river. After cleaning up, we got ready for today's activity: a hike to the upper falls for lunch and back, about an 8.5 mile trip.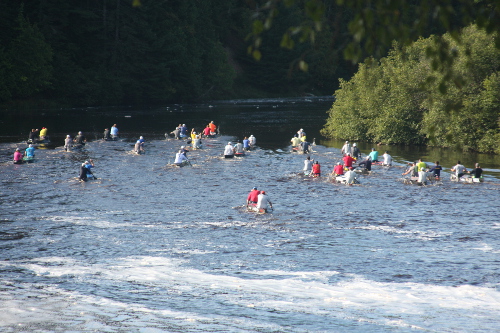 Canoe racers stir up the quiet morning water on the Tahquamanon River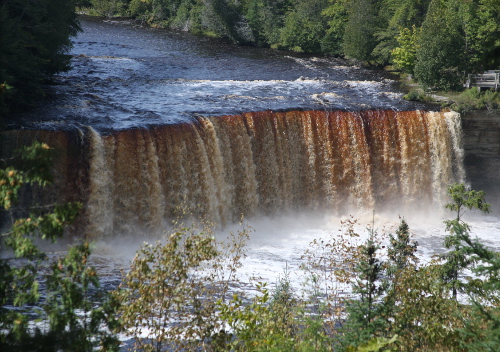 Beautiful Upper Tahquamanon Falls
We got a little later start than we should have, so lunch was a late one. We were back in camp by 6:00 PM. Lunch at the Tahquamanon Falls Brewery & Pub was pretty good. The walk was beautiful. We had sun all day, and the trail follows the Tahquamanon River. The trail is a little muddy in places, and there are some climbs and descents. We got a pretty good workout, and were looking forward to the showers when we got back. It will feel good to relax tonight. The forecast calls for overcast skies, and the temperatures only getting down into the 50's tonight. There is a chance of rain early tomorrow morning. Hopefully we can load the kayaks before it rains. We'll head west tomorrow, maybe getting as far as Baraga State Park.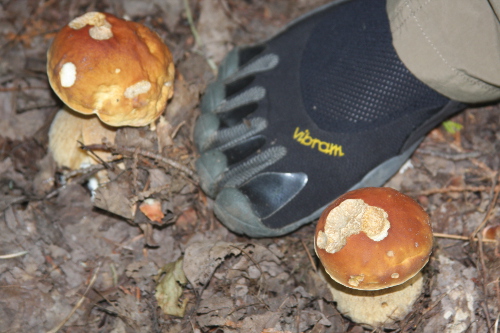 Toe fungus?
Sunday, September 15, 2013
There had been a light mist sometime before we awoke at 7:30, but it was pretty dry out at the time, so we ate a hasty breakfast and loaded the kayaks. We had tea and coffee with the campground hosts; the rain was starting to arrive as we were finishing our visit with them, so we shoved off to our next destination.
It rained steadily and heavily at times as we traveled west. Because we were familiar with the grocery at Newberry, we stopped there to pick up some food items and ice; fortunately, the rain paused just in time for us to dig into the coolers.
Kathy remembered The Brownstone Inn Bar and Restaurant from our previous trip to the Munising area, so we decided to eat lunch there. It was still pretty good, but the waitress seemed a bit disorganized (maybe she was new). We certainly ate plenty of food, so dinner would not need to be much of an affair.
Heading through Ishpeming, a stoplight changed to red quickly. I slammed on the brakes, but the trailer tires seemed to skid on the wet pavement. I made a last minute decision to continue through the intersection rather than risk skidding and stopping in the middle of it. Of course, two Michigan State Police cars were in the left lane as I skidded by. I immediately pulled over to the shoulder, as the cars pulled in behind me. The officer was very nice, and noted that the light does change quickly there, and he had heard my attempts to stop. After running my license, he let us off with a friendly warning to be safe and wished us well. Lady Luck must have been with us.
We stopped at Baraga State Park for the evening, choosing site #57. We unhitched the trailer then drove back through L'Anse to see if we had missed anything--we hadn't. There was great cell phone reception here, so we made calls and downloaded email. The evening was cool and clear. If the temperature had been a little warmer, it would have been fun to drop the kayaks in the bay for a little paddle, as the winds had subsided nicely.
Monday, September 16, 2013
We awoke to a heavy frost covering the kayaks. I wasted no time firing up the little electric heater in the trailer, then climbed back in bed to let it do its thing. It is sunny and clear today, and forecast to get pretty nice. We had a light breakfast, planning to catch something more substantial in the Houghton area.
I made contact with Tony of Great Lakes Yacht Services. They had a Fuji 35 listed for sale in Dollar Bay. He contacted the owners, Philippe and Sharon, to see if we could look at the boat. Philippe had recently taken a fall off a ladder and was laid-up, but Sharon agreed to show us the boat when we got there in about an hour.
Lotus, the Fuji 35, was a nice looking boat, and we spent some time looking her over. Afterward, we had lunch at Quincy's in Dollar Bay where we had left our truck and trailer, when Sharon picked us up.
From there we moved on to Ft. Wilkins State Park in Copper Harbor and selected site 178, which gave us easy access to Lake Fannie Hooe for paddling should we wish to do so. After disconnecting the trailer, we drove up scenic Brockway Mountain Drive and explored the small town of Copper Harbor.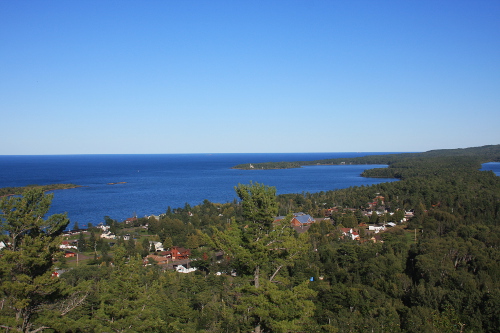 A view of Copper Harbor from Brockway Mountain Drive
Tuesday, September 17, 2013
After a nice breakfast in the trailer, we toured Fort Wilkins. It was interesting, but too late in the season to have the live actors present. After our tour, Kathy stopped for a coffee in Copper Harbor, which she spiced up with Bailey's, then we traveled south to Eagle Harbor and Eagle River. We viewed the falls at Eagle River and walked around the lighthouse in Eagle Harbor.
Returning to our campsite, we decided to forgo our planned dinner outing and launched the kayaks on Lake Fannie Hooe for a beautiful paddle around the lake. Then it was time for showers and wine.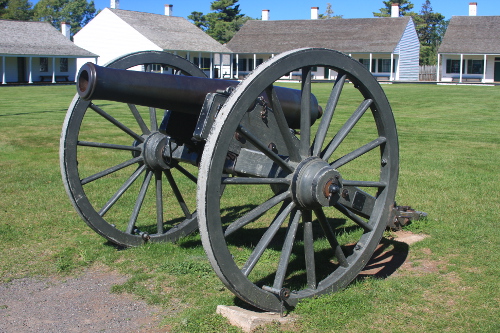 Fort Wilkins
Wednesday, September 18, 2013
Although they are calling for partly sunny skies today, we awoke to overcast conditions and a light intermittent mist. I cooked breakfast, then we loaded up and prepared to travel far enough down the peninsula to get cell phone service in order to contact Philippe with questions about the Fuji 35. We stopped by the camp office to cancel our reservations for tonight, stopped by the coffee place to get Kathy another reason to drink her Bailey's, then headed off.
On the way south, we stopped by the Jampot, a bakery and store run by a Catholic Monastery of the Byzantine rite that has gained quite a status as a local attraction. The monks dress in traditional garb and whip up some awesome goodies. Kathy asked their permission for a photograph, but the picture she missed was just as we were leaving, when the traditional monk whipped out his iPad and started surfing away.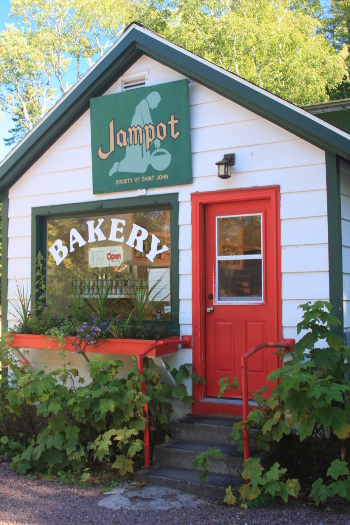 The kindly monk that waited on us at the Jampot
We found good cell service in Calumet and called Philippe. It turned out he was at the Ace Hardware store in town! We met him for coffee and a chat. He answered our questions and entertained us with his unique story-telling ability. After we bid him farewell, we tried to find a place for lunch, but all the places that had been recommended were closed Wednesdays.
It was at L'Anse that we finally stopped for a late lunch at the Hilltop Restaurant. Their chicken and rice soup tasted almost exactly like Granny's Sliders! After eating our fill, we moved on to Van Riper State Park, where the ranger suggested site 111. Her recommendation was solid, and we had a nice large site with no neighbors. We walked around the park then settled in for a little reading.
Thursday, September 19, 2013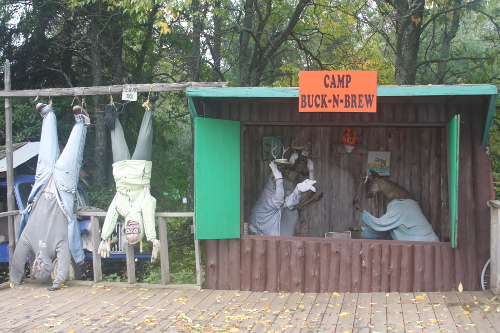 One of many entertaining creations at Da Yooper Tourist Trap
We headed back to the Lake Michigan side of the peninsula today. We stopped in Ishpeming to see Da Yooper Tourist Trap and got a few chuckles there. Indian Lake State Park was our destination, and when we arrived there was no ranger on duty, no self-registration forms either. We selected site #75 and set up the trailer. Fortunately, we caught the ranger on our way out to register. Just a short distance away, Palms Book State Park features the Kitch-iti-kipi Spring, which was quite interesting. Enormous trout could be seen in the pool, and the continuous sand eruptions from the underground springs were fascinating to see.
We drove into Manistique, looking for a couple places recommended on TripAdvisor for lunch, but they were all closed. In fact, there wasn't much to see in Manistique at all. We had forgotten this from our last trip through here. Fortunately, the lady manning an antique shop Kathy visited recommended Big Springs Inn, about 1 mile from the Kitch-iti-kipi Spring we had visited earlier. We retraced our steps and stopped there for a pretty decent meal. Barring us finding someplace else tomorrow, we may return for another meal.
Back at the campsite, we finished setting up the trailer. In anticipation of storms tonight, I tied down the kayaks on the truck. Then it was cocktail and reading time.
Friday, September 20, 2013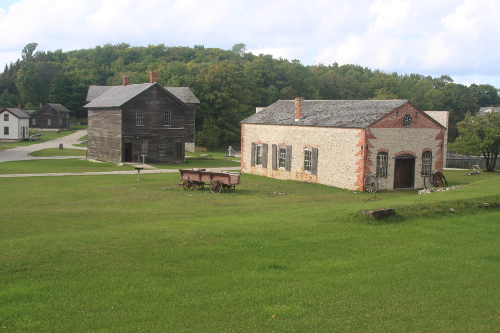 Fayette Historic State Park
We slept in late this morning, then had a great big breakfast in the trailer. This is what vacation ought to be! I took a shower, then we headed off for the old iron-smelting village of Fayette. The sky looked threatening from time-to-time, but it never rained, and ultimately the sun came out as we took our time exploring the historic site. The harbor would have been great for kayaking, but there didn't seem to be any good way to get the kayaks to the water.
We came home too late to feel like going out for dinner, so we prepared one "at home", then relaxed and read until midnight.
Saturday, September 21, 2013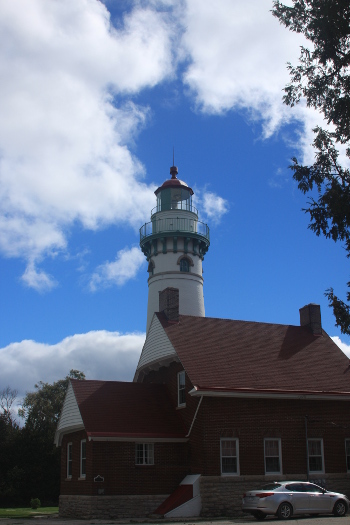 The picturesque Seul Choix Point Lighthouse
We ate a late breakfast, then packed in a frenzy as a squall approached. We just finished loading the kayaks as the rain started to fall. On the way back home, we stopped at Seul Choix Point Lighthouse, where we took a very interesting tour. Kathy got a bit of a scare when she opened a closet door upstairs and met Mr. Bones, the resident talking skeleton.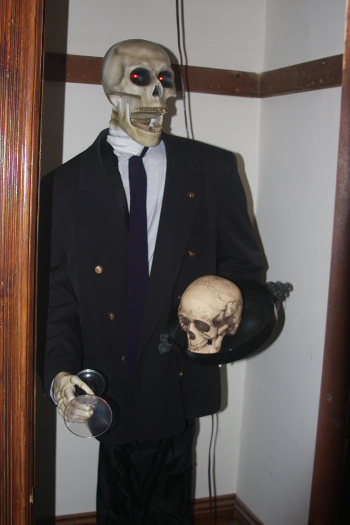 Mr. Bones at the Seul Choix Point lighthouse
We searched in vain for the Cut River Inn that was praised on TripAdvisor and supposed to exist in Naubinway. After three trips through town, we gave up and continued on, only to discover the missing Inn in Epoufette, the town 13 miles down the road. Anyway, the food was good and worth the stop. The trip home was uneventful after that, and we were glad to get off the road (but sad that our trip had ended) when we finally arrived home. It had been a relaxing vacation.