Family Reunion and Melanie's Wedding, Oregon, July 18-27, 2013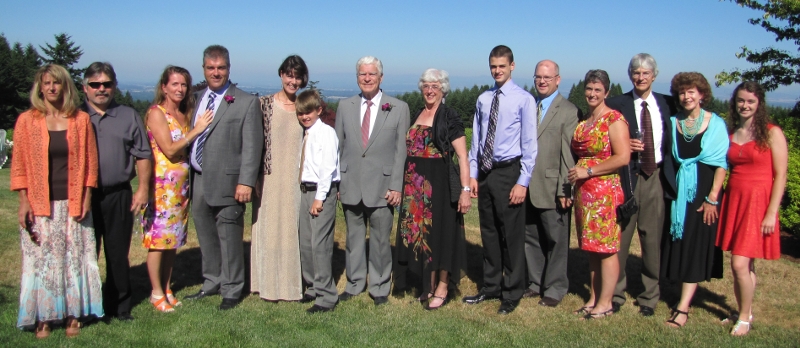 Thursday, July 18, 2013
Our flights from Grand Rapids to Oregon via Chicago went well. Traveling west, we were able to get a much later start than we generally do, so it made for a more relaxing morning (well, maybe not for Kathy, who dreads flying). Susan kindly dropped us off at the airport for our 1:00 flight, and we were off on vacation. Craig, Lora, Dad, Mom, Marco and Natalie were all arriving from Tennessee about an hour before us, and planned to rendezvous with us on our arrival and lead us to the hotel. They had rented their van, and waited patiently for us to rent our car. We were to meet coming out of the airport, but we couldn't find one another. Fortunately, we had our GPS, so we agreed to meet at the hotel in Salem.
The timing for our family gathering this year was determined by Melanie and Jagen's wedding. Their wedding would take place at the Cubanisimo Vineyards near Salem. They had reserved rooms for all their guests at The Grand Hotel in Salem. We arrived at the hotel just as the van was unloading. After greeting everyone, we checked in and prepared to meet Melanie and Jagen and Margie and Curtis at The Half Penny Bar & Grill for dinner. After a long day of travel and the time change, we were ready for bed by the time we called it an evening.
Friday, July 19, 2013
We actually awoke earlier than I expected. Apparently our bodies were still on Michigan time. Kathy and I took advantage of the hotel's pool and exercise room to make up for sitting so long yesterday and eating too much last night.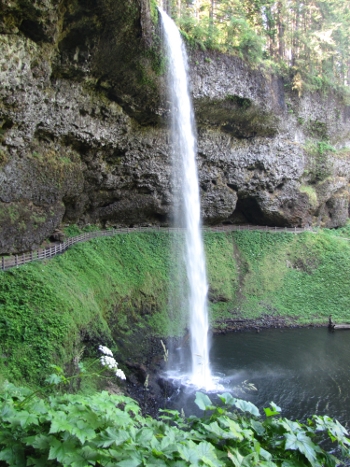 One of many falls we encountered on our hike in Silver Falls State Park
After breakfast at the hotel, we all headed to Silver Falls State Park for a beautiful hike (approximately 5.6 miles) to see several of the waterfalls. The Douglas fir forests have lush fern understories, and one of the unique features of the hike was the trails leading behind many of the falls.
Dan, Dee, McKinley, Adam, Lynelle and Garret had arrived that afternoon, so we visited while those involved in the wedding went to get their pictures taken and review the next day's events. We all attended a very nice dinner at Jagen's father, Paul's, house.
Saturday, July 20, 2013
There was an art fair going on in downtown Salem which drew Kathy's attention for the morning. The rest of our troop headed out for a walk along Riverfront Park not far from our hotel. Kathy rejoined us for lunch at La Perla Tapatia, a local Mexican restaurant.
The wedding was held in the evening. We loaded up the van and headed to the winery, where the setting was spectacular. Jagen's mother, Ann, had done an incredible job with the flowers. After a Champagne reception, the wedding began. Craig led Melanie down the aisle. The judge presided over a hearfelt and occasionally humorous ceremony, and Dad read a couple passages. The reception featured a fantastic dinner and a country-western style band provided music for dancing. Garret was the hit of the party with his dance floor moves.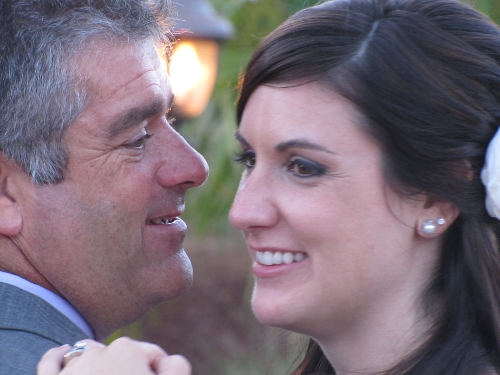 Craig and Melanie share the Father-Daughter dance
Sunday, July 21, 2013
Now that the wedding activities were over, the family reunion would begin. Paul graciously hosted a breakfast for the clan. Kathy, Lora and Dan headed off to Costco and Walmart to supply us for the upcoming week, while the rest of us visited around Paul's pool. Finally, we headed off to Pacific City where Deanna had reserved our first house, Pacific Suites. This was a big house with a great open floor plan on the main floor, perfect for a large party. The bedroom layout was a bit strange, with two huge suites upstairs and the remainder of the beds downstairs in a bunkhouse style. Kathy was initially alarmed her strange sleeping patterns would bother everyone, but we solved that by electing to sleep on a futon on the main floor.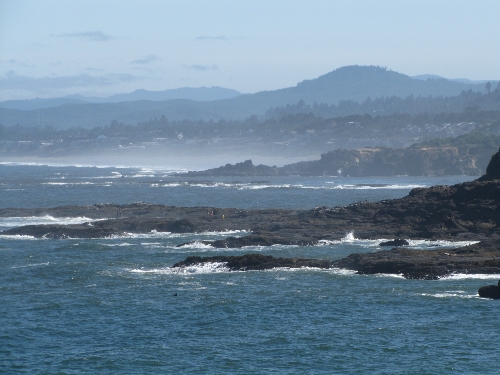 The beautiful and rugged Oregon coast
The first thing we noticed was the significant drop in temperature and the wind. Dressing a bit more warmly, we headed out to the beach and walked north to see some tidal pools while the kids climbed the dunes. Returning to the house, Craig and I struggled to fire up the charcoal grill in the wind. Finally successful, Dan grilled the burgers to perfection.
Monday, July 22, 2013
Today, Dan and Dee led us on a coastal tour south of Pacific City. The drive along Highway 101 was beautiful, with many views of the rugged central Oregon coast. We saw Boiler Bay, Devil's Punch Bowl, Yaquina Head Lighthouse and Seal Rock and enjoyed hikes at multiple stops. The sea lions at Seal Rock were particularly interesting.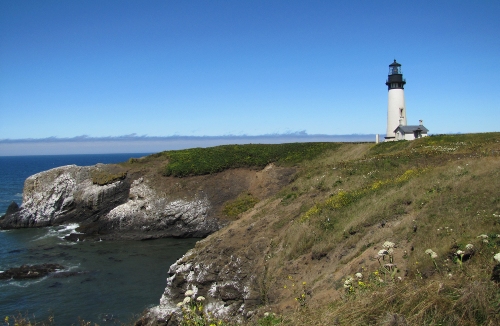 The Yaquina Head lighthouse north of Newport
Jagon hosted a bonfire and firework show on their property, but something I ate for dinner didn't settle quite right, so we set out the evening at the rental house and visited with Marco and Natalie, who also decided to sit out the evening.
Tuesday, July 23, 2013
It was foggy when we awoke. Kathy and I took a long walk south along the beach, finally climbing the dune to see where we were. A forest of small trees extended away as far as we could see. We followed a trail along the top of the dune back north until we encountered a parking lot in the Rob Straub State Park. We walked back through town, then back to the house, where the rest of the clan was preparing to head over to Jagon's father's property by Sand Lake. After a tour of the property and a brief lunch, Jagon and Melanie introduced us to the method they use to enjoy the beach: drive your truck out on the beach, set up boards along the windward side, then sit down on the opposite side to avoid the wind. This portion of the beach was open to 4-wheeler ATV's. They had brought four along for those interested in playing on the dunes. Kathy, Marco and I took another beach hike.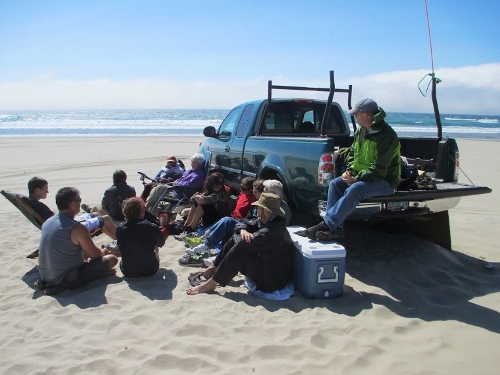 How to have a beach party Oregon style
Wednesday, July 24, 2013
Dan and Dee left early to take McKinley on a tour of Oregon State University. The rest of us toured north along the coastal highway, stopping at a couple State Parks and the Tillamook Cheese factory for walks and pictures. Kathy, Lynelle and Mom did a little shopping in Cannon Beach while we were at Ecola State Park. We joined them for lunch in town. Mom had been craving crab legs and found a place to get some, Ecola Seafoods Restaurant & Market. I tried the smoked mussels, which were pretty good.
The view back toward Haystack Rock from Cape Meares State Scenic Viewpoint
After lunch, we drove to the Mt. Hood region and found our two rental properties there, Foxglove Falls and Mt. Hood Hideaway. Kathy and I picked a room at Foxglove Falls and hauled in our gear. Once everyone was settled, Dan guided us up to Timberline Lodge to tour it and walk up the ski slope area a bit. The Olympic Team was apparently practicing there.
Thursday, July 25, 2013
The Mt.Hood region has several nice trails, and we decided to try one to Ramona Falls. After a false start trying to locate the trailhead (there seemed to be a discrepancy between the written description on the handout and the official map), we finally found the right location and headed out on a dusty trail along the Sandy River. The falls were beautiful with their numerous cascades. We ate lunch there before hiking out (approximately 7.8 miles round trip). Dan had us drive up Lolo Pass for some great views. On the way back, we stopped at Trillium Lake, then had ice cream before returning home for drinks and dinner on the porch and a bonfire later.
Friday, July 26, 2013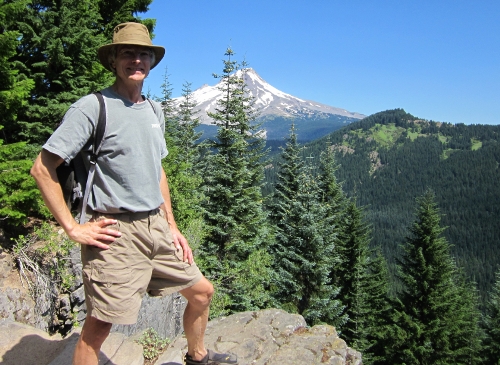 A rocky outcropping with a fine view of Mt. Hood
Today's hike was to Twin Lakes and a Mt. Hood overlook via the Pacific Crest Trail (8.4 miles). The old growth forest was cooler to walk through than yesterday's trail, and we enjoyed a nice hike. Dan had taken his kids skiing on Mt. Hood, and Kathy along with several others from the group had gone to Trillium Lake. That's where we all met after the hike and took a refreshing swim in the shadow of Mt. Hood. We also all tried out a paddle board the Trillium Lake group had rented for the day.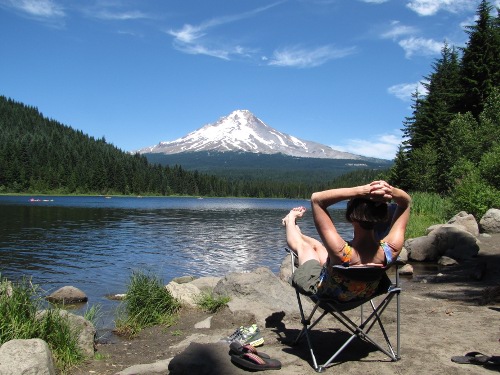 Lynelle demonstrates how to relax at Trillium Lake with a great view of Mt. Hood
Kathy and I departed after dinner to spend the night in Portland (Candlewood Suites), so the next morning would be a little less stressful before boarding our flight home. On the way, we stopped by Margie's place to drop off the coolers we had borrowed and extra food from the trip. She and Curtis have a nice spot on the river in downtown Portland.
Saturday, July 27, 2013
Our flights home went well. Betty picked us up at the airport. We were glad to be off the planes; it was a long trip. Fortunately, we had a couple days to get ready to re-enter work life. It had been another nice family gathering.