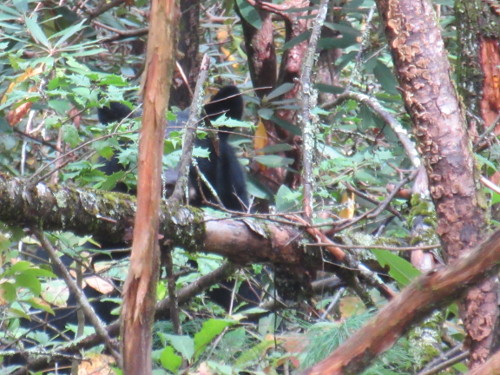 Can you spot Smokey the Bear?
Father-Son Hiking Trip, October 2017
Hurricane Nate, barreling north from the Gulf of Mexico and bringing flooding rains to the eastern Smoky Mountains, disrupted our backpacking plans this year. We hastily reworked our plans and settled on three day-hikes closer to Mom and Dad's home instead. The weather actually turned out better than we expected, with only some light rains during our actual walks. The temperatures were warm, in the 80's, with humidity in the 90's, and we were happy not to be carrying full backpacks.
Fortunately, the bad weather held off during our trip south. After dropping Betty off in Rennselaer, IN to visit friends, we stopped in Logansport for the evening. That made the Saturday drive to Maryville much more pleasant. Lora was already visiting Mom and Dad when we arrived.
Craig had the misfortune of getting to travel through the remnants of the hurricane on his way over Sunday. We all enjoyed a good visit and tried to decide what to do about our hiking plans.
Our first hike was an 8.1 mile adventure consisting of Lead Cove, Bote Mountain, Anthony Creek, Crib Gap and Finley Cane trails. The humidity and lack of breeze early on brought our body temperatures up quickly. We encountered a large black bear eating off the side of the trail who seemed entirely unconcerned and unimpressed by our presence. After observing it for a brief period, we edged by, barely getting its attention enough to raise its head.
We returned back to Mom and Dad's long enough to clean up, then headed out to see Dolly's Dixie Stampede. Some friends of our parents scored some complimentary tickets for us. It was entertaining and the food was good. I ate too much!
The second day had us hiking out of Cade's Cove on the Rich Mountain Loop trail to Indian Grave Gap trail to Crooked Arm Ridge trail. We again encountered a bear, but this one vanished quickly after our sighting it. The humidity hadn't declined and made the 1600-foot climb from the John Oliver Cabin seem steeper than it was. Fortunately, we finally climbed into a breeze. A short rain after lunch helped cool us down. It definitely wasn't enough to convince us to don rain gear. We totaled 8.9 miles for the day.
The final day of hiking was a very pleasant romp, starting with multiple creek crossings on Meig's Creek Trail. No bear today (at least that we saw, in spite of a lot of fresh scat), but we did encounter a ring-necked snake sunning on rock in one of the crossings. It also didn't care we were there, and refused to move, even when we stepped on it's stone during the crossing. My sandals really came in handy for this section, as I enjoyed wading some of the cool crossings rather than trying to keep my feet dry. We moved on to Meig's Mountain Trail and Curry Mountain Trail, finishing with another 8.7 miles under our belts.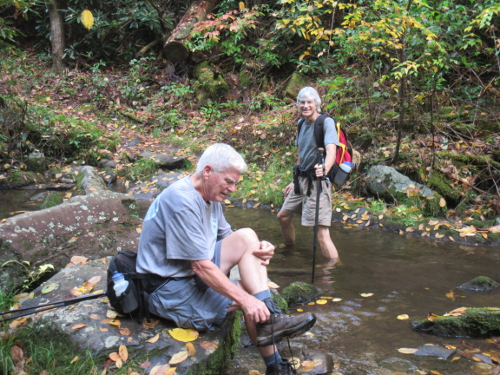 Another crossing of Meig's Creek
Craig departed for home the following morning. Dad and I did a little yard work, then headed into town to stretch our legs over a four mile jaunt on the greenway.
We left the next morning, stopping in the unique town of Yellow Springs to help break up the return drive. Yellow Springs is home to Antioch College and close to several other schools. It is an interesting mix of Hippie-meets-New Age, and does leave one wondering about the minds of the local college attendees! We enjoyed a nice dinner at the Wind's Cafe, which offers a creative choice of small and large plates and had a decent wine and beer selection.
The final day's drive home via Rensellaer proved uneventful. It was another successful Father-Son trip.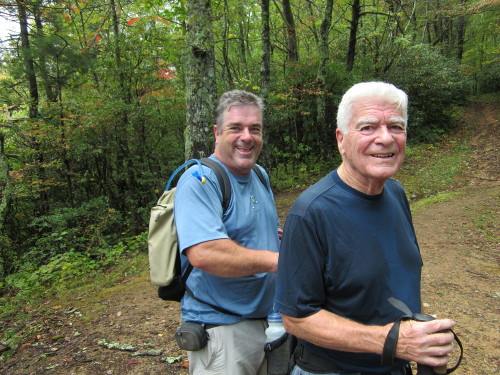 Craig and Dad during a break