Father-Son Outdoor Adventure, Great Smoky Mountains, October 20-22, 2008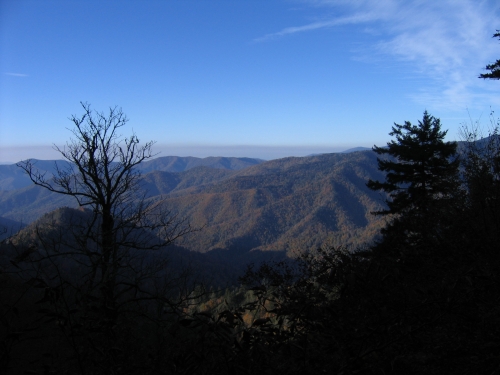 The beautiful weather provided spectacular views from the Appalachian Trail
Introduction
After three unsuccessful attempts to hike this particular section of the Appalachian Trail (AT), we finally made it. We've been thwarted by closed shelters (due to bear), weather and drought, but this year the pieces of the puzzle fell neatly together to deliver a beautiful trip. Dad, Craig, Jim and I gathered at the McBride resort to participate in this year's adventure. Kathy and I arrived first, flying in Saturday, two days before the hike. I thought I was flying in one day prior, but it turns out Dad and I had somehow planned on the wrong date, a minor issue that almost kept us from our planned trip again. Dad had arranged shelter reservations on the AT well in advance of the trip, but when he discovered the error in our hiking dates and tried to revise the reservations, our first night's shelter was booked. Fortunately, Mom came up with the idea of reversing our route, and that worked. Craig arrived the next afternoon. Jim was there when we awoke Monday morning, having sneaked in sometime late Sunday night.
Route
Our route this year took us up Chestnut Branch Trail from Big Creek Ranger Station to the Appalachian Trail. After a side trip to the Mt. Cammerer Lookout, we spent the first evening on the trail at Cosby Knob shelter for a total of 8.4 miles for the day. The second day we advanced 13.3 miles to Pecks Corner shelter. Our final day on the trail would take us another 10.8 miles along the AT to Newfound Gap.
The story
The weather forecast was great, calling for clear skies and cool temperatures--they would be right two of three days. The one forecast we were certain of was for hard beds--AT shelters are convenient, but no substitute for the comfort of our hammocks. It was chilly when we arrived at the trailhead, but the climb up Chestnut Branch Trail had us peeling off layers quickly. As we reached the AT, the panoramic views started to unfold. They reached their climax at the Mount Cammerer Lookout, which was well worth the 1.2 mile diversion from our route. This Civilian Conservation Corps structure was built in the 1930's, and restored in 1995. It served as a nice spot for lunch, and the jagged rocky ridges in front of it blocked us from the wind and transferred warmth from the sun to our appreciative bodies as we rested. We listened to the tale of a group of women that gathered annually to hike in the Smoky Mountains. Apparently they got caught in the lookout during a storm a few years ago and had to find their way back down a tree-strewn trail in the dark without the benefit of flashlights or supplies. Now wiser, they hike with proper supplies in the mountains (a good lesson for any hiker to heed).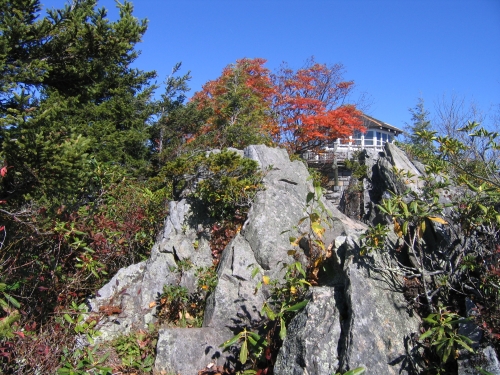 The Mount Cammerer Lookout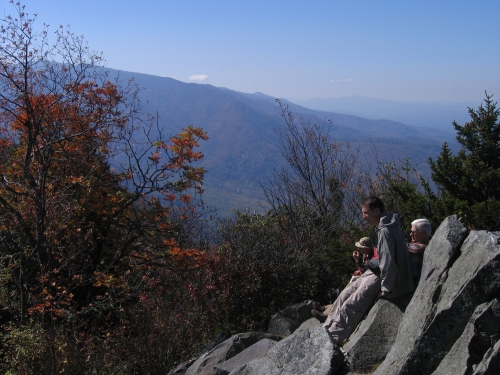 Soaking up the warmth from the rocks
We had initially worried about water availability along the trail (that region is still suffering from a relative drought) and carried a little extra with us, but the cooler temperatures kept our consumption down, and we arrived at Cosby Knob Shelter with water remaining in our bottles. Day two would feel better with less water weight on my back. Bear warning signs greeted us as we approached the shelter, but we've become accustomed to these. Only one other hiker was present at the shelter when we arrived, a young gal with an amazing accumulation of experiences and adventures for her age. Kaitlyn was heading the same direction we were, and we would share later parts of the hike with her. Cosby Knob had a convenient water supply, hard beds and no bears in spite of the warnings. It also had a nice fireplace, and Jim whipped up a nice fire for warmth and ambiance. After dinner and cocktail hour, I slept well.
Although day two started clear, the clouds rolled in just as we were supposed to be enjoying more views from the trail. Fortunately, the climb out of Cosby Knob was through a nice forest of hemlock, spruce and rhododendron, so expansive views weren't necessary. Further along we would encounter debris from the crash of an Air Force jet that slammed into the mountain in 1984. According to Kevin Adams of Hiking Great Smoky Mountains National Park, this accident "created the largest crash site in the Smokies, at nearly twenty acres."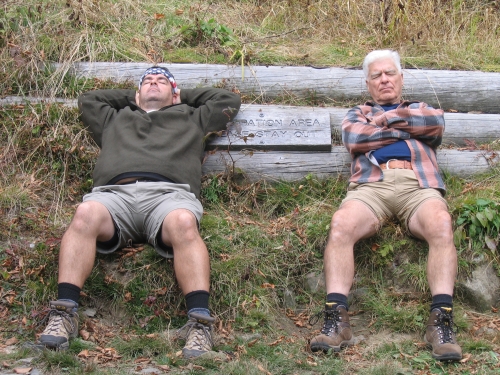 Dad and Craig get restored
Tricorner Knob Shelter served as our lunch site the second day. We arrived there just as Kaitlyn was pulling out, teasing us about the warm lunch she prepared for herself. We dined on our trail mix and jerky (although we did have fresh apples, too), refilled our water containers and grabbed a quick siesta. From that point on the temperature kept falling, and the fog made things a bit damp. I dawned a few clothes as we worked our way toward overlooks like Eagle Rocks that showed us only fog. Our legs were ready by the time the turn-off to Pecks Corner Shelter appeared.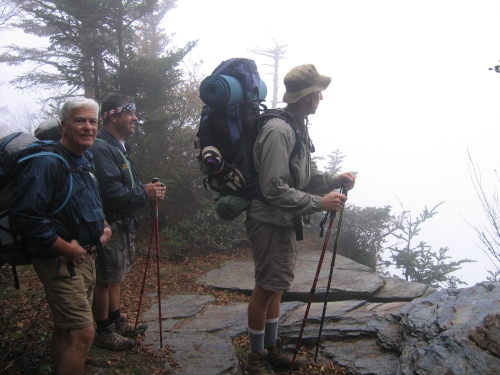 The "view" from Eagle Rocks
There was quite the party going on when we reached the shelter. Unlike the first night, this place was almost packed. Unfortunately, the water supply wasn't nearly so robust. We collected water a drip at a time in my collapsible bucket, then hauled it up to the shelter for filtering. Jim showed off his fire-making prowess out at the fire ring; space was too limited by the indoor fireplace to allow everyone to gather. We enjoyed our Scotch and the various conversations until it was late enough to go to bed, then quietly turned in, so as not to disturb those who hit the hay before us. The stars had started to come out of hiding, portending the sunny day to come.
The third day was beautiful indeed! Kaitlyn joined our merry group as we headed out to enjoy the spectacular scenery. Particularly enjoyable was the approach to Charlies Bunion, which we could see from some distance. There was a fair collection of spectators present when we got there, and I soon found myself in the position of photographer for a few groups who wanted their pictures taken from my vantage point on an adjacent rocky outcropping. From there we headed to Ice Water Spring Shelter for lunch, collecting some water at the spring on the way in. After lunch, Craig and I demonstrated our hammocks to Kaitlyn (we're eager pushers of the tree-hanging lifestyle). It was a short trip out to the trailhead at Newfound Gap. The parking lot was crawling with "leaf peepers", and we soon found that anyone with a backpack on their back coming off the AT was an instant celebrity. "How do you do that backpacking thing anyway?"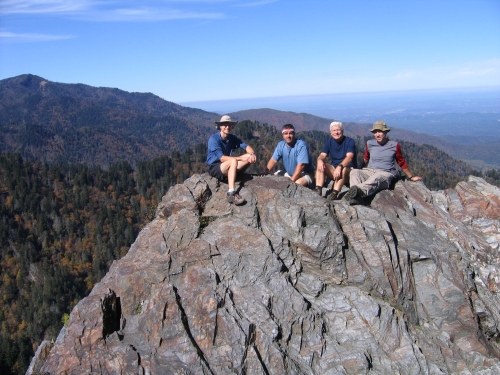 On top of Charlie's Bunion
The long trip to retrieve Craig's truck from Big Creek Ranger Station gave us plenty of time to visit and cramp up. Just as our stomachs were about to rebel from fasting, we received word that Mom and Kathy had returned home from their shopping expedition in North Carolina and had pizza on the table--thank you! Warm showers and a soft bed felt good that evening. Jim vanished in the night, just like he arrived. Apparently he got wind of a tree felling project for the following day and panicked.
Après hiking
Indeed, Mom did have plans for us in the lumbering department. Several trees had been felled by a professional, and the debris needed to be cleared. Craig, Dad and I cut up and burned a lot of branches and debris before turning to the exciting task of bringing down one big remaining oak. Not forgetting our previous lumbering experience, Mom and Kathy fled to Knoxville for more therapeutic shopping. Alas, the task was accomplished neatly, and we were resting on our new kill, enjoying cold beers and watching the last burn pile when the ladies returned.
We bid farewell to Craig after dinner, then did some packing in anticipation of our trip home. The flight the following day was a little bumpy for Kathy's taste. A cold front stretched from south of Tennessee up well into Michigan, so we got to enjoy the length of it, but we made it home safely. It was another fine vacation.