2014 Family Gathering, Oconomowoc, WI, July 2014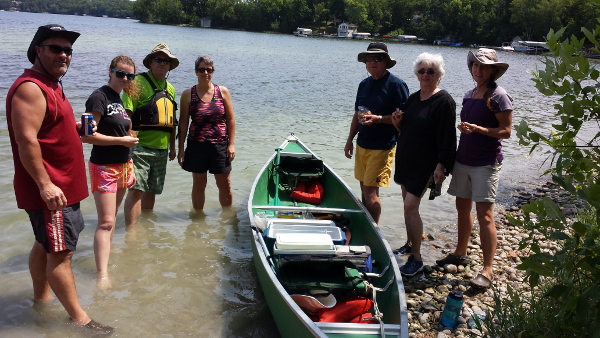 Kayaking on the local lake
Dan, Dee and family hosted this year's family gathering, timing it to coincide with McKinley's graduation party. Mom and Dad headed over there early to help get things organized. The rest of us showed up on Friday. We battled road construction and traffic jams in Chicago, spending a record three hours just trying to get from one side to the other of the Windy City. We finally arrived at Ottawa Lake Recreation Area in the southern unit of the Kettle Moraine State Forest, where we would spend the first couple nights in our converted cargo trailer. Betty joined Mom and Dad in their motorhome in the site next to ours.
Ottawa Lake Campground had nice shaded sites with plenty of trees between units for privacy. The bathrooms left a little to be desired, appearing to be a bit old and outdated, yet still functional. We were glad to have reservations, because the place was full when we arrived. They had ice available for sale at the office, which was convenient for keeping our coolers under control. We set up camp, then headed to the Brewer household to greet everyone else. It was only about a 15-20 minute drive from the campground to Dee and Dan's house. Craig and Lora had just arrived when we got there. Aunt Micki had arrived earlier, taking the Badger over from Ludington. The Brewer side of the family was staying in a nearby hotel and had invited everyone over for a pizza party.
The graduation party was Saturday afternoon and evening. We helped set up the outdoor furniture and gather supplies before everyone started arriving. McKinley drew a huge crowd; fortunately, the spread Dee and Dan put out was more than adequate to satisfy everyone. In fact, we would have enough for several subsequent meals. We enjoyed visiting with relatives and meeting the neighbors. The weather cooperated, with only a hint of a sprinkle. It cooled down nicely in the evening for good sleeping.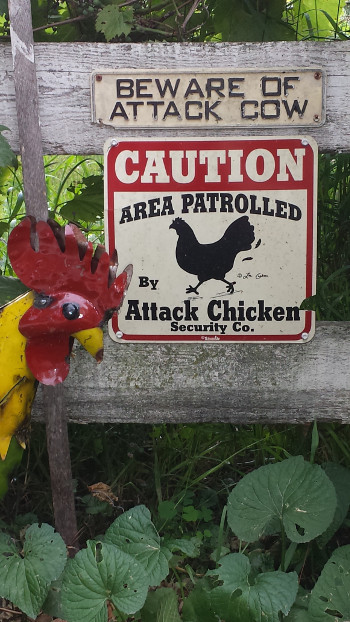 Spotted during a walk
On Sunday, we went in to the neighboring Village of Dousman for a parade and local celebration. The small town drew quite a crowd for their parade. Of course, there were plenty of political candidates present, including U.S. Congressman Paul Ryan. An energetic troupe from the Wisconsin State University band provided some great entertainment. Afterwards, we moved our trailer to Dan and Dee's place and set up camp. An afternoon power-walk led by Dee turned into a cold shower when the sky opened up on us. Kathy managed to strain a muscle dancing around in the deluge, which would exclude her from the upcoming outdoors activities.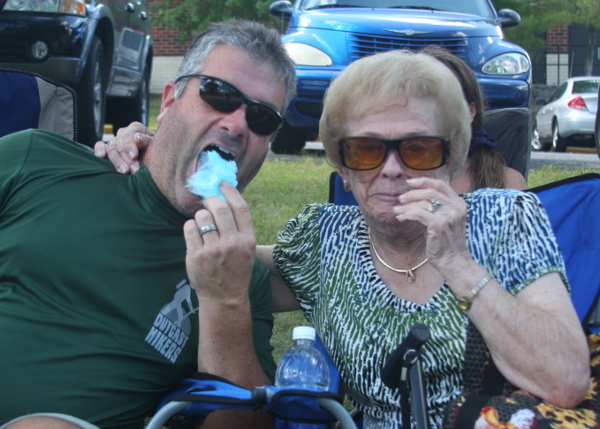 Craig and Betty enjoying some cotton candy at the parade
Monday was hiking day for Dad, Craig, Lora and me. The ladies did some shopping while we headed over to the Lapham Peak unit of the Kettle Moraine State Forest for a 7.5 mile jaunt on trails that are really well-groomed (they use them for cross country skiing in the winter). The weather was beautiful and we saw a lot of deer.
Tuesday was kayaking day. Dan led us on a paddling trip up a short stretch of Bark River to Lower Nemahbin Lake then under I-94 to Upper Nemahbin Lake and finally into Lower Nashotah Lake, where we located a small beach for lunch. It was another great day to be outside. The breeze picked up, and Mom was getting a little tired on the way back, so I clipped a line to her kayak and towed her the last half of the trip home. There would be no problems sleeping again that night.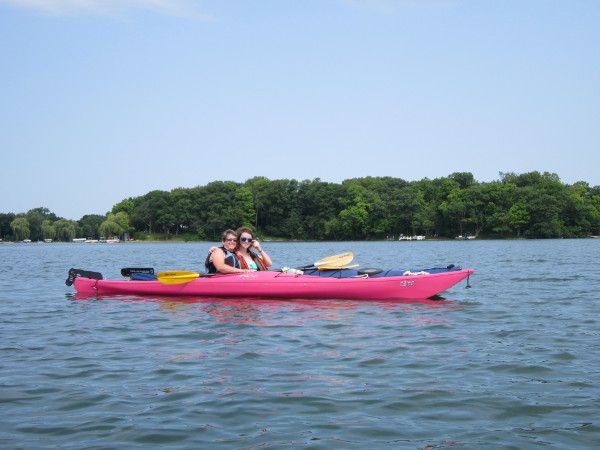 Dee and McKinley pose during our kayaking trip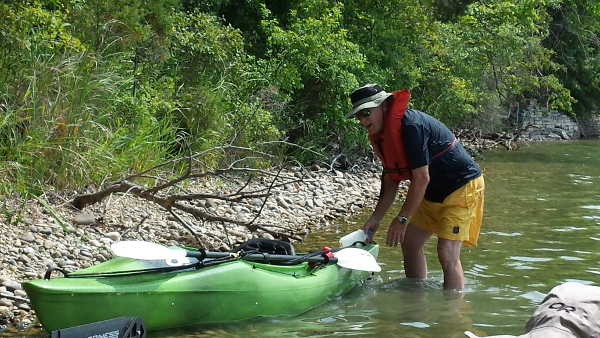 Dad took an unexpected swim while trying to get in one of the tippier kayaks
Wednesday, Kathy, Betty and I packed up to head home. The rest of the gang would be staying to party for another couple days (you can catch Craig's story on his site), but we needed to get home. Fortunately, the Chicago transit went more smoothly. Unfortunately, road construction in Indiana forced us to take a bit of a detour, but we arrived safely home. It had been another great family gathering.