Vibram Five Fingers TrekSport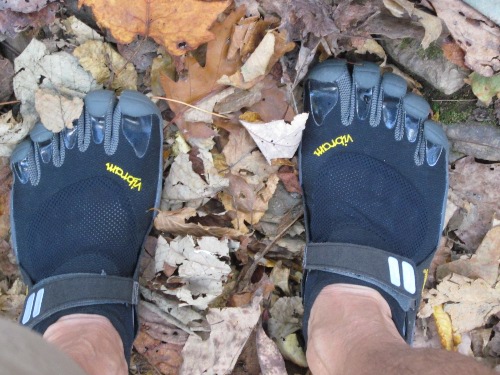 I purchased my pair of Vibram Five Fingers TrekSport shoes from a local outfitter, Bill & Paul's Sporthaus this Spring, after reading reports about the VFF's on a couple of blogs I follow. I like to be barefoot, so these seemed to be a natural fit. In addition, there were reports that walking barefoot, or using something like the VFF's could be helpful to those with knee issues. I had been recovering from a likely meniscal injury and hoped they would be helpful to me. Finally, I've done a lot of hiking and backpacking in sandals, so the idea of having a minimally-supporting shoe was not foreign to me.
Finding the proper fit was a little challenging. Initially I tried the size 42, only to bring them back thinking they were too tight. I tried the next size up, only to decide it was too loose, so I went back to the 42. My second toe is the longest, and it pushes a little on the tip of the toe in the shoe, but the salesperson with whom I spoke convinced me the shoe should fit like a glove, so I decided to give it a try.
The uppers are breathable, but still keep debris out of the shoe pretty well. The soles are 4mm Vibram and give great traction. The protection extends up over the ends of the toes. A Velcro strap helps secure the shoe on your foot.
Yes, the shoe looks a little weird. If you are sensitive about what others think, these might not be for you. Personally, that is not an issue--I don't really care what others think. I did get mine in black, mostly because I don't care for bright colored shoes and I hoped they wouldn't show dirt as much, but they are also less flamboyant.
Yes, they initially feel a little strange, with material between your toes. I actually find them oddly comfortable, almost like how it feels when you gently separate your toes for massaging your feet. The very slight toe spread actually feels good. The feel of the shoe is definitely very barefoot-like. Mine, being the TrekSport model, have a slightly thicker sole than some of the other models, which likely feel even more barefoot. The sensation is of being barefoot, but not having to worry about sharp things poking your foot.
Walking (or running) in the shoes does promote the more natural stride of not having a strong heel-strike. This tends to exercise your calves more, and after a long walk, I do feel it there more. It has the beneficial effect of decreasing the shock to the joints in my leg by using the foot as a natural shock-absorber. The first time I wore the shoes for an extended period, my soles felt a little abraided, likely from not having a sock. This sensation never recurred--maybe my soles toughened a little.
Initially, I just wore the shoes when doing some yard work. You can actually feel, and enjoy, the ground beneath your feet, but you walk relaxed, unconcerned about getting poked by sticks or stones. Walking on asphalt is not as comfortable, because it does not give at all. You definitely get out of the habit of a strong heel-strike here.
The first hike I took in them was a seven mile outing wearing a loaded backpack (I was conditioning for a backpacking trip) at Muskegon State Park. The trail was through forests and over old sand dunes. I was extremely impressed by how comfortable the shoes were, the only problem being that sand can get between the material and the top of my foot and rub a bit. Even though it was warm, the shoes ventilate enough my feet didn't get hot. Along a stretch of trail that was composed of crushed rock with sharp edges (part of a cross-country ski trail), it did get a little uncomfortable as the continuously rough surface wore on my soles.
I recently brought them along on my hike of a section of the Appalachian Trail in North Carolina, initially using them as a camp shoe then getting bold enough to wear them on the trail. There they performed flawlessly, and were markedly better on sections of boulder-strewn trail than my hiking shoes, being both more stable on my feet and giving me better grip on the rock and a better feel for the walking surface. They did meet their match on a particularly cold day when we started off in snow. At 33 degrees, my feet were cold, especially when walking (the air circulated through the mesh tops). Once the temperatures got above 40 degrees, I was comfortable again, even when my feet got a little wet. It would be interesting to see if a sock like the injinji might extend the temperature range of these shoes a little.
It is too early to say much about the durability of the shoes. They haven't had any issues yet and wash up well with a water rinse. I haven't noticed the "neoprene stink" I was expecting, similar to what I experience with wet suits.
In summary, if you are a barefoot fan and don't mind the look, these shoes may be for you. If you tend to kick every stump and rock in the trail, I would avoid them. Coming from a sandal-hiking background, I was already used to placing my feet carefully, so this is not an issue for me. If you are not willing to learn to walk with the more natural gait, avoiding a pronounced heel strike, these shoes will likely frustrate you. Myself, I like the VFF's so well, I plan on trying another model for water sports (sailing and kayaking), likely the KSO.
Update: November 3, 2012
I've now put over 200 miles on my VFF Treksports, a combination of backpacking, hiking, and road walks with uphill sprints. I really enjoy them, and they've held up well. The only surfaces that pose a challenge are long stretches of gravel, when they become slightly uncomfortable, and long stretches of deep sand, where they need to be emptied occasionally to prevent abrasions from sand accumulating around the upper elastic.
I really like the superior footing and traction on steep rocky surfaces. I also enjoy the ability to feel the ground below me, a sensory experience that improves the more I use them.
A thin pair of Injinji socks will lower the comfort rating into the low 30's. The thicker socks don't fit, or they could be used to lower the rating further yet.
I have found that it is useful to rinse or lightly wash the shoes on a regular basis to keep the odor under control. They dry overnight under a ceiling fan.