Colorado, September 8 - 20, 2010
Arrival and getting settled
Our flights went well, and we arrived in Montrose to intermittent light rain. Hertz had a white Ford Explorer waiting for us (we don't know why anyone would want a white vehicle in an area packed with dirt roads). We stopped by the local Walmart to pick up a cheap cooler and some groceries, then moved on to Sports Authority to get butane cannisters for the new MSR PocketRocket stove we brought along. We also stopped by the Holiday Inn Express to reserve a room for our return trip. Then it was on to Ouray, where we checked into the KOA campground. I had reserved a tiny cottage there for the first few nights. The cottage was right by the stream and had a great porch swing we could enjoy with wine in evenings.
We had our traditional arrival dinner and margaritas at Buen Tiempo in Ouray, complete with dessert at Mouse's Chocolates. Mouse's has expanded, a good sign for one of our favorite spots. On the way back to the cabin, we spotted a rainbow over the mountains and declared it a good omen for our vacation. It was to be the last of the rain for our entire trip.
Thursday, September 9, 2010: Courthouse Mountain Trail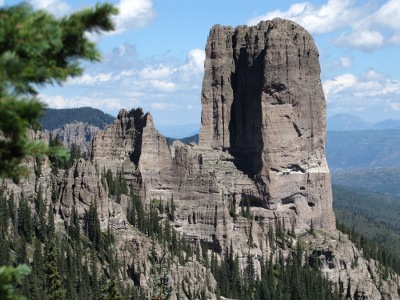 View of Chimney Peak from the trail. I will be looking down at this peak from the top of my climb!
For our first full day in the area, we wanted a short trail just to help us acclimate to the higher elevations. We drove down Owl Creek Pass road to the trailhead for Courthouse Mountain Trail. It was a short trail, but what a climb! At only 3.8 miles round trip, the Ouray Hiking Guide suggests it will take 6.5 to 7.5 hours to complete, and they're right. Kathy made it to where the trail ends; I did the boulder climb and assault on the peak. The guide book describes two routes. I took the direct approach first, straight up the mountain. Huffing and puffing and with legs trembling, I called it quits when the boulders got too big. There was a nice hollow in the boulders, so I took a break for a Larabar and water and caught my breath, then started back down. On the way back, I found some cairns marking the alternative route and decided to give it a try. The views were awesome, and I made it to within 50 yards of the summit, but suddenly felt very alone on the face of the mountain, and was getting tired. I decided to call it quits and worked my way back to where I left Kathy.
Steve makes his assault on the summit.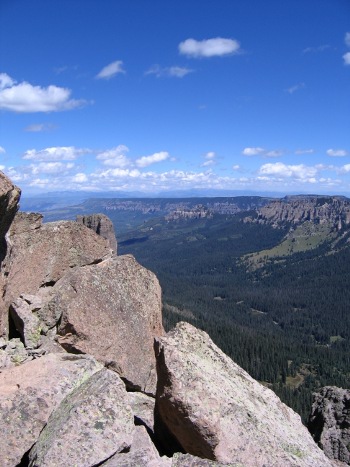 The view to the north from where I took my break near the volcanic peak of Courthouse Mountain.
We drove on to Silverjack Reservoir, then continued, ending up on highway 50, between Montrose and Gunnison--way out of our way! The showers felt great that evening by the time we got back. We celebrated our maiden hike with a bottle of wine on the porch swing.
Friday, September 10, 2010: Richmond Pass (east)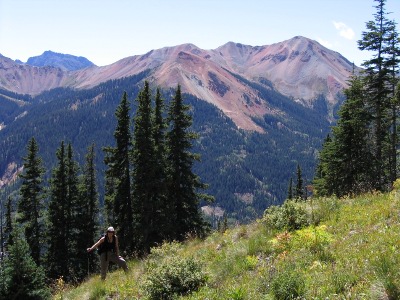 View of Brown Mountain in the background from Richmond Pass Trail
It took us a while to locate the trailhead for Richmond Pass (east), then another drive-by before we located a parking place. This was a very steep, 4.7 mile trail and very cold and windy at the pass, which was unfortunate, because we couldn't spend much time up there once we made it. The views were impressive though, and we enjoyed the trail.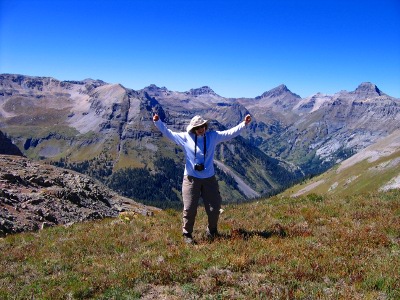 Kathy celebrates reaching Richmond Pass (elevation 12,657 feet)
Saturday, September 11, 2010: On to Durango for the art fair
It got down to freezing overnight. We arose early and showered, then ate breakfast in our cabin. It was too cold outside, so we fired up the stove inside for hot tea. After checking out, we stopped by the Victorian Inn to secure reservations for Monday night, then headed for Durango.
The street art show had started by the time we arrived, so we had to work our way around it to the Rochester House, where we ended up in the same room we had five years ago! We walked around the art fair--wasn't nearly as big as we had anticipated--then ate lunch at Francisco's. Later, Kathy checked out the shops while I retired to the hotel courtyard to read. I met Kirk, the proprietor of the hotel, there and learned about his history with the place. Dinner was at the Cyprus Cafe, where we have enjoyed several good meals in the past. It was just as good this time around.
Sunday, September 12, 2010: Engineer Mountain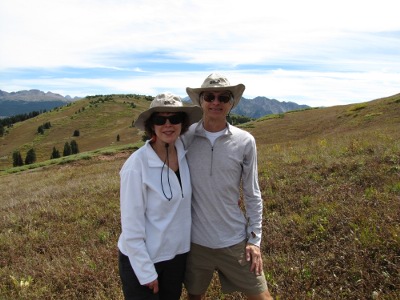 Happy Hikers after lunch on Engineer Mountain
After a nice breakfast served downstairs at the Rochester, we drove back up to Coal Pass to hike to Engineer Mountain. It was a nice hike but very popular. We met a lot of hikers (and their dogs). After showers at the hotel, we tried another Mexican restaurant in town, Tequila's, where Kathy celebrated with a margarita while I enjoyed a Tres Agave tequila. Later we walked a portion of the Animas River Trail in town, then headed back to Cyprus Cafe for dinner.
Monday, September 13, 2010: Purgatory Flats and back to Ouray
After another tasty breakfast served downstairs, we checked out of the hotel and headed back north. Stopped by Purgatory Flats to take a short but very pretty hike down toward Animas River. We decided that would be a nice place to set up a base camp if backpacking, then explore the surrounding valley from there.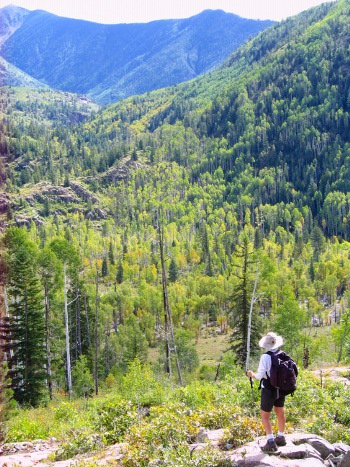 Kathy looks out over the Animas River and valley.
We stopped in Silverton to browse the shops and eat lunch at the Handlebars Restaurant & Saloon, then went on to Ouray, checking into the Victorian Inn. We negotiated a reduced rate to stay here all week. Kathy shopped in town while I relaxed and read in the room. Dinner was at O'Brians Irish Pub.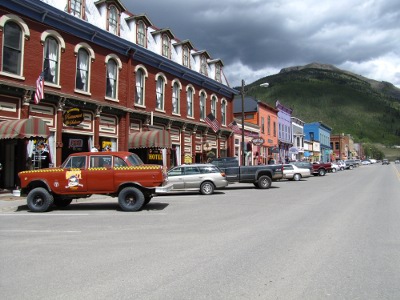 Main Street in Silverton
Tuesday, September 14, 2010: Gray Copper Gulch Trail
We originally planned to hike Red Mountain Back Crescent Trail, but the access road proved to be pretty rough. We were almost to the trailhead, but came across an area where we could turn around, so went back down into Ironton and took the Brown Mountain turnoff to the Gray Copper Gulch trailhead. This was a beautiful hike! The trail starts at 10,260 feet and climbs to a pass at 11,600 feet with great views all the way up. We explored the old Vernon Mine at the top, then picked up an old jeep road and continued up to the pass. We hiked cross country to check out some other mines we spotted on the way back, bringing our total hike for the day to around seven miles. Dinner was back at Buen Tiempo--a seafood special with tuna, shrimp and salmon.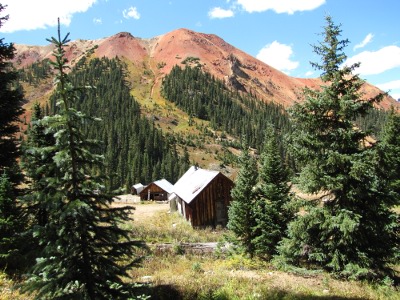 Old buildings at the Vernon Mine site
Wednesday, September 15, 2010: Rest day
We took advantage of the Continental breakfast served downstairs, supplemented by some groceries in the room. Kathy shopped and scored a necklace while I read in the room. Later we took our books to Angel Creek Campground and read by the river, then cooked a dinner of chicken and spinach by the river. We drove "home" then walked to Mouse's for ice cream. Today was a rest day in preparation for tomorrow.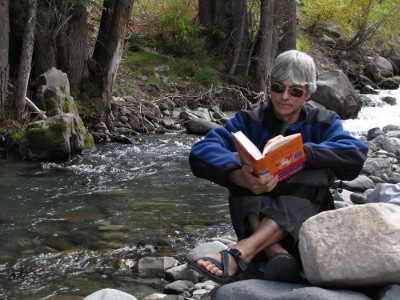 It's tough to find a better spot to relax and read!
Thursday, September 16, 2010: Blue Lakes Trail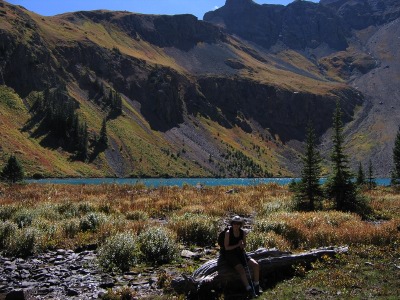 Kathy at Lower Blue Lake
This would be the big hike of the trip, and the only one we would repeat from a past trip, although our plan was to head further up the pass at the end than we had achieved previously. We had set the alarm for an early start. After a quick breakfast in the room, we headed out for the Blue Lakes trailhead. The drive back to the trailhead is always enjoyable with the great views of the Sneffels Range. This hike starts at 9,400 feet and peaks out at 13,000 feet with a total distance of just over 10.5 miles. We had a great hike up to Lower Blue Lake, where we snacked, then went up to Upper Blue Lakes for lunch. Then it was on to the pass. Kathy made it about half way before getting a bit nervous (and tired). I continued up to about two switchbacks from the top before I became uncomfortable with going solo. Two gals came up, one quite experienced, but they decided to turn back at the same spot. I followed them back down, picked up Kathy and worked our way back to the trailhead. It was a very long day, but absolutely beautiful. We polished off a bottle of wine and one-and-a-half Lindt 85% chocolate bars during our in-room dinner--great celebration! Kathy says she earned her necklace today.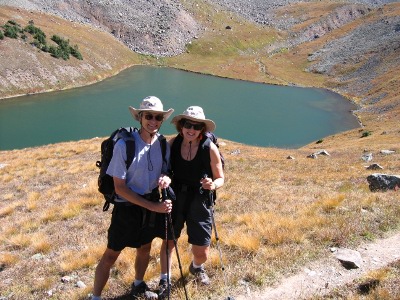 Kathy and I above the lower of the Upper Blue Lakes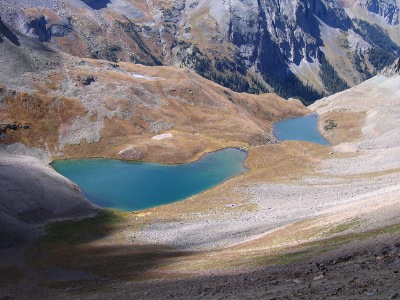 View of the Upper Blue Lakes from the pass
Friday, September 17, 2010: Rest day and Ouray Perimeter Trail
We took another rest day today. We ate a casual breakfast then strolled downtown so Kathy could sample a Chai Latte at Mouse's. Had to wait on a doe on the sidewalk while she finished grazing--wonderful place, Ouray. We sat and read at Mouse's for quite a while, and I finally gave up and had a piece of dark chocolate almond bark (only because they were out of my favorite dark chocolate pecan and dried cherry bark). Kathy strolled around town for a while, and I returned to the hotel.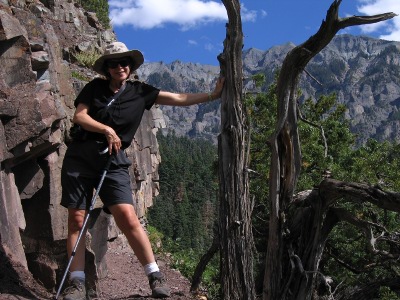 Kathy on a narrow part of the Ouray Perimeter Trail
We had a spurt of energy in the afternoon and hiked down to the visitor's center to explore the new section of the Ouray Perimeter Trail between there and Cascade Falls. It was really hot up there, and we bailed out at the falls, heading back to the hotel to sit by the river and read.
Dinner and margaritas were enjoyed at Buen Tiempo, then ice cream at the Ouray Candy Company.
Saturday, September 18, 2010: Blaine Basin Trail
This morning, we drove back to the trailhead for Blue Lakes and Blaine Basin trails, hiking up into Lower Blaine Basin for lunch by a stream. We took a short detour on way back to try to get to a waterfall, but lost the trail. I ended up slipping off some rocks crossing a stream and got a little wet. Total distance for the day: approximately 7 miles.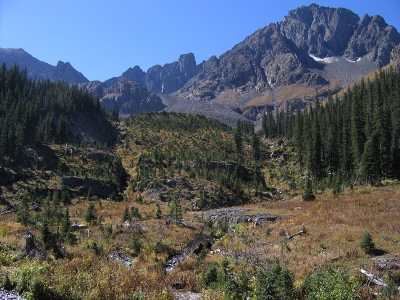 Lower Blaine Basin (elevation 10,800 feet)
The shower back at our hotel felt good and we relaxed a little, then headed back into town. Kathy picked up another book at the bookstore, then we celebrated our vacation with a nice dinner at the Bon Ton. We enjoyed a bottle of Bonterra Cabernet Sauvignon 2008, an organic wine from Mendocino Valley. Of course, we stopped by Mouse's Chocolates for dessert. The Notre Dame - Michigan State game was on television--Notre Dame lost in overtime.
Sunday, September 19, 2010: Montrose
After breakfast we made our first attempt to get everything back in our suitcases. We left the mountains behind and traveled north to Montrose, stopping by the Ute Indian Museum (AAA got us 50% off admission). They had an informative display of the Ute history and culture in the area. After checking in at the Holiday Inn Express, we left our rental vehicle at the airport and took the shuttle back to the hotel. "Fox" was the same driver we enjoyed two years ago. She is the special event coordinator for the hotel and a genuinely nice person.
Dinner was at El Jimador, a very good family restaurant close to the hotel. They have great margaritas and an incredible menu. We took a short walk after dinner to burn off the carbs and alcohol and got invited into the Saint Mary's Church. They were starting their first youth group meeting, and the kids were ringing the bell. The deacon noticed us watching and invited us in to see the interior, featuring stained glass windows from the original church downtown.
Back at the hotel, we repacked our luggage to get everything down to two carry-ons and our two checked bags.
Monday, September 20, 2010: Flying home
"Fox" delivered us back to the airport for our early morning flight. The flight to Denver was smooth, but the flight from Denver to Grand Rapids had a fairly long turbulent period that didn't please Kathy. On top of that, a couple passengers further forward in the plane succumbed to motion sickness. We were glad to get on the ground in Grand Rapids, where Susan picked us up. We rescued 'Stache from the hospital on the way home, another very enjoyable Colorado vacation concluded.