2013 Father-Son Trip: Backpacking in the Joyce Kilmer--Slickrock Wilderness, October 15-17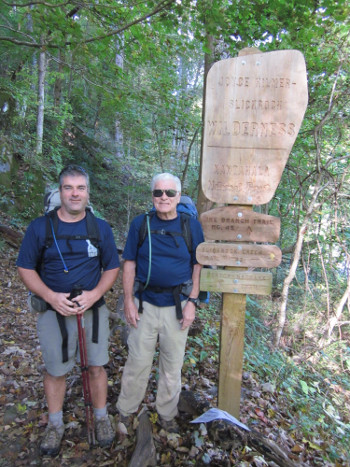 Craig and Dad at the Slickrock Creek trailhead
Our dysfunctional government forced a change in our hiking plans this year. We seem destined not to be able to hike the Old Settlers Trail route in the Great Smoky Mountain National Park that we've cancelled at least three times now. Craig had an alternative plan in the wings, just in case the government shutdown interfered with us. He had us heading to North Carolina's Joyce Kilmer-Slickrock Wilderness to tackle some beautiful but rugged trails.
The weather report promised very mild temperatures, but a chance of rain the second and third days. I elected not to carry my typical colder weather gear, which turned out to be a wise choice.
Our trip south to Tennessee had been uneventful. Betty joined us again this year, and she and Kathy planned shopping outings with Mom. On Monday, Dad, Craig and I spread mulch along the landscaping at the McBride Ponderosa and toiled to dig in the brick-hard clay to transplant some plants for Mom. Then we turned our attention to packing our gear for the trip.
Tuesday
We started our adventure with a morning drive along The Dragon to the Slickrock Creek trailhead parking lot off US 129. Concerned we would find the trails crowded with the closing of the national parks, we were encouraged when we were the only vehicle in the tiny, somewhat obscure parking lot. Slickrock Creek trail started out gently enough with a nice walk along Calderwood Lake. The quiet was disturbed by the sound of an outboard motor running along the shore, stopping occasionally. Added to that was the sound of a hound barking. It was clear they were dropping bear hunters off along the shore and sending a dog inland. We decided we did not wish to be mistaken for a bear, so Craig pulled out his hunter-orange pack cover and draped it over his pack.
Less than a half mile in, our casual stroll was rudely interrupted. We had just rock-hopped over a small spring running down to the lake when Craig yelped and took off like a shot. It took about three hot needle-pricks in my arm before I realized what was going on--he had disturbed a large yellow jacket nest buried in a hole in the trail! Unfortunately, I had been following Craig, and the little buggers decided I was the culprit. I went dancing in reverse, past a stunned Dad, who also received a sting for being there. Before I could rid myself of the critters, I had five stings. We waited for them to settle down before Dad found a high route around the nest. Taking no chances, I donned my fleece jacket before following his trail, but there were no further attacks.
The trail starts to become a bit tougher
At about 1.6 miles, the trail finds its namesake and becomes a bit of an obstacle course. Not only does it cross the creek 12 times, but boulders exposed by wash-outs and fallen trees make travel slow and a bit of an acrobatic chore. It is a beautiful route, though, with rapids, deep pools and Wildcat Falls. We got plenty of water crossing experience--fortunately the weather was beautiful, and the water felt great. At mile 8 we found the junction with Big Fat Trail, and shortly after that, our campsite for the first night.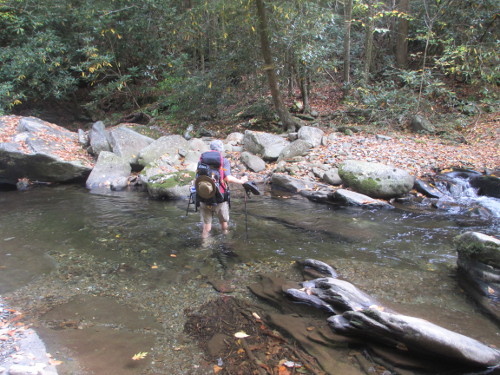 One of many crossings of Slickrock Creek
(Photo by Craig)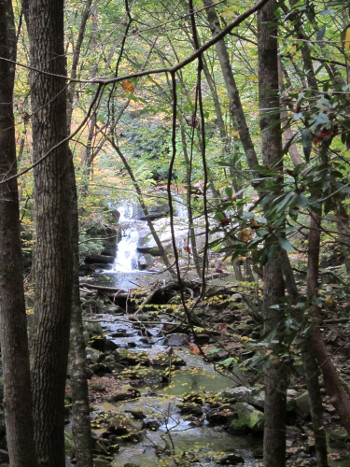 Wildcat Falls on Slickrock Creek
We had encountered only a couple college students day-hiking the trail, and we found ourselves alone in the wilderness for the night. We gathered enough firewood for several fires, then Craig started the traditional campfire. A bright moon lit the campsite through the night, and the temperatures remained so warm we really didn't need sleeping bags.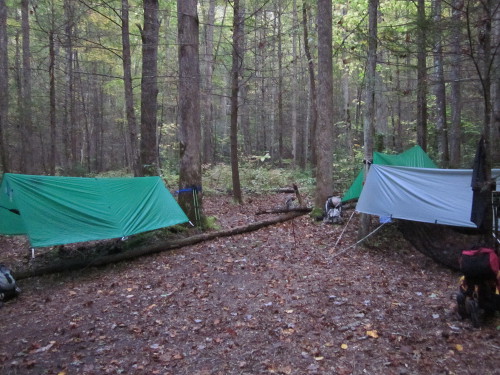 Our hammocks are hung at our first campsite along Slickrock Creek
Wednesday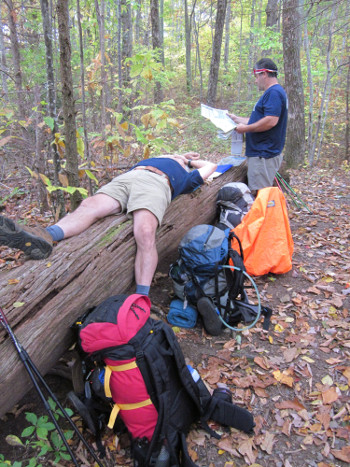 Dad rests after a vicious climb, while Craig studies what's to come
We ate breakfast by the campfire then struck camp. Today's route was all uphill--seriously uphill. Big Fat Trail climbs 1,050 feet in a short 1.5 miles from the creek to a large parking lot at Big Fat Gap. We found several hunters gathered at the parking lot, where we took a much needed break. From there, we had another 2,189 foot climb over the 2.9 miles of Hangover Lead South Trail. The clouds increased as the day progressed, and it wasn't long before we found ourselves surrounded by them. Craig had planned this crazy climb just to get to the rocky overlook, which supposedly offers a 360-degree panorama of the wilderness. We saw 360-degrees of fog! There were brief breaks that hinted at the colors and landscapes that were potentially visible as we sat out on the rocky outcropping. We decided to try again on the way back tomorrow.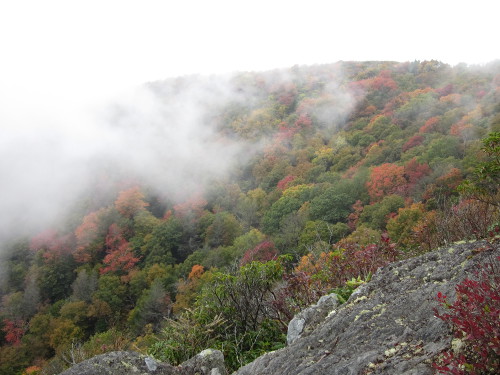 Some color is visible in the mountains during brief breaks in the fog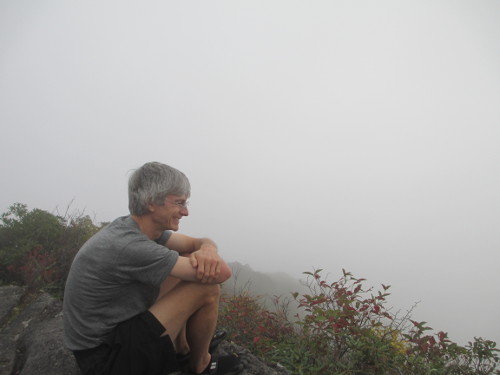 Contemplating the fog at the overlook
(Photo by Craig)
At its highpoint (5,280 feet), the trail joined the Haoe Lead Trail. We finally enjoyed the only significant downhill walk of the day, heading west off the ridge for a mile to Naked Ground, a gap at 4,860 feet, where we established our second camp. Craig and I descended a bit down the valley to find a decent spot to gather water from the spring that serves as the only water source for the camp. This is a fairly heavily used area, although we were again alone for the night. The ground had been scoured of deadwood, and we had to work a bit to gather firewood. What we did find was pretty damp, given that the place was still enshrouded in fog. Dad and Craig soon had a roaring fire nonetheless.
The only other soul we encountered was a local kid who had been summoned by his father to head into the wilderness after school in search of a bear his dog had apparently treed for the past couple days. When he passed by again later in the day, dog in tow, he related that the dog heard him coming and left the bear to greet him. He had heard the bear climb out of the tree and disappear.
It got dark pretty quickly with the clouds obscuring the evening sun and the rising moon. Dad gave us a great Superman impersonation when he tripped over his tarp lines and flew rather gracefully about two feet above the ground before touching down just short of the fire pit. After a quick push-up (a technique he had demonstrated a couple of times earlier in the day), he was up on his feet, none the worse for wear. We sat around the fire for a while after dinner, but were tired from the climb. Dad had no sooner turned in when the rain drops started falling. Craig and I hastily followed his lead. It rained and blew all night.
Thursday
It was still raining lightly when we arose. Craig had made a breakfast area under his tarp, and we gathered there after packing most of our gear. Fortunately, the rain stopped as we finished eating, which made striking the rest of camp much more convenient.
We headed back up Haoe Lead to Big Fat Trail and back down to the parking lot, where we ate lunch. A young couple was taking a break there before heading for the site we had just vacated. The hunters were still socializing there, too.
Hangover Lead North Trail climbs sharply out of Big Fat Gap, and we were huffing and puffing long before we reached the peak in a short 0.4 miles and almost 500 feet higher than where we started in the gap. Then the fun really started. The trail plunges in a series of vicious downhill sections without the benefit of switchbacks for two miles. It took a long time to traverse those two miles, given the pace one has to take to avoid serious falls.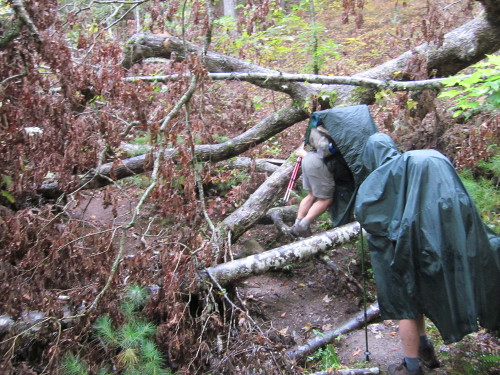 We encounter a complicated tangle on Ike Branch Trail, made even more difficult by our rain gear.
The trail ended at Ike Branch Trail, which was a considerably easier-to-travel route. The trail follows (sometimes down the middle of) a small creek. We traveled this trail to its junction with Slickrock Creek Trail (beyond the Yellow Jacket nest) and returned to the van in gathering darkness. The trip home was uneventful, although climbing out of the van was a little painful when my calves tightened up during the ride.
The women had our traditional pizza and beer party ready when we arrived. Craig was able to stay through most of Friday, so we helped Dad spread more mulch on Mom's garden in the back and transplant some more plants. Saturday, we loaded the truck and traveled north again. Another great trip!
Craig's story of our adventures can be found here.