North Manitou Island, May 3-5, 2002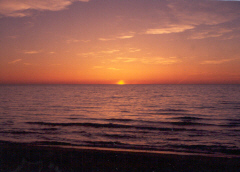 Sunset over Lake Michigan
Dan and Dee, Steve's sister and brother-in-law, joined us for a great backpacking trip to North Manitou Island in Lake Michigan.
Although weather reports earlier in the week had us risking some storms, the skies continued to improve as Friday drew nearer. The Manitou Island Transit company managed to find a way out of the not-yet-dredged Leland Harbor to take us to the island. We met Dan and Dee in Leland in time to catch a quick breakfast then unload our gear for the trip. The ferry ride over was moderately rough with seas around 4-5 feet, but we all made it without any bouts of sea sickness.
The weather held out for the entire weekend, with highs in the low 60's and lows in the 30's. There was hardly a cloud to be seen all weekend with the exception of a small front that pushed through Saturday evening and sprinkled on us for a very short time after we had retired to our sleeping bags.
The wildlife highlight of the trip was watching a very large coyote trot toward us along the western shore of the island. He was carrying his intended dinner--a large half of salmon. He spooked when he heard Dee's camera go off, dropped his dinner and ran down the beach, disappearing into the woods south of our campsite. We spotted a smaller coyote further down the beach a while later.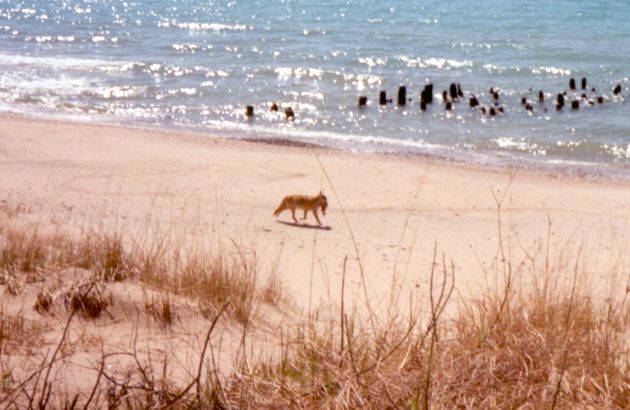 Coyote at Crescent Dock ruins
We hiked across the island on the centerline trail after arriving at the ranger station and made camp at Crescent City. We camped just off the beach where the old dock once stood. The sunset was beautiful that night (see above).