Sailing Lake Michigan's East Coast, Wednesday, September 9 - Friday, September 18, 2009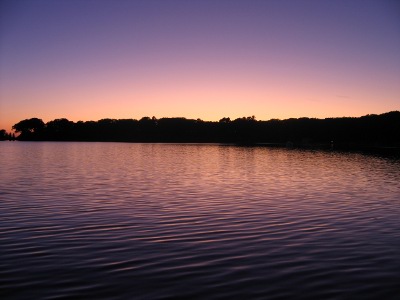 Sunset viewed from our anchorage on White Lake
Who would have thought that we could have so many continuous sunny warm days with mild winds in mid-September in Michigan? It was a beautiful time for a cruise, if not just a little too calm. We departed Muskegon with a general plan to sail north along the Michigan shoreline, stopping when we pleased, then turning around soon enough to be assured of making it home before our vacation time ran out. It was a fine balance between my desire to sail and cover territory, and Kathy's enjoyment of local shopping and tolerance for being confined on the boat. We learned a lot, had a very relaxing vacation, and avoided any disasters; who could ask for more? It was a great way to celebrate our 25th anniversary.
Lessons learned:
Cruising is not a bad way to travel. We found sailing to be very relaxing and enjoyable. It is a pace not unlike hiking, where you have time to enjoy the surroundings. However, unlike hiking, you can also read as you go, or work on the boat, or even take a nap (as long as someone keeps a lookout). Life takes on a more natural rhythm. We fell asleep with the sun and rose with it. We ate when we felt like it. Travel speed depends on the weather. We had time to meet and enjoy fellow travelers.
A 22 pound anchor attached to 20 feet of chain is heavy! We anchored for the first time on Buen Tiempo, and did it successfully (three times). The first time another boat anchored too closely downwind of us, and we couldn't let out sufficient scope for me to feel comfortable, so we repositioned. We had one brief moment of anxiety when the depth changed abruptly from 40 feet to 2 feet, but an emergency stop by Kathy and careful backing out after raising the centerboard and rudder proved successful. On our third anchorage in White Lake during the return trip, we brought up a load of weeds with the anchor that just about maxed out my pulling capacity. Once stripped from the anchor, they immediately tangled around the engine. Fortunately, we were not in a tight spot and were able to kill the motor for the brief moment it took to clean it.
You can never experience too many sunsets! This one is obvious.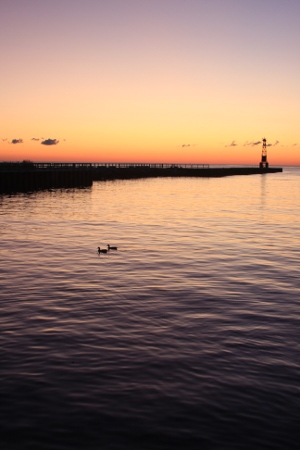 Sunset over Pentwater channel
September is a great time to travel. After Labor Day, the crowds are gone. Resort towns are quiet. Prices drop at marinas and hotels. The only boats to dodge are fishing boats. Temperatures were warm during the day and cool for sleeping at night.
Being on a boat is no guarantee critters won't bug you. Moored for the night in a slip at the Pentwater Municipal Marina, Kathy was awakened by the sound of something walking around the boat. She watched the silhouette of a racoon walk by our shaded windows as it circled the cabin in search of anything we might have left out, then left us as quickly as it came.
The boat has to be cleaned every day. I don't know where all those gnats and tiny bugs come from, but they are all over the boat, drowned in dew, in the morning. My first morning duty was to throw buckets of lake water over the decks to clean them.
Some time away from the boat is good, too. We spent one night in the historic Portage Point Inn in Portage Lake. It was a nice change of pace. Again, we just about had the place to ourselves. The food was excellent.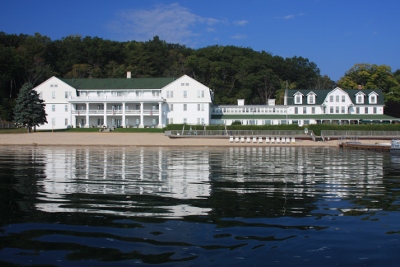 View of historic Portage Point Inn from the lake
Fog can be very disorienting. Just before the busy fishing port of Manistee, a dense fog bank enveloped us. This, too, was a first. Kathy was not at all thrilled with this turn of events, I don't want to go in there!, but I saw it as a chance to employ my navigational training. We raised the sails and cut the motor so we could listen for other boats. Visibility was under 50 feet at times. Kathy took up a lookout position at the bow. At one point after coming about, I found myself heading north instead of south and had to pay more attention to the compass rather than my sense of direction. We spent almost six hours that day navigating in fog, but didn't hit anything, get lost or run aground. It was quite a learning experience.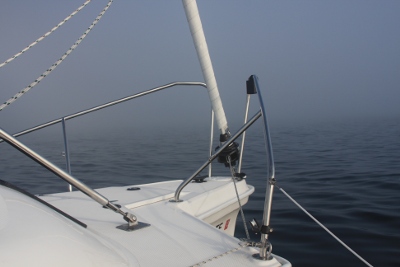 View of the dense fog off our bow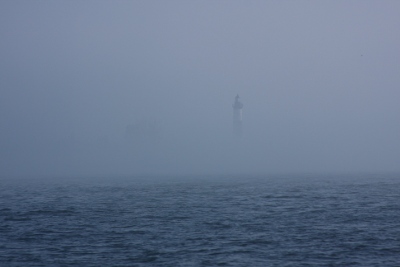 After lifting briefly, the fog rolls in again at Big Sable Point Lighthouse
Bats can swim. Heading south out of Ludington, on our way to White Lake, I glanced up and saw something brown and fuzzy along the leech (trailing edge) of the mainsail. It must have landed in our covered sail while we were in Ludington for a couple nights and stayed there when we raised the sails. After prodding it with the boat hook and a length of PVC pipe we had aboard (part of a tarp system), we discovered it was in no mood to leave its little island and fly to shore. At one point, I thought is landed on Kathy's back, and I had her dance around for me. It rode with us to White Lake before we finally discovered where it was hiding, and Kathy was able to get it to cling to the boat hook long enough to dump it overboard. Apparently bats can't take off from the water, but they can sure swim--right back to the boat. We repelled it with our sticks until the wind drifted it away from us and toward shore. That little fellow was fiesty though, and fended off an attack by a circling gull on its way.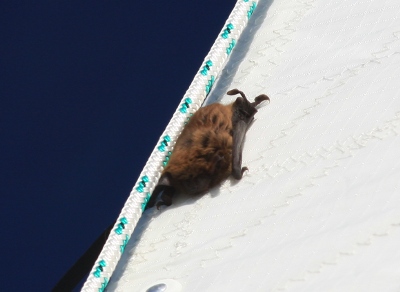 Our friendly bat hangs out on the mainsail
We packed entirely too much stuff. Not knowing exactly what to expect, we brought enormous quantities of food and clothing. In fact, we had so much to load on the boat that we had to bring it to the dock in our marina to avoid numerous dinghy trips that might have taken us all day to accomplish. As it turned out, we ate most of our main meals in towns along the way, and the weather was so warm we wore shorts every day. One item we were happy to have aboard was an extra blanket for those cool nights!
All in all, it was a nice trip. We covered about 160 nautical miles in 8 days of very leisurely cruising and took 2 shore days. Surprisingly, We had no weather bound days. We actually arrived home a couple days earlier than we had to, but we had limited our northerly journey based on possible predictions of higher winds and waves.