2003 Father-Son Backpacking Trip--Great Smoky Mountain National Park (GSMNP), October 20-22, 2003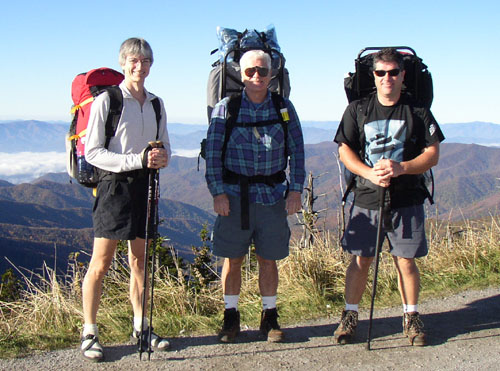 The trio start their hike on Clingmans Dome
The initial planning for this year's trip began at the Elk Lake gathering in early August. Dad plotted an aggressive three-day trek which would have seen us hiking from Clingmans Dome, down Forney Ridge Trail to Springhouse Branch Trail, heading south to Fontana Lake then up Bear Creek Trail, looping over Jonas Creek back to Forney Creek Trail, then heading back to Clingmans Dome. Later, while mulling this rugged 30+ mile trip over a glass of Scotch, we decided that the 16 mile second day with some steep uphill sections was decidedly insane. The trip was modified to the current plan which also leaves from Clingmans Dome, but is a bit more realistic.
Trip plan for the 2003 Father-Son trip: Backpacking the GSMNP
Date: Monday October 20 through Wednesday October 22, 2003.
Route: Noland Divide Trail to Noland Creek Trail, camping at site #64 the first night. Springhouse Branch Trail to Forney Creek Trail, camping at site #69 the second night, then returning to Clingmans Dome along Forney Creek Trail the third day.
Map: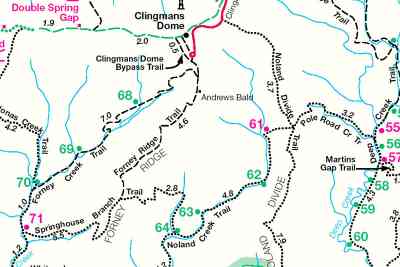 Trip Overview:
Day one: Noland Divide Trail from Clingmans Dome Road to Noland Creek Trail, 3.7 miles, 1650 foot elevation loss. Noland Creek Trail to campsite #64 (Mill Creek), 4.8 miles, 1700 foot elevation loss. Daily totals: 8.5 miles, 3350 foot loss. Highlights: Old Red Spruce, Fraser Fir and Yellow Birch stands in the first couple miles; views; significant elevation changes (although mostly mild and downhill); creek crossings.

Multiple creek crossings from just above #61 to #64.
Campsite #61 (Bald Creek) was a good site for lunch and a quick siesta.
Mill Creek campsite #64 is a large horseback camping site. We were fortunate to be alone here--it could be very busy at times. The camp sits right on the creek and has picnic tables and an outhouse.

Day two: Springhouse Branch Trail from campsite #64 to Forney Creek Trail, 7.1 miles, 1500 foot elevation gain to Forney Ridge, but net loss of approximately 300 feet. Forney Creek Trail from campsite #71 to #69 (Huggins), 2.5 miles, 550 foot gain. Total mileage: 9.6 miles.

Lunch was at the shallow crossing of Bee Gum Branch of Forney Creek. There was not a lot of sitting room here.
Campsite #71 used to be the old Bee Gum CCC site. It's a large, open site. An old chimney still stands. There was ready access to the creek. We stopped for an afternoon siesta here.
Some possibly difficult creek crossings between #70 and #69

Day three: Forney Creek Trail from campsite #69 to Forney Ridge Trail, 6 miles, 3000 foot gain. Forney Ridge Trail back to Clingmans Dome, approximately 0.5 miles and another few hundred feet elevation gain.

Although all uphill, the climb is relatively gradual.
Creek crossings between #68 and #69. Watch for hidden nails in the moss on timbers.
Lunch at site #68 or Rock Slab Falls
Back at Clingmans Dome we took the one mile round trip up to the lookout tower for spectacular views of the area.
The weather everyday was beautiful with temperatures ranging from the mid-60's to 70 during the day and night temperatures staying in the mid-40's. The use of hammocks this year really improved everyone's sleeping comfort--they were a big hit.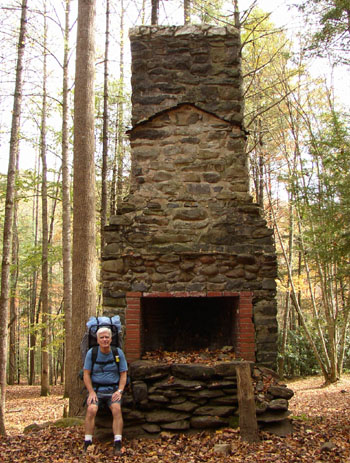 Dad catches a quick rest by an old CCC chimney
Stories of the trip (pictures and notes about the entire vacation included):
Back to Outdoor Adventures