Father-Son Outdoor Adventure, Smoky Mountain backpacking, October 22-24, 2010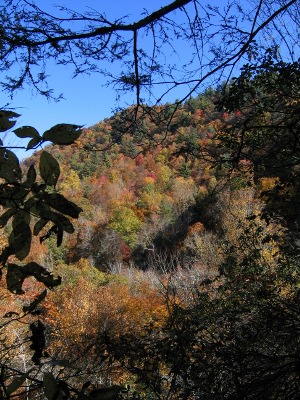 Fall colors added a nice dimension to our hike. This view was taken from Martins Gap Trail on day two of our hike.
We had a plan, then we had a second plan. Finally, a third plan was conceived. Every time Dad planned out a route, campsite closures due to bear activity forced him to change. The third version was doable, but had a long 14 mile second day that I was a little concerned about (my left knee had been giving me a little trouble with a suspected meniscal tear).
Kathy and I had a good drive down from Michigan on Wednesday. Craig arrived Thursday. The news when we arrived was that our campsites had been closed again. Dad had come up with a fourth plan literally within a few hours and had his back-country permit ready. So, my nicely researched outline for plan C was obsolete. Oh well, maybe it will be good for next year's hike. On the brighter side, the weather was great, with sunny days, temperatures in the 70's and a full moon predicted at night.
This year's trip would begin out of Deep Creek campsite by Bryson City, so we got up early on Friday to allow for the extra driving time. The women set off for parts unknown, picking up Lara somewhere along the line. It was slow traveling over the Smokies, with all the tourists here for the Fall color season. We followed a particularly slow one for the length of Newfound Gap road, and got to smell his burning brakes as he descended without the benefit of gearing down on the North Carolina side.
Not counting the laughs in the van, we got our first entertainment of the hike when Craig tried to capture our departure picture. His first challenge was balancing the camera on the top of a round bar on the gate at the trail entrance. Apparently he hadn't had his morning coffee, because the first attempts to trigger the timer simply turned off the camera--wrong button! The next attempt fired the camera immediately, certainly not enough time for him to get in the picture. But, persistence paid off, and he got the motley crew all together in another attempt.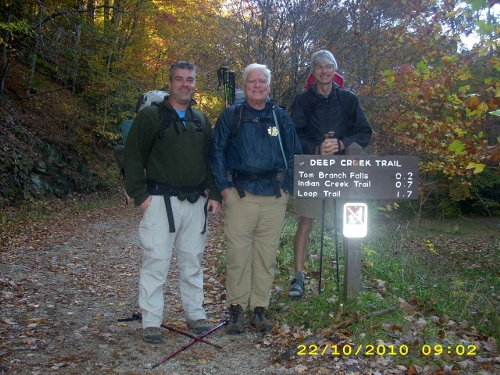 This year's three intrepid hikers
The hike up Deep Creek Trail was quite pleasant, with nice views of the river and falls, and the Fall colors on the adjacent ridges. There are an amazing number of campsites along this trail, a testimony to its popularity. We reached our site (#56) relatively early in the afternoon. One other camper, Bill from Gainesville, FL, was there ahead of us. We briefly considered retreating to a prior site to give him privacy, but when he announced he had firewood already prepared, we quickly accepted the offer and set up our hammocks a respectful distance away. There was plenty of time for a nice nap before we started our camp chores, and my swollen knee responded well to elevating it.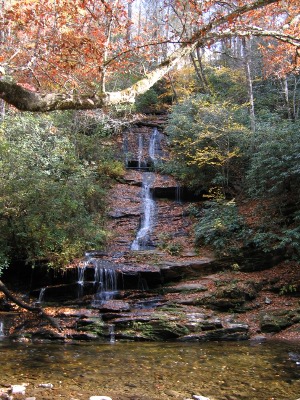 Tom Branch Falls greets the hiker just a short distance up Deep Creek Trail.
While we ate dinner a few other hikers passed, including a character we nicknamed "Mountain Man". The latter had a bushy beard and looked like he lived on the trail most of his life. He carried two shovel handles for hiking poles (or maybe for defensive purposes), and pretty much ignored our greetings. Bill said he was mighty glad we were staying in camp with him rather than Mountain Man!
Bill turned out to be a fine fire-builder and conversationalist, and we enjoyed a long evening campfire. The full moon rose and provided an amazing amount of light for most of the night. There was certainly no need for a flashlight. The temperatures plummeted with the clear sky, reaching down to freezing by morning, which prompted the need for another fire for breakfast.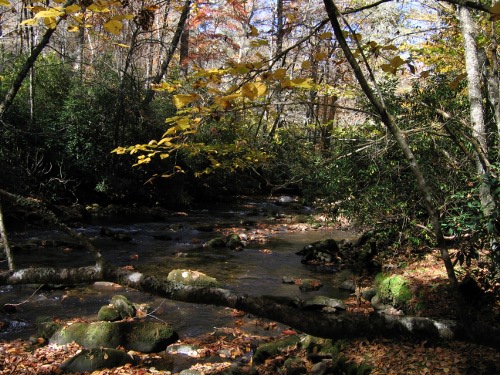 Deep Creek provides a beautiful setting for our first night's campsite
In the morning, Dad entertained us with a peculiar camp dance as he bounced for an impressive length of time on one foot while the other was held high off the ground, almost over his head. Apparently the secret to the dance was to have that other foot firmly entangled in a guy-line from his tarp. Finally, his dancing partner, the tent stake, wore out and went flying off to parts unknown, leaving Dad to crash backward to the ground. As he rolled up onto his shoulders, feet in the air, I awaited the Ninja-like leap to his feet, but he left me disappointed. Fortunately, he did manage to pull himself up without any serious injury.
We bid Bill farewell and spent most of the day climbing uphill (2500') as we followed Martins Gap Trail, Sunkota Ridge Trail, Thomas Divide Trail and finally the Newton Bald Trail to campsite #52, where we had stayed a night last year. This site was filled with a group out of South Carolina and Minnesota. We headed for the upper portion of the campsite only to encounter our buddy "Mountain Man". Craig attempted to engage him in conversation, but was rather unsuccessful, so we headed for the other end of camp. One advantage of hammock camping was we didn't need a prepared site. We chose a few trees on the far side of the bear poles and made camp.
Gathering water at this site was a little challenging due to the very steep trail down to the spring below the campsite. We descended the trail armed with containers so as to make the trip only once. Craig pumped while I crouched down and held the intake tube down in the small spring pool (not a particularly comfortable position with one slightly stiff knee). With two liters mostly filled, Craig lost a battle with gravity and dropped the water bag into the spring, just missing my head but giving me a bit of a bath. We laughed while we let the tiny pool settle down again so we could regain pumping. We must have been gone a while, because Dad showed up a little later to check on us and helped transport the many liters of purified water back to the campsite.
Sunset on the second night by campsite #52
We enjoyed a spectacular sunset that evening. After dark, the large group of campers proved friendly enough and we joined them for some time by the campfire (there was no sign of Mountain Man), but retired early that evening, both because we were tired and because we were getting up early in preparation for a longer day the next day. The moon lit the sky again, fortunate for me as the Mexican Beef I had enjoyed so much for dinner decided to force me out of bed sometime that night for a quick trip into the woods.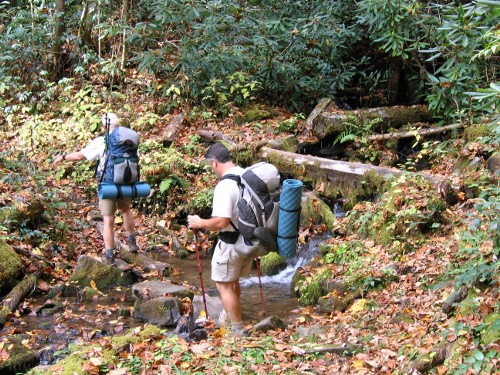 One of many water crossings along the trail
Little Creek Falls tumbles 95' along Deeplow Gap Trail
After breakfast, we departed for our third and longest day, heading mostly downhill some 13 miles back to Deep Creek campground via Newton Bald Trail, Mingus Creek Trail, Deeplow Gap Trail, Indian Creek Trail and Deep Creek Trail. The colors were again beautiful and were enhanced by several water crossings (all foot bridges or stones) and a couple nice waterfalls. We had some momentary confusion when we emerged from Deeplow Gap Trail and found a sign indicating we were on Indian Creek Motor Trail (a trail not indicated on my topographical map). We marched on in the direction indicated to Indian Creek Trail, encouraged that we were at least following the flow of the creek, which had to flow back toward the trailhead. Back at the trailhead, we cooled our feet in Deep Creek then contacted the women to insure them we had survived another great trip and let them know when we would be home. True-to-form, they had pizza and beer ready when we arrived back at the McBride hotel.
Total mileage: 27 miles