2004 Father-Son Trip: Great Smoky Mountain National Park, October 26-28, 2004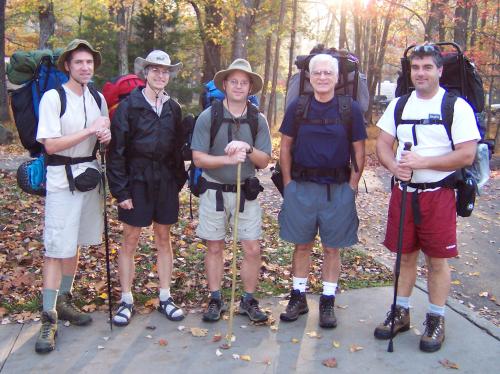 The 2004 Father-Son Team
Initial email contact (the plan):
Alright Troops,
It sounds like we have a well-populated expeditionary force this year--ah, fresh blood, too. Consider this the introductory marching orders for the 2004 Annual Father-Son Outing. First let me establish that the route for this year's gut-buster was planned by the Grand Poo-Bah himself, so please direct any whining in that direction.
I'll clarify the dates of the adventure just so nobody "accidentally" shows up a week late claiming they misunderstood the timing. The actual hike is scheduled for Tuesday, October 26 through Thursday, October 28. I'll be arriving Saturday to begin preparations and maybe get Kathy out for a local hike. Craig will be driving in on Monday. Of course, with two trips behind him now, it won't be nearly so much fun watching him unload every stitch of clothing he owns from his pickup. This cuts down on our actual packing time considerably, as Dad and I can't discard nearly so much and watch Craig's eyes get bigger and bigger as we whittle down his supplies.
The "strip down" happens the night before the trip. That's when we make sure everyone has what they need to survive and figure out exactly where to stash the necessary Scotch. Then we pack the bags for Tuesday morning's early start.
The carefully planned route begins benignly enough in Cades Cove. It's only when you find out that the first night is to be spent in North Carolina and there's a range of mountains between the two that the implications start to set in. We climb up to the famed Appalachian Trail and follow it to our first campsite.
Now here's where it starts to get a little complicated. Working backward, the Grand Poo Bah has established that in order to be able to cover the required distances the second and third days out, the first day has to end somewhere between Mollies Ridge shelter and Birch Spring Gap shelter (see map below). This means we will be likely doing some stealth camping around Doe Knob. Don't worry, our attendant ranger has been bought off with promises of Scotch and will cheerfully look the other way. The shelters aren't that much fun to sleep in anyway. We found that out two years ago when we did our best to sleep in spite of the hard wooden beds, nocturnal wanderings of the local mouse population and the obnoxious snoring and other noises emanating from our fellow shelter inhabitants.
The second day finds us descending to Fontana Lake. We start to encounter the first of many water crossings on this leg of the trip. Did I mention not to forget suitable footwear for fording rivers? Oh, and make sure your sleeping bag and spare clothes are protected against an inadvertent swim. You'll be happy to know that Eagle Creek trail is listed in two categories in Kevin Adams book, Hiking, Great Smoky Mountains National Park: "hikes to avoid if you don't like crossing unbridged streams," and "hikes for people training to be Navy Seals". The good news is that we'll be splitting that trail into two days. The multiple stream crossings will fill out the end of day two and the steepest climbs will start out day three.
Food, glorious food...
Seeing as how Craig's success at bagging a wild boar the past two years has been somewhat abysmal, we won't be planning on any fresh meat. We almost had bear sausage last year, but I was too busy trying not to wet my bed and missed the opportunity. Given the larger group size this year, we'll need to do a little recalculating of the provisions. In the past we have generally tended to have an oatmeal based breakfast, snacks at lunch and during breaks (usually fruit, trail mix and jerky) and a dinner based around a commercial freeze dried meal. Does anyone have any strong dislikes or likes that we should consider, or any unique ideas? We have used Dad's and my stoves the past couple trips. With the extra two people, we probably should plan on one additional stove, just for backup (remember North Manitou, Dan).
Shelter...
In years past, Dad and I have relied on tents to shelter us (and sometimes, the dog). The first trip in the Appalachians, Dad and I used bivy sacs for protection from the elements. They worked well, taking up only a small footprint which made finding sites fairly easy, and they were light to carry. When Craig joined us two years ago, we tested the tarp theory. This required a huge footprint, but only one. It provided nice ventilation and was the lightest of the shelter options. Unfortunately, it proved not to be up to the challenge of the more severe downpours, and a couple of the troops got a little damp--no drownings though. Last year we experimented with hammocks. These were comparable to the bivys in weight, but infinitely more comfortable than anything else we've used. Zero footprint--of course a couple well spaced trees are helpful. What are everyone's thoughts for this year? We can certainly use a mixture of shelters, depending on each hiker's preferences. The only confounding factor I can think of is the stealth camp the first evening--it can be challenging to locate many flat areas on the side of the mountain.
General planning considerations...
Although the Grand Poo Bah and wife will tell you the weather is only sunny and nice in the Smokys, let me be the first to warn you otherwise (well, maybe the Grand Poo Bah will admit to an occasional rain drop after enduring the 2002 trip). Let me be the first to advise you that it rains in those hills. It is widely known on the backpacking internet lists that you must expect rain at least once during your trip (and the once might mean from start to finish). So, be prepared.
Water is everywhere in them thar hills. Finding drinking water is not generally an issue in the Smokys. It is amazing how many springs and streams flow out of those mountains. That also means there are plenty of wet trails, even when the weather is dry, and plenty of stream crossings. A hiking stick or poles can be useful when navigating creek crossings.
Pack lightly! Although the Smokys have nowhere close to the elevations encountered out west, the trails go up and down drastically. They don't use switchbacks--they just head right on up the side of the mountain.
Additional planning aids...
My packing list is posted here
Plan overview
Our plan is to leave Cades Cove on Anthony Creek Trail on Tuesday morning, turning on Russell Field Trail to the AT. We'll follow the AT southwest to Lost Cove Trail to its juction with the Lakeshore Trail. After a short distance on that trail, we'll meet up with Eagle Creek Trail and follow it back to the AT. Crossing the AT we'll take Bote Mountain Trail to Anthony Creek Trail back to Cades Cove.
The first night will be either at Birch Spring Gap on the AT or, preferably, stealth camp off Doe Knob, maybe to the east toward the headwater of Ekaneetlee Creek. The second night will be at either campsite #96 or #97 on Eagle Creek Trail.
Map