2004 Father-Son Trip, Dad's version
Sent: Monday, November 08, 2004 10:59 PM
Subject: Smokey Mountain Hike
The annual fall hike was expanded a bit this year with the welcome addition of Dan and Jim. We broke them in properly with a slightly more difficult hike this year. Instead of our usual up to the AT, a section of it and then back down or starting at the top and going down and back up, this year we started at the bottom and went up to the AT, did a section of it, then went down the other side and then back up and over it again to get to Cades Cove where we started.
Steve, Kathy and Betty arrived Saturday which gave us a chance to do a 12 mile warm-up on Sunday. Kathy was more merciful than normal and picked a trail along the river with minimal altitude change.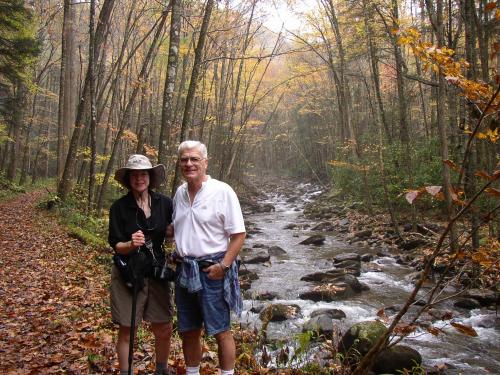 Kathy and Dad pose along the Little River Trail
Monday, Steve and I relaxed and waited for the rest to arrive. Craig came in for lunch (never misses a meal). We expected Jim about dinner time, but being the dedicated guy he his, he had to put in part of a day at work first and pulled in just as I was pulling out to meet Dan's 11PM flight. This gave Steve time to work over his pack while I was gone. This was only partly successful as we kept discovering as the hike progressed and things kept appearing from Jim's pack that Steve thought he had deleted. Dan had sent his pack ahead of time so his adjustments were only some minor changes in clothing when he found out it was going to be warmer than he thought (still thinking in terms of the Rocky's). Tuesday started with a big breakfast fixed by the women and then they packed us a nice lunch and pushed us out the door as we were delaying their start on the shopping spree.
We arrived at Cades Cove a little before 9AM and found a fellow volunteer to do a photo shoot before we started on the trail (three times, like a bunch of tourists that weren't going to see each other pictures).
The first climb up to the top wasn't too bad, although I found that adding an extra 30 pounds or so on your back from what your legs are used to, makes those thighs complain a lot. Craig panicked once when we passed a water source and we all donated to his empty bottle so he could make it 2 miles to the next one. Our reserved campsite was beyond our capabilities as we thought it would be, but Steve with his exhaustive research had discovered the was an old Indian trail next to a spring and we could just go down that trail a little ways and stealth camp. Well the spring was there but the trail disappeared with the Indians, so we bushwhacked our way up the side of a steep hill to get out of the rhododendron thicket and found a spot that made us glad most of us were using hammocks as level ground was pretty much nonexistent. Jim found some that was close to level for his bivy and the rest of us found trees that worked and set up camp. We were discussing the need for tarps when some smart guy mentioned the fine forecast and mother nature immediately proved how fickle she can be as the raindrops started falling. That put a quick end to the discussion as we all started putting up tarps amidst much laughter. It didn't last long and we got our meal and after dinner drinks in. With no possibility of a campfire, it was early to bed. It was an interesting time getting up in the night. The moon was full so no flashlight was needed but getting out of the hammock on the side of a hill and trying to keep your balance was a real trick. Stumbling through the briers didn't help any. Early to bed didn't mean too early to rise. about 7:30 we began to come to life. We decided with the conditions of the campsite, we would postpone breakfast until we got to the regular site 3 miles up and over the next rise. It is always nicer to not do steep climbs on a full stomach. We had had rain and some tarp snapping winds during the night but figured it was over.
As soon as we hit the trail out came the ponchos. It didn't last long, thank goodness, and we went on to have breakfast and water up at the campsite. When we left the AT and started down Lost Cove Trail, we were very glad it wasn't raining as it was a very steep down hill slope that one inch cleats would have been very helpful on. Unfortunately, three miles of that kind of downward slope was more than Jim's knees could take and he was to suffer most of the rest of the trip as a result. Other than Dan trying to ski down on his pack a couple of times, the trip down was successful with several rock hopping stream crossings to contend with. When we hit the Lake Shore Trail it was real pretty with good views and a relatively flat wide trail.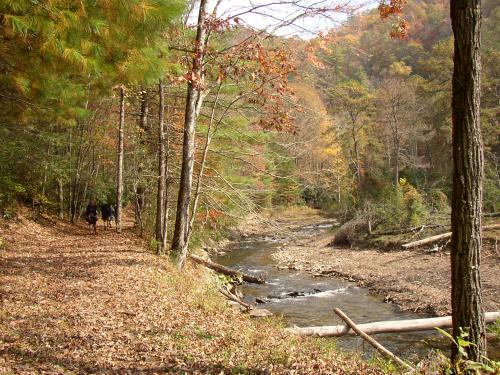 The beautiful Lakeshore Trail
It was only a short ways on this trail however before we hit the infamous Eagle Creek Trail. As described in Steve's hiking book as rated for Navy Seal Training. Here again we were glad the rain never got serious as we were about to wade Eagle Creek, which at this point was more small river than creek, 16 times before we reached our campsite. As it was we never got much over knee deep (for us short legged guys). Jim never made it to his knees. Except for the flashing in our eyes as our avid camera men recorded each crossing, we made them all without incident. The rain gods got us one more time along this stretch just long enough for us to get our ponchos on and then, of course, quit as soon as we were properly prepared. Our campsite that night was small but relatively flat and free of briers. It was right next to the creek, so after we set up, we availed ourselves of the abundant supply to clean up and avoid any wildlife looking for carrion. Craig avoided the full body immersion this time which was probably a good thing as a young couple came down the trail as he was bathing and had he screamed as loud as he did the last time, he probably would have scared them to death. After dinner and cocktails we sat and discussed the probability of seeing the lunar eclipse. The clouds were so thick the moon was playing peekaboo anyway so we went to bed. Craig believes the eclipse did find us as he got up to go to the bathroom and found both big rocks in camp with his toes as it was very dark. When he had a second calling later, it was moonlit again so although I slept blissfully through it all--I guess it happened.
Day three turn out to be good weather again and we started our climb to the top. It started out not too bad for the first mile or so but then it got serious. This one was as steep going up as Lost Cove was going down. Soon we had the bandannas on our heads to keep the sweat out of our eyes and a stop about every 300 feet to let our pulse rate drop below 200 and drink more water. Thankfully we were right beside the stream as we averaged about a liter per mile until we finally reached Spence Field. Just to add to the fun, about a mile and a half from the top we ran into about three places where trees were blown down across the trail to add to the degree of difficulty. We finally reached the top and found a nice grassy spot on Spence Field and had lunch and sprawled out for a rest. All that was left was another five miles all down hill. We divested Jim of all we could out of his pack and fed him full of aspirin. Steve traded him his two trekking poles to use as canes and we headed down. The first couple of miles was fairly steep and rocky but then it eased up a little and he made it out OK. Of course Craig didn't want Dan to think he was the only one that wasn't sure footed, so he rolled over a rock and landed on his backside on the way down. Of course Steve was right there to help him, but only after he made him stay there while he dutifully recorded it for the web site.
Although we did see some fresh bear scat and one fresh track, we batted "0" on the wildlife sitings this year. That is until we got back to Cades Cove and a beautiful 8 point buck was blissfully grazing his way through the people in the picnic area. Of coarse our alert camera gang immediately took advantage of the situation. I think they each got three shots which upon review there was one that wasn't too blurry. I think they may have been tired. I'll have to give credit for the lack of sitings on the trail to Jim and the to be forever infamous bear bell.