2004 Father-Son Trip, Dan's Story
The Smoky Mountain hike was a very successful and wonderful experience. The hike was mostly uneventful but did have some unforeseen challenges. Before I write about the hike I need to elaborate on my experiences building up to this hike.
Hammock Camping
Hammock camping—what the hell is that all about? Why would anybody sleep in a hammock when they can sleep in a perfectly good tent. After doing some research for about a year on hammocks I finally took the plunge and purchased a Hennessey Hammock. Initially this looked like a wonderful system. I soon found this to be contrary to the case. It was easy to get into and very comfortable. It was easy to get into until you added a thermo-rest, sleeping bag and, most importantly, yourself.
Steve and Kathy were very helpful in showing me the errors of my thinking on a fateful kayaking trip in Voyagers National Park. Three things I learned from this trip: rainflies must be waterproof, rainflies must be larger than the hammock and lastly hammocks are to be entered from the top and not the bottom. I learned to exit this hammock much like the videos of whales giving birth—not a pretty site. Upon arrival home after this expedition I returned the Hennessey Hammock and purchased a Hammock kit from Ed Spears.
As all things in life, this soon turned into another adventure. My past experience with sewing machines was to move them to where somebody wanted them moved. You know that you are in deep trouble when you embark upon a sewing project and you have to ask for help on threading the darn thing. In my next life I will not learn to sew on Siliconized Nylon with a 50 year old sewing machine. I completed this project successfully. The sewing machine was still intact as were all the windows. I must have only been daydreaming when I saw flashes of the sewing machine flying out the window. With extraordinary patience and help from Dee the project was completed.
The Smokys
I had an uneventful trip to Knoxville. Arriving only slightly late for me was a wonderful experience. Jim was gracious enough to pick me up shortly after 11:00PM. I was shocked to see that everybody stayed awake to see my arrival at the McBride B & B. I soon learned why this hike was such an event. Before I could get to the kitchen table I had three wonderful women working on something to eat for me. I soon learned how many McBride's it takes to change a light bulb—that would be three to change it and three to supervise. After a midnight snack I went and repacked my backpack for a Tennessean hiking experience as opposed to the high mountain trips that I have been on before that consisted of snow and sub zero temperatures. I knew I was in for a shock when I got off the plane from Atlanta and all the people were complaining about the chilly 70 degree temperature (remember I am from Wisconsin and this was 11:15 at night).
In the morning I awoke to Blueberry pancakes and sausage breakfast. At this point I thought about canceling the backpack trip and staying at the McBride B & B and partaking in the wonderful food and service. This thought didn't last long as I got the feeling that they just wanted us out the door quickly so they could begin there shopping adventures.
As we loaded the van everybody made a mad dash to the rear of the van. After riding through the mountains earlier with Dale Ernhardt, Jr. in a NASCAR racing car I thought it might be safer in the rear. I'm sorry, it wasn't a race car or race car driver it was Jim McBride and a huge honking van. As everybody settled into their seats and buckled up I found my mistake. The seat I had chosen did not have seat belt. I decided on the way back I would take my chances in the front seat. The drive to Cades Cove turned out to be rather peaceful as we luckily followed a couple of slow moving vehicles from Alabama through the winding roads.
At the trailhead we all took the opportunity to use working restrooms for the last time. After teaching a park ranger how to use a Canon, Kodak and another brand of digital camera we were off. I soon found out that the way Tennessee people wake up in the morning is to hike up a hill for two-three hours. Haven't they heard of Coffee? This was definitely the theme of the trip. Wake UP, find the biggest steepest hill and climb it. Evidently the trail guides wanted to get all the work done before noon.
The hike up to Russell field was reminiscent to hiking up Mt. Hood and smelling a sulfur odor most of the way up. I soon found that this natural gas odor went away completely when I decided to get ahead of Craig. That is when I started to enjoy the views and FRESH AIR of the Smokys. At lunch time the McBride clan ate quickly and nodded off for a nap. Unfortunately, I have always been a slow eater so when I was done eating they were completely revived and raring to go. I did take this opportunity to perform the only reading that I had on the entire trip. They would not give me another opportunity for pleasures as silly as this. I did notice that at a shelter stop during the day Jim and Craig took another opportunity to lay down and shut there eyes for five minutes while I explored the shelter and the bear bag pulley system.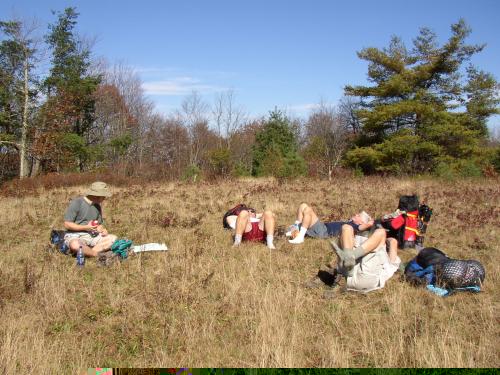 Dan chows down while the rest of the troop catches some rest at Russell Field
We obviously were not making the time that we had planned. Largely because most of us are "flatlanders" and we also had cameras ready, in triplicate. We decided to set up our campsite on the side of a hill (cliff). Have you ever seen people overnighting while climbing El Capitan in CA? I was afraid if Jim rolled over in his tent he would wake up about 100' further down the hill. This is where all my blood, sweat and tears paid off during my days as a seamstress. The three forecasted fabulous days of weather turned out to be for part of the AT that was either 300 miles north or south of where we were. Yes, it started to rain and I got to test out my brand new hammock and rainfly in windy and wet weather. Everything worked well. I was very thankful that I had returned my other hammock because it would have been disastrous to climb out the bottom of the hammock into thick briars everywhere and do it on a 30 degree angle. My legs have finally healed from all of the briars but my head would have been severely scarred for life with the other hammock.
Day two was the typical Smoky Mountain day. We were either up in the clouds all morning or the clouds were down on us. After hiking 200' to the trail, we got to see Jim McBride put on his Grim Reaper Halloween vintage rain poncho. It rained on and off all day, nothing too severe, and it cleared up numerous times. The rain actually kept it somewhat cool. I kept thinking to myself two songs all day: Ronnie Milsap's "Smoky Mountain Rain" and "What goes up must Come Down". We woke up this morning climbing into the clouds once again. All of the valleys were completely fogged in and made for poor visibility. The afternoon turned out to be spectacular, that is, in between rains. We had a wonderful experience crossing Eagle Creek 14 times in 4 relatively flat miles. I was in the front of the group taking pictures of people crossing the creek toward me and Jim Moyar was taking pictures from the other side of the creek going away. Because of the rain I may have missed a couple of crossings but if you look at the pictures there is no lack of river scenes on this day.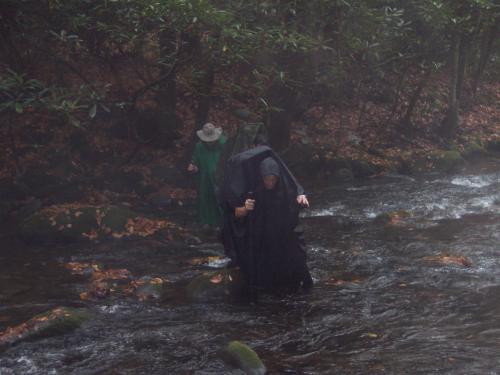 Dad does his best Grim Reaper impression during a crossing
It was nice to have a relatively flat campsite on the second night. After dinner a few of us stayed awake as long as possible so as not to be locked in our hammocks all night like the night before. After a couple of swigs of Craig's Scotch and a brief conversation regarding corn mash, potato mash and barley mash it was time to turn in. The shadows were more prevalent when I turned in at 9:30 PM than they had been all day. The full moon was almost brighter than the sun had been.
After breakfast once again we packed up and found the biggest, longest and steepest hill we could find and began our hike. At least out West climbing mountains it was one step at a time up the glacier. In the Smoky Mountains, Park Rangers have a cynical view and place trees, waterfalls, rivers and many other obstacles on the uphill portions of the trails. The more tired we got the steeper the hill became. Did I mention that all three mornings we had to wake up this way. Damn it, "I'M AWAKE! I'M AWAKE!" Anyhow, this is the first time that I have ever hiked from beginning to the end of an entire river. We followed this river all the way up to a trickle coming out of a pipe at a spring. We must have stopped at least four times to pump water to refill our water bottles. It seemed as though we could not get enough water on this hike up. We finally made it to the summit. There was a shelter at the top with a sign that said "Bears Please Don't Feed the Humans". This shelter had a fence on the front with a gate and Ranger Jim informed us that people would feed bears through the fences. I guess they wanted to feel what it would be like to be in a zoo cage.
At lunch we took up a collection of Aspirin for Jim. At this point his arms were getting as good of a work out as his legs because he was using Steve's hiking poles to break the fall off the mountain—I mean the descent off the mountain. As we got closer to the van, Ranger Jim kept going faster and faster. He must have been listening to Craig and I talk about pizza and beer for three days and must have been tasting it. I informed Craig and Steve that I thought he was trying to get ahead so he could drive the van around to pick us up at the picnic area. The responses were "there would not be a chance in hell when this happened" or "when hell freezes over". Well I caught up to Ranger Jim when we reached the picnic area and he said to watch the packs while he went to get the van. When the rest of the crew arrived Craig and Steve accosted me and wanted to know what I did with their father—the man going to get the van could not be their father. Much to their surprise he did indeed show up with the van and saved us that last little hike. I appreciated it. Thanks Jim!
As we pulled out, the three amigos tried one last attempt at photography excellence as we all failed miserably to photo a beautiful 8-point buck. Well at least the other 556 pictures were in focus. After the generous gesture of Jim retrieving the van, I courageously sat in the front seat to keep him company. Not to mention it had windows up front to push the stench to the back of the van. Upon arrival Jim had enough energy to stop and retrieve a pumpkin that had rolled halfway down the hill from his house.
After a well-needed dinner of pizza and beer I performed my best attempt of Vanna White while showing off all the pictures of our trip. Next trip we will all have to turn our cameras the same way so that I will not have to turn the computer sideways to view the pictures. One more wonderful breakfast at the McBride B & B and I was on my way home.
Dee, McKinley and Adam met me at the airport. Adam said that I had spent so much time with Uncle Craig that I smelled like him. I didn't have the heart to tell Adam that I borrowed Craig's deodorant that AM because mine ran out on the trip. I guess I tried using all of mine in a futile effort to overcome the BO stench.
All in all I had a fabulous time and appreciate the McBride's letting me partake on the annual adventure with them. I have reserved a spot in my calendar for next. Year.