Vancouver Island, September 5-17, 2007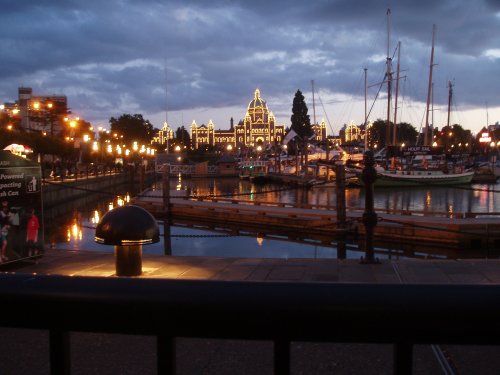 Evening view across Victoria Harbor from our table at Milestones
When we first started planning our vacation to Vancouver Island, the itinerary was to include a sampling of the island then a trip up a portion of the Inland Passage. Then I discovered just how big Vacouver Island was and how much there was to see. We have learned from earlier vacations that it is much more satisfying to explore the regions we visit than to speed through them. In other words, quality is better than quantity then it comes to vacation and exploration. Based on that, the itinerary was trimmed to exploration of the southern half of the island only.
It was a different sort of vacation for us, primarily because we had an itinerary. Usually, we leave our schedule fairly open ended, allowing us to adjust it as we go, based on our preferences for the areas we encounter. While planning this trip, I discovered that accomodations on Vancouver Island fill rapidly this time of year, even though the tourist season is waning. So, we had to have at least the majority of our trip planned enough to ensure we had places to stay. Had we gone with full camping gear, we would have had a bit more flexibility, but we were traveling very lightly--carry on luggage only--for our (almost) two week trip. The other unique part of this trip was the variety of modes of transportation we would employ, thus the necessity for the light packing. Kathy was rather dubious when she first learned of my packing plan, but she really did well, and now has ideas to lighten her load even more.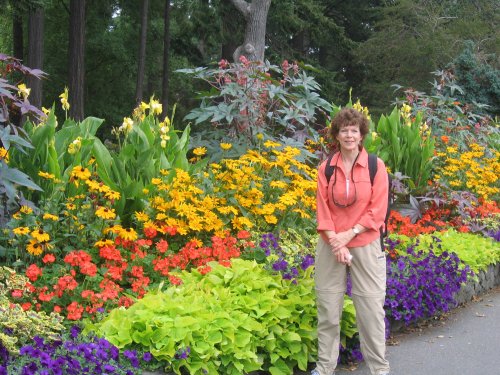 The gardens at Beacon Hill
We flew into Seattle, took the Metro buses to the ferry terminal (a rather interesting experience in its own right), then the Victoria Clipper ferry over to Victoria on Vancouver Island. Victoria was beautiful, with its Old World architecture and numerous flower gardens. The inner harbor area is quite picturesque, and we thoroughly enjoyed walking around the area and exploring it for a few days. The seafood and wine in Victoria were wonderful, and, fortunately, there were some great spots to enjoy both while looking out over the harbor. Beautiful Beacon Hill Park satisfied our need to view gardens, so we elected not to spend the time to get out to famous Butchart Gardens. We opted to take the train up the east coast of the island to Nanaimo for the next phase of our adventure.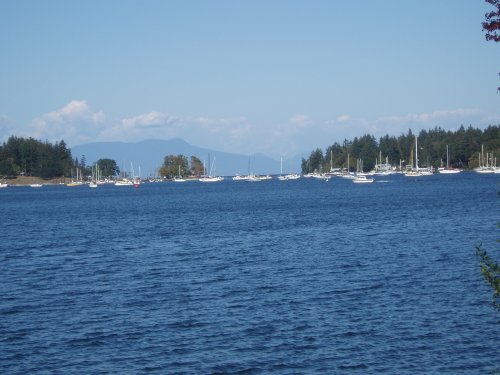 Nanaimo is obviously a sailing paradise
Nanaimo is the second largest city on Vancouver Island and features a great waterfront walkway. There were sailboats everywhere there and great views across the Georgian Strait to the mountains of western British Columbia. Newcastle Island sits just offshore, and it is well worth the short ferry ride over to hike the perimeter. The seafood and wine in Nanaimo were wonderful. We rented a car after a few days in Nanaimo and headed across the island to the small towns of Tofino and Ucluelet on the Pacific Coast.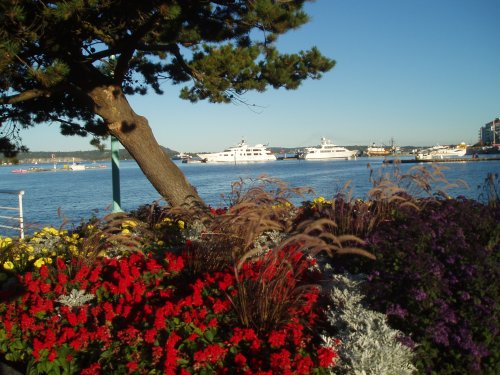 The big yachts are pretty happy in Nanaimo, too!
The Pacific Coast receives over ten feet of rain a year and is covered with rainforests, which were fantastic to hike through. We kayaked, hiked and took a Zodiac whale watching tour. They offered tours on more leasurely craft, but nothing quite compares to flying across the ocean looking for giant creatures in a tiny Zodiac! We saw Orcas, porpoise, sea otters and Humpbacks. Exploring the beaches and tidal pools at low tide was very interesting. Kathy got quite an education on sea life. Did I mention the seafood and wine was great as well?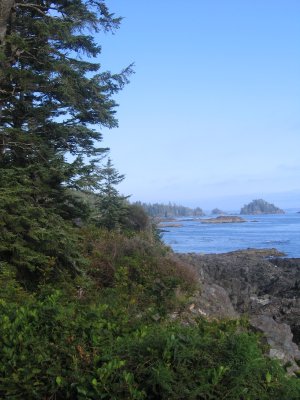 The Pacific Coast
When our time in Tofino was up, we headed back to Nanaimo to return the car and catch a Greyhound bus back to Victoria. We celebrated our last night on Vancouver Island with ... seafood and wine, then wobbled back to our hotel. I have to highly recommend eating and drinking your way across Vancouver Island.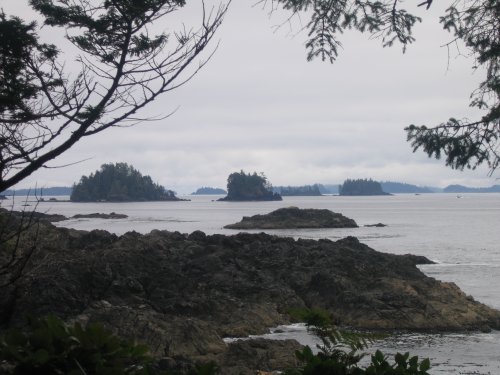 More beautiful Pacific Coast
Another ferry ride and we were back in Seattle, where we visited the famous Pike Place Market before catching a taxi back to our hotel near the airport. That was the only day we saw rain, and even then, it was just a light drizzle.
The flight home last night was smooth. Our neighbor, Susan, was there to pick us up. We were happy we had scheduled a couple extra days to relax and get used to the Eastern Time Zone again.
For more details and pictures of our trip, see Trip Planning and Accomodations