Vancouver Island, 2007: Trip planning and Accommodations
As I mentioned previously, this trip required an abnormal amount of planning (for us), because it required reservations for hotels to be made well in advance of our travels. We were afraid this would limit our flexibility, but as it turned out, we spent just about the right amount of time in each location to properly appreciate what it had to offer.
The first part of our planning involved packing. I wanted to try something new on this trip. We would pack with carry-on luggage only, so we could be as mobile as possible. The luggage also needed to be easily carried while walking, because that was one of our modes of transportation. Fortunately, we didn't have to reinvent the wheel. There are several Internet sites that address the issue of traveling lightly. I'll list the ones I found most useful:
One travel site that I highly recommend was particularly useful in getting opinions on things to see and do and in finding reviews of hotels:
TripAdvisor.com
. Another site authored by a very helpful couple offered good information on Vancouver Island specifically:
Vancouver Island Adventures
. They were quite responsive to my emails requesting additional information.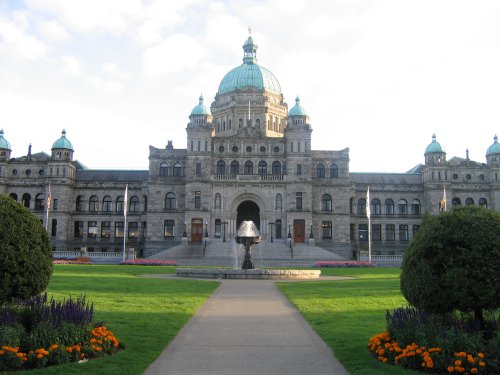 The Government Building in Victoria
We chose to travel from SeaTac Airport to the Seattle waterfront by bus, using the Metro Transit system. This was a very economical way to do it, and it does give you a different experience (quite an eclectic group of people). If you choose to travel this way, I highly advise printing maps of your transfer stations, so you have some idea where you are. We took bus MT 194 to MT 99 to get from SeaTac Airport to the ferry at Pier 69. Although the first bus passed through some areas where we wouldn't have been comfortable disembarkig, the transfer site was fine. Make sure you are on the correct side of the street for the second bus. It picks up on both sides, but the north side heads toward the waterfront.
The Victoria Clipper was a great way to get to Vancouver Island. Traveling on a weekday going over, we had plenty of room. The trip back on the weekend was packed. Because we had packed so lightly, we were able to carry all our gear onboard with us. We also brought water and snacks. Some other passengers purchased food, but didn't describe it in endearing terms.
We stayed at the Royal Scot Suite Hotel in Victoria. It was a very short walk from the ferry terminal, and within short walking distance of town. The room was spacious and comfortable, and considerably more reasonably priced than other area hotels. The staff was wonderful.
For dining in Victoria, we enjoyed eating outdoors on the harbor at Milestones and on the porch at Nautical Nellie's. We were fortunate to squeeze into Milestones on a weekday evening, and Nautical Nellie's takes reservations.
The VIA rail trip to Nanaimo was nice, but not so nice as to entice us to ride it both ways. Get a seat on the right side to ensure the best views of the gulch as you travel over it. This train was comprised of a single car, so don't expect dining. The station was easily reached in Victoria, but was a fair walk to our hotel in Nanaimo. Again, having street maps printed of our destination was helpful.
We stayed at The Buccaneer Inn while in Nanaimo, at the recommendation of several folks on TripAdvisor.com. Dave, the owner, was very welcoming and gave us some good information on the area and on the Tofino area for when we get there. Our room consisted of a front sitting area and kitchenette and a back bedroom. The only downside is that it is a bit of a walk from there to the downtown area, but we enjoyed the walk, taking advantage of the beautiful walkway along the waterfront.
Gina's and the Acme Food Company were our favorite dining sites in town. Gina's advertises itself as "tacky but great", and we concurred. The Southwestern Chicken burrito there is not to be missed (savor with a marguarita). We walked to Just Desserts on the waterfront a couple times for ice cream.
We rented a car from Budget Rental (just a short walk from our hotel, and from the bus depot on our return) for the trip across the island. While there is public transportation to both Tofino and Ucluelet, it is almost necessary to have your own transportation to really enjoy The Pacific Rim National Park and outlying beaches in the area. Having a car also allowed us to stop at Little Qualicum Falls Provincial Park, which offered a nice walk with views of the falls.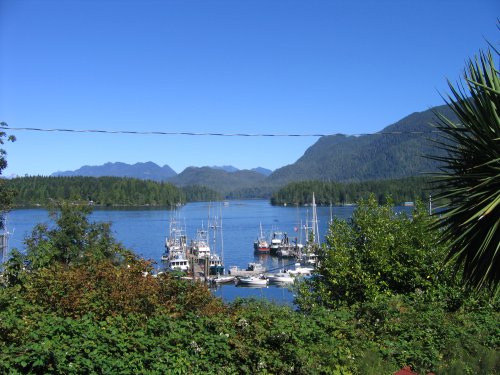 The view from our balcony at the Tofino Motel
We stayed in Tofino, at the Tofino Motel for two nights and the Tin Wis Best Western for one night. We were only able to get reservations at the Tofino Motel for first two nights, but it ended up being a nice change, because the Tin Wis is right on the beach and provided great walking in the evening. The Tofino Motel was conveniently located in town and reasonably priced (for the area). While in town, we took advantage of the kayaking and whale watching tours provided by Jamies Whaling Station.
West coast dining included:
The Schooner Restaurant in Tofino
Sobo, conveniently located across the road from Tin Wis in the botanical gardens. We heard they were going to be moving into town next year, which is too bad, because the gardens make for great scenery while eating on the porch, and I suspect the gardens will receive considerably less visitors.
The Boat Basin at Tau-ca-lea Resort in Ucluelet. This was the most expensive meal of the trip, but we would do it again.
The Wickaninnish Interpretive Centre
Dining in our room at the Tin Wis overlooking the ocean--what a great way to enjoy fruit, bread, cheese and a good Cabernet!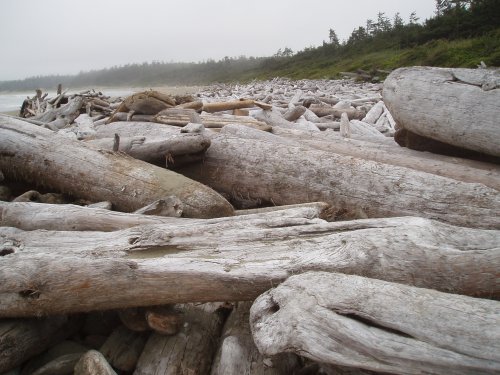 A driftwood beach by the Wickaninnish Interpretive Centre
The Greyhound Bus provided a nice alternative to the train for the trip back to Victoria. It arrived back in town earlier, and allowed us to see different scenery on the way. The last stop is right by the harbor, so it was an easy walk back to our hotel.
Back in Seattle, we walked to some shopping areas, then caught a taxi to Pike Place Market and another one to our hotel, the Holiday Inn Express at SeaTac. We wanted to be close to the airport for our morning departure, and the hotel offered a free shuttle to the terminal.