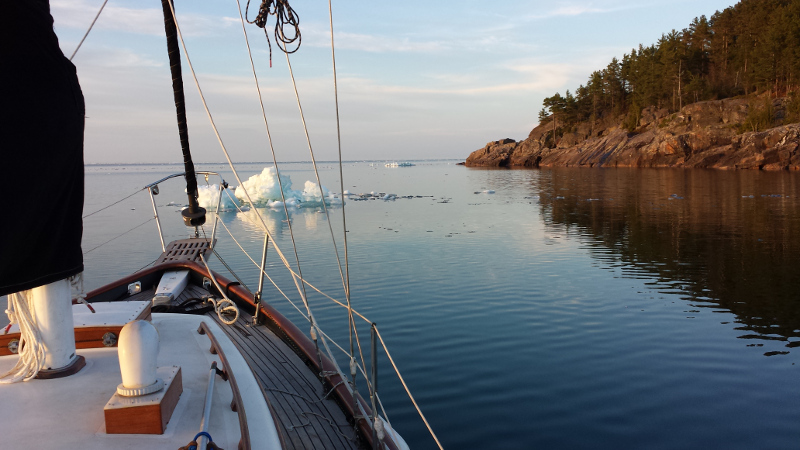 One of our iceberg neighbors in our anchorage behind Little Presque Isle, Friday, May 30, 2014
Our maiden voyage with Lotus
Lotus is a Fuji 35 Ketch we purchased while on vacation in Michigan's Upper Peninsula in the Fall of 2013. The boat was in storage in Dollar Bay, way up in the Keweenaw Peninsula. We debated how to get the boat back down to Muskegon. Kathy had informed me at the time we looked at her that she had no intention of sailing a new-to-us boat across Lake Superior. Fortunately, Philippe, the owner of Lotus, piped up and offered to go as far as Mackinac Island with me. I told Dad about our plan during the annual Father-Son backpacking trip, and he later agreed to join me as well. Thus, the maiden voyage was conceived.
As luck would have it, the winter was one of the worst on record, with Lake Superior having frozen over almost completely. As Spring tried to approach, we were forced to push back our planned voyage from mid-May to the end of May and first of June. I continued to monitor the NOAA Great Lakes Forecasting site, and it continued to show ice on Superior. Mom and Dad arrived Thursday, May 22. We loaded the truck and trailer with supplies the following day, and on Saturday, made the long journey north to Dollar Bay, Michigan. Meanwhile, Philippe was trying desperately to get the folks at the storage facility to move the boat outside. It seems they were not very motivated to start moving boats, and the guy that typically was in charge of such things was on vacation. But Philippe was persistent, and with a bit of negotiation, a little bribe and some direct instruction to the worker in charge on how to move the least number of boats to accomplish our goals, he succeeded.
As we drove north, we passed through Munising and got our first glance of what we were up against. Both approaches to the bay from around Grand Isle were choked with ice. Marquette looked even worse, with the entire bay iced over. We knew we had a few days worth of boat work to do before we could launch, so on we drove. We had rented a small house in Dollar Bay which proved to be very convenient for access to the storage facility, and had a kitchen for us to prepare meals. We settled in and prepared to work.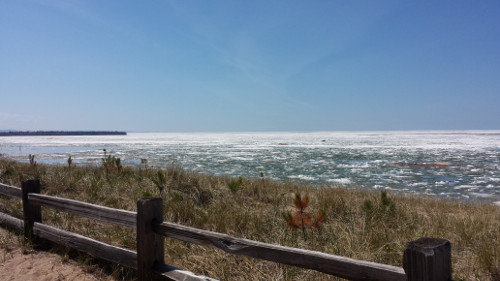 Heading from Munising to Marquette, the ice just kept getting worse. We were more than a little concerned our venture would have to be rescheduled.
Sunday, May 25, 2014
Dad and I drove to Philippe's "camp" where he has a giant pole barn and a workshop that would be the envy of anyone with testosterone flowing through their veins. He had assembled all the items from Lotus that would need to be transported to the boat. We inspected the dinghy outboard, changed the drive unit oil and got it started. Then we toured his beautifully constructed "camp", a picturesque cottage in the woods. Finally, we returned to our house in Dollar Bay to retrieve the women.
We found Lotus tucked away in the back of the crumbling storage building, hidden by a sea of boats. The first order of business was to get Mom and Dad up the 12-foot ladder to her cockpit and introduce them to our new boat. Then the women set about cleaning her cabin while Dad and I worked to clean out the cockpit lockers, change the oil, top off transmission fluid and become acquainted with the diesel engine. We were too tired to cook that evening, so we took advantage of the local restaurant, Quincy's.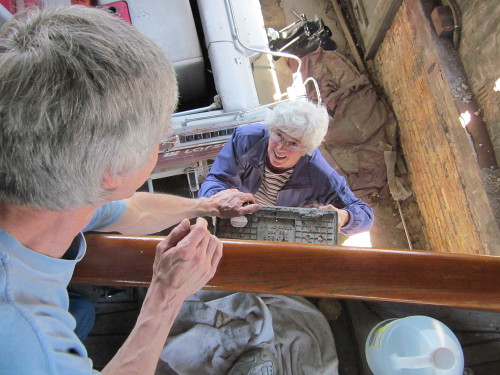 Mom scales the ladder to climb aboard Lotus to help get her in sailing shape.
Monday, May 26, 2014
Philippe arrived with a hand pump, and we pumped out the 40 gallons of 2-3 year old fuel, placing it in 5 gallon containers to be hauled down the ladder and taken away. We added 5 gallons of fresh diesel to get us to the nearest marina once the boat was launched. After Philippe left, we installed the new depth gauge, assembled the coolant system for the engine that had been drained for storage and put the proper Michigan tags on her. We still had not received the proper USCG documentation papers even though the application had been submitted in February, and I hoped we would pass through Canadian waters without having to explain our government's incompetence to the Canadian coastal patrol.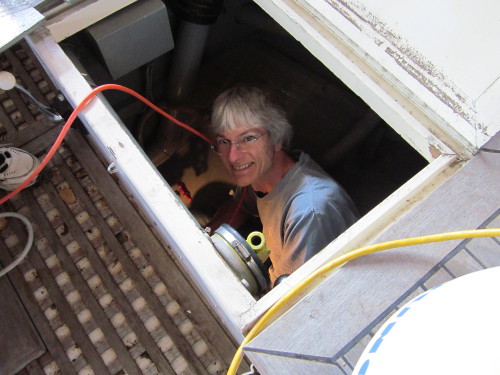 Steve in the engine "room". Let's see if he can reach the transmission fluid dipstick.
Back at the house, we emptied the U-Haul trailer in preparation for turning it in tomorrow. Mom got quite the scare (and we got a good laugh) when a portable radio went off in one of the boxes. The loud static sounded to her like a compressed air leak, and she thought something was going to explode. You should have seen her jump!
Tuesday, May 27, 2014
Philippe met us at the boat in the morning to help get the impeller on the fresh water pump installed. Dad and I had struggled with it yesterday, and finally concluded he must have a trick. Turns out there was no trick, just brute force. We started loading our gear on the boat, while Philippe finished negotiations with the yard help.
We took the afternoon off to tour Michigan Tech, giving Mom and Dad a chance to reminisce their times there. We even located Dad's old fraternity house in Hancock and took a tour.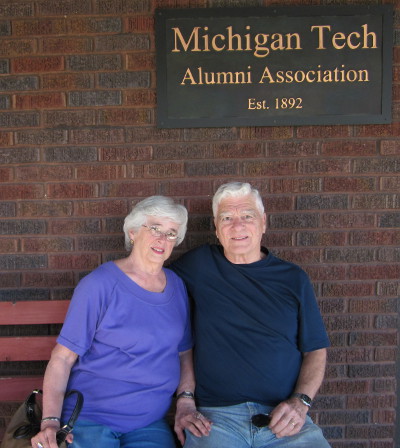 Mom and Dad at Michigan Tech
Philippe called me in the afternoon to let me know Lotus was going to be splashed in the morning. Apparently bribery does work!
Wednesday, May 28, 2014
Launch Day! The guys at Julio's Storage pulled Lotus out of storage. We did a quick touch-up of the bottom paint in spots that couldn't be reached with her on the cradle, then she was moved to the water. Now that the boat was easier to access, we loaded the two big batteries on board. Once the two masts were placed outdoors, I washed them down while Philippe and Dad set about installing the spreaders and wiring the spreader lights. Then the crane was brought over, and the masts were somewhat inelegantly hoisted into position (things are done a bit differently in the U.P.). Philippe had told us yesterday about his wife's tradition of placing a lucky coin under the main mast, so Kathy and Mom had set out to harass the local bank until they could find some lucky change--a penny, nickel and dime from 1977, representing the three previous owners and the model year of Lotus, and a 2014 penny, representing her launch under new ownership. We dutifully placed the coins in the mast step. We attached the stays to keep the masts upright, not really concerned about tuning the rig--we would do that later at the marina. At some point during the rigging operation, Philippe's pants lost their battle with gravity, much to the amusement of all.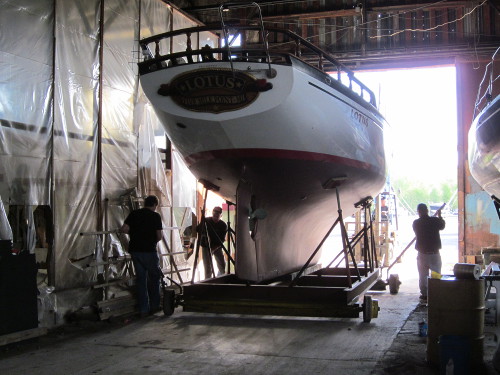 Lotus finally leaves the storage facility
Once we resolved a minor electrical issue, the engine turned over and fired-up right away. That had been my biggest concern, but the engine would prove to be completely trustworthy during our venture. We moved Lotus to the Hancock marina for fuel, water and a pump-out. Sunburned, we returned to the house to prepare for dinner with Philippe and Sharon. They had invited us to their house for the evening and put on a wonderful feast. They have a beautiful home with a view looking west from the Keweenaw Peninsula over Lake Superior.
Thursday, May 29, 2014
We had one more busy day of preparations ahead of us. There was a deck to be washed, sails to be mounted, rig to be tuned, water tank to be flushed and refilled, propane tanks to be filled and wiring to be done. We set about doing our tasks while the ladies chased down elusive 5 lb propane tanks and ran other errands, including picking up the U-Haul trailer again (we had too much junk going back home to fit everything in the truck). Finally we loaded clothing and food on board. Planning on an early morning departure, we moved the boat an hour and a half down the canal to the Lower Portage Entrance. There were still projects to be finished, but we could attend to them underway: the head flushed, but didn't fill properly; the mast lighting was not wired properly; the depth finder wasn't working, neither was the port bow navigation light; the fresh water cooling pump on the engine was leaking water and the 12-V charging port wasn't yet wired. We drove back to the house for a final night in a stationary bed.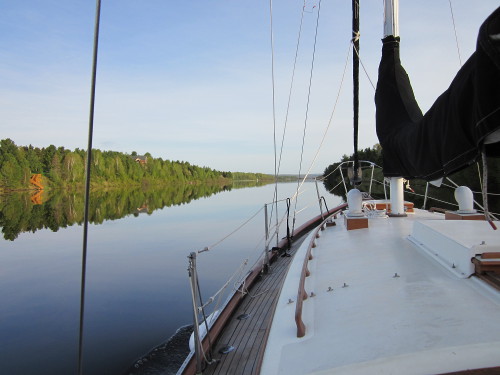 A beautiful evening cruise from Hancock to the Lower Portage Entrance to be in place for an early departure
Friday, May 30, 2014
Philippe met us at the channel entrance at 0600. Looking out at Keweenaw Bay in the early morning light, all we could see was ice. It looked like we would have to wait for another day. The women were going to need to start heading back home, and there was nothing out at the entrance for Dad and I, so we decided to return to the marina until we could get out. Philippe and Sharon drove off toward Houghton while Dad and I operated the boat for the first time without Philippe's guidance back toward Hancock. About an hour in, Julio's was in sight ahead of us and my phone rang. Philippe was at the old lighthouse on the north side of Lower Portage Entrance and was reporting that he thought we could get through the ice! We turned the boat around and headed back toward the entrance. Mom and Kathy raced back to the parking lot where they had left us to deliver the dodger, which was still in the trailer. Tossing it over the cabin top and giving them another farewell, we crossed the canal and picked Philippe off the breakwater. Out into mighty ice-covered Lake Superior we headed.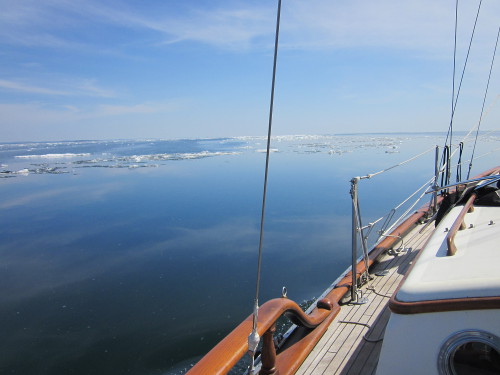 Ice in Keweenaw Bay
We picked our way through the ice fields, which started to clear by the time we reached the Huron Islands. It was a beautiful sunny day, but the air was ice cold, and we were bundled in our winter gear as we motored eastward. Around Granite Point, the ice started appearing again. Kathy reported Marquette and Munising were iced-in. We were able to work our way south to Little Presque Isle, where we anchored in a beautiful cove with a few icebergs to keep us company.
Saturday, May 31, 2014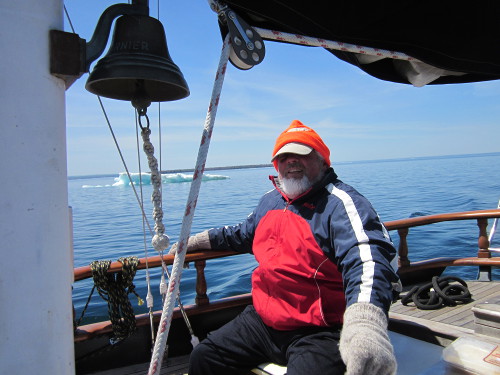 Philippe steering us past a little "bergie"
A warm breeze blowing out of the south at 10-15 knots greeted us in the morning. It had blown the ice out of our anchorage, and we were hoping it would give us a passage between the land and the floating ice fields. I figured out the chartplotter while Dad rewired the mast and 12-V charging outlet and got the depth finder working. The ice continued to get worse as we traveled, reaching further north. Working our way through the ice fields north of Grand Island, we almost came to an impasse. There was barely room to make passage, but we reversed course, heading even further north. Finally, some 15 miles northwest of Grand Island, we found our way through the ice field. There we were, 15 miles offshore in 700 feet of water, and mighty Lake Superior was like a mirror. It was surreal, with the ice and clear blue sky reflecting off the still water (video).
I had hoped to show Dad and Philippe the Pictured Rocks from the vantage of Lake Superior, but there was no way we were going to be even close to them. We wouldn't return to a good view of the shore until we were passing the Grand Sable Dunes just west of Grand Marais. Kathy and I had enjoyed the Pictured Rocks and Grand Island from our little 17-footer many years ago. It is a magnificent area.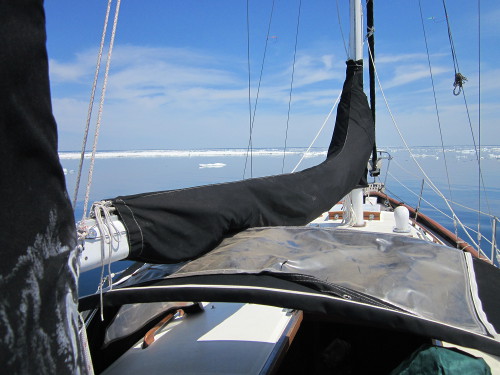 Yet another wall of ice to traverse north of Munising. Unfortunately, I didn't get pictures of the thick ice fields; we were too busy navigating them.
Clear of the ice, Dad and Philippe retired below for a well-deserved nap. I was enjoying the solitude out on the big lake for over an hour before I saw ice again. It started with two large icebergs, bigger than Lotus, then further on, another narrow field of ice that I was able to pick my way through back into clear water again. Kathy and Mom had reversed their course to scout out Grand Marais at my request. They reported clear water, so that was our destination. When my sleeping shipmates awoke, I headed below for a nap. Apparently they encountered another dense line of ice before finally leaving it all behind.
We pulled into the tiny Grand Marais marina alongside two dredging rigs. A very friendly attendant answered the button on the call box and arrived shortly to refuel us. We walked into town for dinner at the Lake Superior Brewing Company then headed over to the township campground for a welcome shower before turning in.
Sunday, June 1, 2014
Once again we were underway by 0600. The winds were still coming out of the south, gusting to 20 knots. We were able to sail under the jib and mizzen for a good 8 hours and made great time. As we approached Whitefish Point it began to rain. We turned south into Whitefish Bay and found a sandy beach along the south shore in Pendills Bay, where we anchored in 18 feet of water. The winds were forecast to subside but continue out of the south, so we felt pretty comfortable, even though our anchorage wasn't really sheltered from the potential fury of Lake Superior. The rain had stopped, making for a pleasant evening.
Monday, June 2, 2014
We were pretty excited as we weighed anchor, because we would be traversing the Sault Locks today and heading through the St. Mary's River. This would be a new experience for all of us. It also meant freighter traffic, so we would have to keep a keen eye out.
Within 20 minutes of starting, Philippe killed the engine. He had spotted a yellow line trailing along both sides of the boat. We started hauling the line on board and ended up with some 500 feet of yellow polypropylene. We assumed it must be from one of the fishing operations going on in the area. We tied the line into coils and dropped it back overboard where it couldn't pose a threat to our prop. Hopefully the fishermen that lost it would find it again.
A dense fog settled in before we reached the buoys marking the channel down to the locks. We settled into a routine where I would watch the chartplotter and radar intently while Dad kept watch and Philippe manned the helm, responding to my not-too-confident interpretation of what I was seeing on the radar screen. When we thought we were close to a marker, I would go forward and watch for it, then we would scan it with the binoculars to confirm the buoy number. Fortunately, we did not encounter any freighter traffic north of the locks, and the fog began to lift as we approached the locks. We contacted the Canadian locks via radio and requested permission to lock down, advising them we were newbies. We watched the lights progress from red to flashing red (meaning the locks were being prepared) to green and moved forward to the open gates. Suddenly, the lights turned red again! We stopped and waited to see what we were to do. A young lady came out of the building, climbed over a fence and ran to meet us, explaining we had two tour boats behind us. Because they were steel hulled, they had to enter the locks first for safety reasons, then we would enter. So, we had lots of pictures taken of us as we joined them in the locks for the brief trip down. We left the locks first, and the fog settled in again, making it difficult to keep an eye on the tour boats as they pulled out and passed us.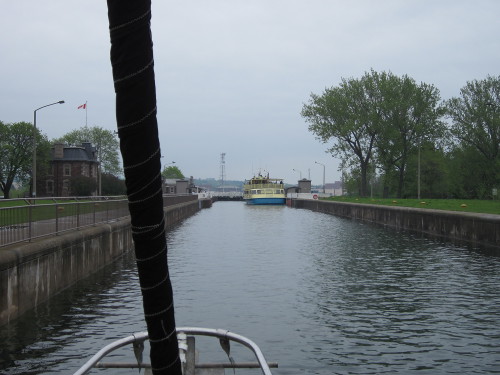 Approaching the Canadian Lock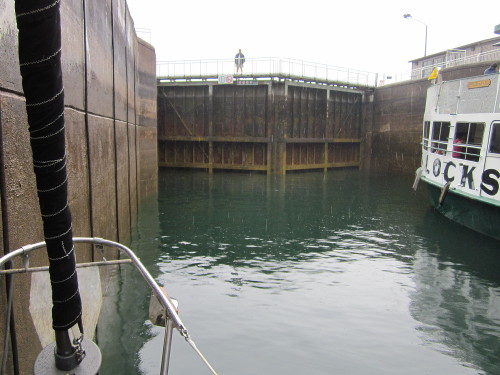 The water level dropped quite rapidly. Here we are waiting for the lower lock gates to open.
We left the fog in another few miles, just in time to watch a couple up-bound freighters pass by us in the St. Mary's River. The up-bound and down-bound freighter lanes diverge to go around Neebish Island. As we passed the island into Lake Munuscong, a thunderstorm engulfed us. The heavy rain, verging on sleet, reduced visibility to almost nothing. We were back to electronic navigation. Just before the storm arrived, we had seen an up-bound freighter on the horizon. Lake Munuscong is a vast, very shallow lake, with a channel cut through it. We tried our best to hug the edge of the upbound lane, not knowing when the freighter would show up. Just as the rain began to let up, the huge bow of the freighter appeared in front of us, fortunately in his own lane. We laughed with relief at the craziness of our adventure.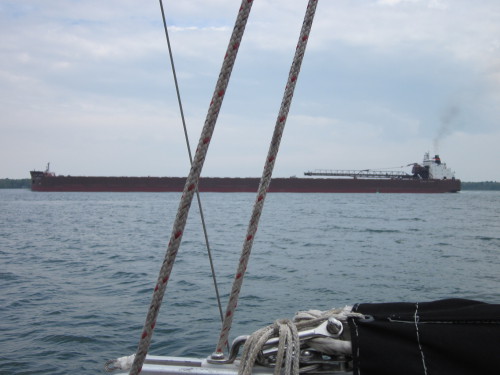 These monstors made me nervous, especially when we couldn't see them.
By 19:30 we pulled into De Tour Village marina where we took on diesel and water. Philippe's wife, Sharon, met us at the dock, and we went out for a farewell dinner at The Mainsail Restaurant. We bid Philippe and Sharon goodbye and moved the boat into our slip for the night. The showers felt great! DeTour marina was the nicest of the marinas we would visit on our trip, very clean and almost new looking.
Tuesday, June 3, 2014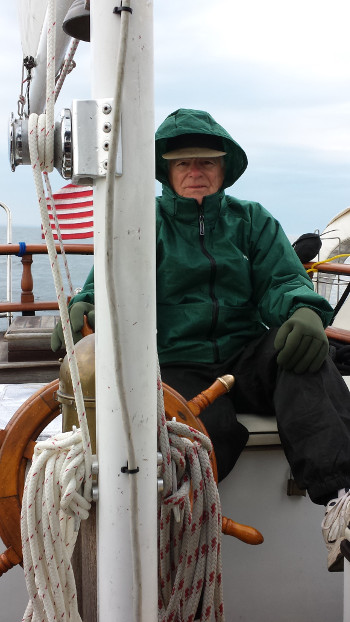 Dad mans the helm, bundled up against the cold headwind
Dad and I pulled out of DeTour marina early the next morning, and soon found ourselves motoring into a vicious headwind. The waves became steeper, and we were burying the bow regularly. By the time we reached Mackinac Island, we had had enough of battling the winds and waves and decided to call it a day early. We ate an early dinner, because we had pretty much skipped our regular breakfast and lunch due to the conditions. Then we took a walk to stretch our limbs. After several days of seeing almost no one, the crowds were a bit of a shock, and we headed for a nearby trail away from town. Our boat had become black with a hatch-out of midges. They make a mess of everything, but fortunately don't bite.
Wednesday, June 4, 2014
The headwinds continued although at a slightly lessened ferocity until we were a few miles west of the mighty Mackinac Bridge. We headed for White Shoal Light, 20 miles to the west, to navigate through the shoals before we could safely turn south in Lake Michigan. A new obstacle became apparent -- fishing nets. We dodged several on our way to the light. It was a beautiful sunny day, so visibility was great.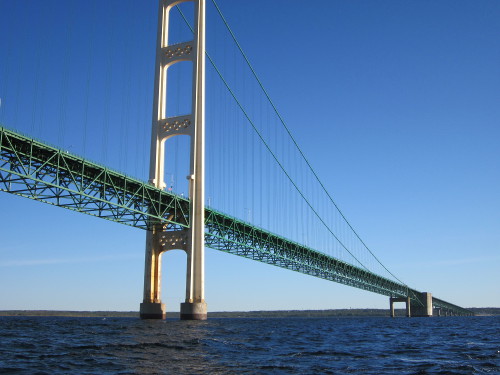 The Mackinac Bridge
Shortly after noon, we cleared the passage and raised all three sails to take advantage of the northwest winds. Although we originally planned to make it to South Manitou, the headwinds we had encountered earlier put that destination a little out of reach. Instead, we headed for Northport, even though that meant an extra 5 mile return out around the Leelanau the next morning. Northport marina was the first busy marina we had encountered. Most of the slips were filled. It also requires some pretty tight maneuvering. The staff was pretty blunt that they would be closed when we arrived and wouldn't open until after we planned to leave in the morning, so getting diesel was out of the question. This was a stark difference from the outstanding service we had received at Grand Marais, DeTour, and from what we would receive tomorrow in Arcadia.
Thursday, June 5, 2014
We pulled out of Northport marina at 0600. We were hardly out in the bay when we noticed the engine temperature guage had almost topped out. Previously, it had barely moved off the bottom. I shut down the engine and we drifted about while I checked the water intake--no blockage there. I pulled the hoses off the water pump and checked for obstructions there--no blockage. Coolant levels: fine. Oil: 1.5 quarts low, so corrected. Examining the engine user manual, we decided pulling and testing the thermostat was not a simple process. Finally, we restarted the engine: water coming out of the exhaust normally. The temperature guage stayed where it was. We made the decision to motor on, watching and listening carefully for signs of trouble. We had lost about an hour.
What little wind we had died as we approached Pyramid Point. I had hoped to raise the sails, but cooked breakfast instead. Cruising past Sleeping Bear Dunes, we set and lowered the sails a couple times as the winds came and went. At least I was getting efficient at that! By 20:00, we were pulling into Arcadia Veterans Memorial Marina. Mark, the attendant, had been watching for us from his home overlooking Lake Michigan and met us at the courtesy dock, where he welcomed us warmly to Arcadia and topped off our diesel and ice supply. Going below I noted a strong smell of diesel. Pulling up the boards over the diesel tank I discovered we had a minor issue--the inspection plug didn't get put back in place after we measured our remaining fuel supply earlier, and some fuel spilled out with the fill-up. So, we had a bit of a clean-up to perform before wine and dinner.
Friday, June 6, 2014
Wherever our destination today, Mom and Kathy would need to pick us up. Dad and Mom needed to travel to Wisconsin tomorrow for McKinley's high school graduation. Kathy and I needed to get to Muskegon with all the Telstar accessories to load them onboard for Buen Tiempo's trip to Florida, where she had a new home waiting. We hoped to get to either Ludington or Pentwater, and the latter port won out, thanks to some favorable winds that filled our sails. The temperature guage had returned to a normal function, so we just wrote it off to having been in storage for so long. The women had arrived early to do a little shopping, although our earlier-than-expected arrival interfered with them completing their mission. As had become typical when we pulled into a marina, we had to tell some admirers about Lotus and answer questions about our voyage. We unloaded a lot of food and gear and headed for home. That evening, the attendant from the marina called to ask if we had a fuel leak. I had to explain the diesel overflow issue that was causing the strong diesel smell from our boat and promised him we would run up there tomorrow to put a couple more oil absorbent pads in the bilge to protect against any spills should the automatic bilge pump kick in.
Sunday, June 8, 2014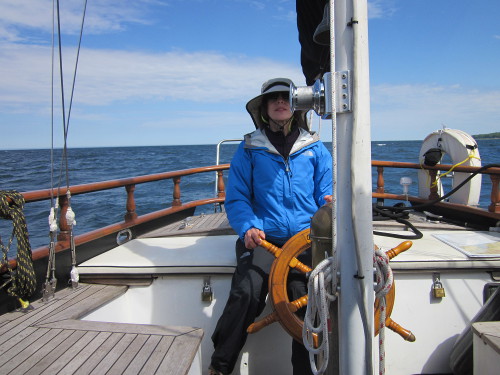 Kathy takes the helm for the first time
We had a full day yesterday preparing Buen Tiempo for her trip to Florida and putting the mooring lines on our mooring for the arrival of Lotus. Susan and Betty drove us north to Pentwater. With north winds at 15-20 knots and 3-4 foot waves rolling in, it was going to be a little bit of a rough introduction for Kathy. I promised her it would get better once we rounded Little Sable Point and could take the weather from behind. We did pitch about a bit getting to the point, but then we were able to deploy the jib and make great progress south to Muskegon. Kathy even took a brief stint at the helm, but decided she would be more comfortable learning in milder weather. Entering Muskegon Lake, we motored to our mooring, where Kathy snagged the lines on the first attempt and secured Lotus in her new home. It had been quite the adventure, and I loved every moment of it! I treasured the time I got to spend with Dad, and we thoroughly enjoyed having Philippe with us for the Lake Superior portion of the voyage. It was fitting that Kathy could be with me as we brought Lotus into her new home port. This was one good ol' boat that had proved herself to me already.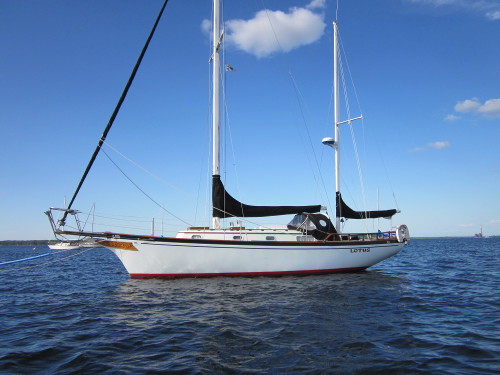 Lotus, safely moored at her new home