Father-Son Hiking Trip, Fontana to Nantahala Outdoor Center, October 17-19, 2011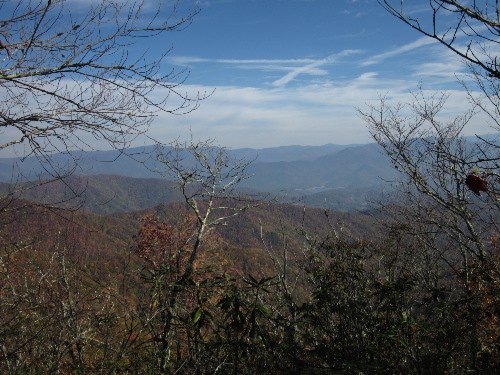 Clear skies and Fall colors added a nice dimension to our hike. This view was taken on day two of our hike.
The route for this year's annual Father-Son backpacking trip, a 27.6 mile section hike of the Appalachian Trail (AT) south of Fontana Dam in North Carolina, was Craig's suggestion. Of course, he made that suggestion based on a cursory examination of the hiking trail map. Later we would learn that many northbound hikers of the famed AT gave up after passing through this segment. But, we're always up for a challenge, right?
Craig arrived to this hike coming off an ankle injury and sporting an ankle brace. He had put in several backpacking miles, so at least he had some conditioning. Dad had just started hiking again after a summer hiatus, but was at least injury-free. I was recovering from my foot injury and had just started back on my conditioning program. The intrepid group of hikers gathered at the McBride homestead for visiting and feasting. On Sunday, the day before our hike, we braved The Dragon to pre-position my truck at the Nantahala Outdoor Center (NOC). Dad broke the spirit of a Corvette owner who couldn't shake our minivan from his tail as we headed back home through The Dragon again.
Monday, October 17
Mom and Kathy organized the traditional send-off breakfast early today. We headed out for the trailhead while they departed to places unknown for antique hunting.
Parking for the AT heading south from Fontana is available at the marina, just before the trail crosses NC-28. The trail climbs fairly steeply out of the river valley, and we're breathing pretty heavily in no time. High Top (3,786 ft) arrives in 4.5 miles--it's been a morning of climbing.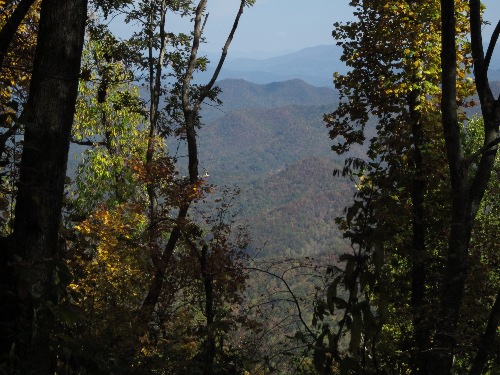 Another nice view from the trail.
It's a fine day to be outside, sunny and temperatures rising steadily from the mid-50's on their way to around 70. The morning hike is beautiful with the Fall colors just shy of peak, and it's time for lunch before we know it. We're definitely ready for a break. Cable Gap shelter is at mile 5.5, a good site for a break and a chance to refill my water bottle.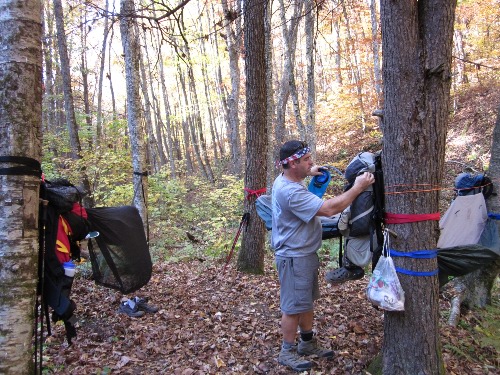 Hanging our hammocks by the spring below Cody Gap
Cody Gap is the site of our first camping site, 9.6 miles from our starting point. There is a fire ring right at the trail, but we like more privacy (not that there was anyone else around, but you never know). I scramble down a side trail (Wauchecha Bald Trail) where the map indicates there is a spring. The trail is blazed to a dry bed, but no water. My initial concerns are allayed as I find a small pool a little further downhill and another fire ring nearby. Returning to the junction with the AT, I gasp for air awhile, then discuss our options with Dad and Craig. We decide to camp down by the spring, which turns out to be a nice site. The hammocks are hung (no tarps needed tonight), and firewood is easy to find. In no time we have a fire going. Craig fires up his stove and, in short order, the feasting begins.
Dad provides the evening entertainment with a rousing game of "hang-the-bear-bag". His stance is nothing short of Olympian, but his aim seemed a tad off, at least enough to give Craig and I a great case of the giggles. But, with the heart of an Olympian, he perseveres, and we soon have our defenses set against the bruin, should he dare invade our little encampment.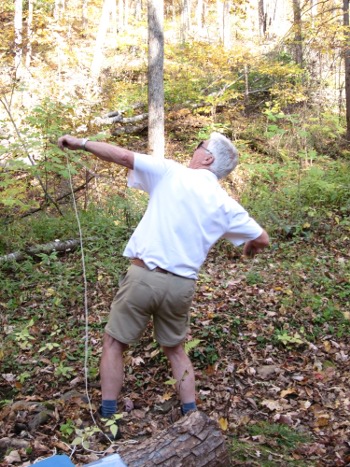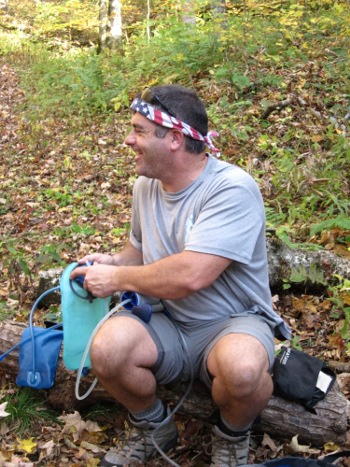 Dad shows off his Olympic throwing form. You can guess the results based on Craig's reaction!
The evening is pleasant, with lots of stars and temperatures falling to the low 50's. We enjoy some spirits and solve the world's problems. No critters come to visit us, at least none of which we are aware. Sleep comes easily as my legs are happy to be horizontal.
Tuesday, October 18
Somebody, Dad I think, has the fire going to ward off the morning chill. The embers from last night get a blaze going in no time.
We seem to have this tradition of heading straight uphill after breakfast, and this morning is no disappointment. Of course the first climb is just to get us back up to the trail. Actually, things are pretty easy until after we decend into Stekoah Gap where the trail crosses Sweetwater Creek Rd (NC-143). We enjoy a snack at a picnic table in the parking area there before starting up a one mile 600 foot ascent to another ridge. I decide to give my Vibram Five Fingers a try, and switched my shoes out for them (for a my review of the VFF Treksport, go here).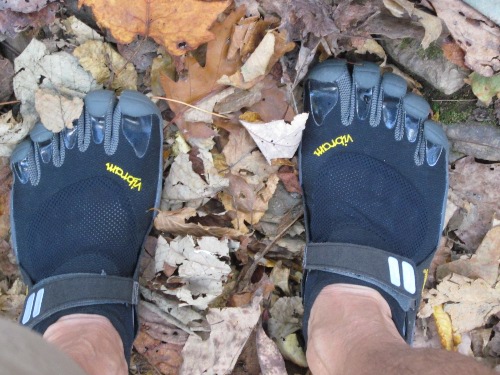 My Vibram Five Fingers (VFF's) take to the trail.
It's even warmer today and still clear, although rain is predicted for tonight. We hope it will pass quickly, if it does arrive, because the views from Cheoah Bald that we are to traverse tomorrow morning are reported to be spectacular.
Locust Cove Gap arrives at mile 17.1. It is here we have planned to spend our second night. Craig and I go scouting for the promised spring just down a side trail while Dad visits with three bear hunters we discovered resting at the camp site. We find a hose and dry pit where the alleged spring lives. Walking further down the little trail reveals no signs of water, so, slightly concerned, we head deeper into the valley to follow a dry creek bed. The rhodedendron was thick, but our little scouting party is undeterred, and it isn't too long before Craig gives the victory cry--a tiny puddle, refreshed by a trickling spring has been discovered. We disturb a couple tiny salamandars as we steal some of their precious water.
It's too crowded with underbrush to even think of camping by the water, so we string our hammocks back up in the gap. The breeze is picking up, and it might be raining by morning. Neither Craig nor I are the least bit interested in going back down to gather water in the rain, so we head back down now to fill extra containers and do a quick clean-up.
Dad has gathered firewood while we were gone, and, shortly, we have another fine flame going. We are pretty tired tonight and don't last as long as we did last night. Dad is the first to disappear into his hammock, but it isn't long before Craig and I follow suit.
Given the forecast, we had added tarps to our hammocks, and it turned out to be a good thing. By early morning it is pouring. I roll over and go back to sleep.
Wednesday, October 19
I awake to rustling sounds coming from Dad's hammock. I peer into the dark morning and see a light flashing around under his tarp. "Do you need some help?," I query. He responds that he's just packing up. What?! Apparently it is a bit later than the dark sky would suggest--it's still pouring, too. I reluctantly start the acrobatic art of changing clothes in my hammock and start packing my gear. When all is down except for Dad's tarp, we retrieve the bear bag and retreat under the tarp for a breakfast snack. Noticing Craig's set-up is undisturbed and there are no sounds coming from his site, I ask him loudly if he were planning on getting up anytime soon. Apparently he, too, had thought it was still night. When he heard Dad rustling around, he jumped out, tightened Dad's tarp strings and climbed back in bed, thinking Dad was just trying to tighten his tarp against the downpour!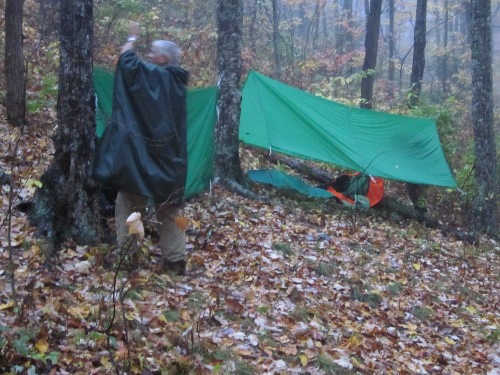 Breaking camp in the rain
The rain is slowing to a sprinkle as we gather around the stove to warm water for breakfast. Dad and I convince Craig to take down his tarp--we won't need it for breakfast. That angers the rain gods, and the water comes pouring down in earnest just in time to eat.
Ponchos in place, we start this morning's after-breakfast climb. Locust Cove Gap sits at about 3,650 feet; Cheoah Bald, where we would peak out is 5,062 feet. Needless to say, there are no views from the top. In fact, the rain decides to intensify as we reach the grassy bald, and the clouds form a dense fog around us. All we lack is lightening! It is also windy and cold.
I celebrate the arrival of Sassafras Gap Shelter. I'm cold, and a dry place to eat an early lunch is a welcome thought. I change into dry socks and pull out my gloves for the hike out of here. The final 6.9 miles to NOC will be mostly downhill, and as it turns out, mostly in just a light drizzle, but we wear the ponchos for extra warmth as well as protection from the wet brush.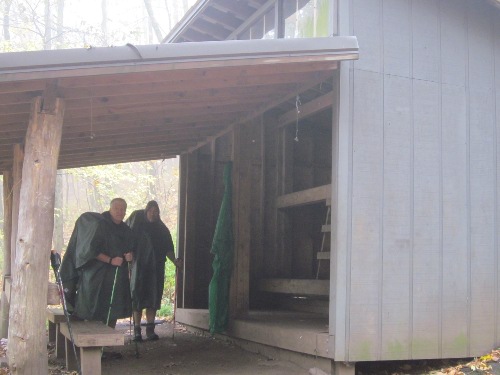 Sassafras shelter provides a break from the rain.
Dad has set a blistering pace, determined to arrive at NOC before our chance of enjoying the traditional post-hike ice cream passes. Indeed, we descend into their parking lot right at 4 PM, his estimated time of arrival. The truck appears undisturbed, and we stow our packs and head for the nearby restaurant for a bowl of ice cream rolled in granola and topped with chocolate and caramel--excellent!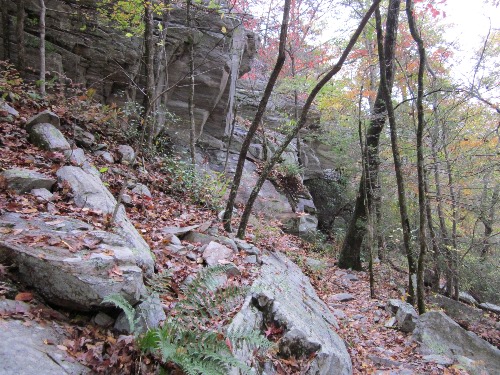 A rocky cliff along the trail heading into NOC
Charlies Bunion, Friday, October 21
Craig had to head home yesterday. Today Kathy gets to stretch her legs. We arise early to get underway to Newfound Gap. On the drive up, it becomes apparent there has been snow along the upper elevations. It's windy at the trailhead, and only 33 degrees. The sky is cloudy, but forecasted to clear. I hope so, because it is cold, and we're slightly under-dressed. I'm giving my VFF's another trial, but it is a little below their comfort range. We encounter Dad's hiking group in the parking lot--they're doing the same trail. We head out on the trail, leaving the group in our wake as Dad sets a mile-crunching pace, not all that unwelcome, as it helps ward off the cold. The first couple miles are a steady uphill climb, which gets the blood circulating. We take an early lunch break at the Icewater Spring shelter then press on. At first we're worried about the lack of views, but the sky clears and we have a great view off the Bunion. I even coax Kathy to climb up on the rocky outcropping for a photo-op.
Although the sky is clear, it's pouring on the trail--actually it's just the snow melting off the trees, but we almost need to break out the ponchos. My feet have warmed up, and I even take off the gloves. We have a beautiful hike back to the van, where we learn it has warmed all the way to 42 degrees. Another great hike and a good workout. Trail length: 8.1 miles.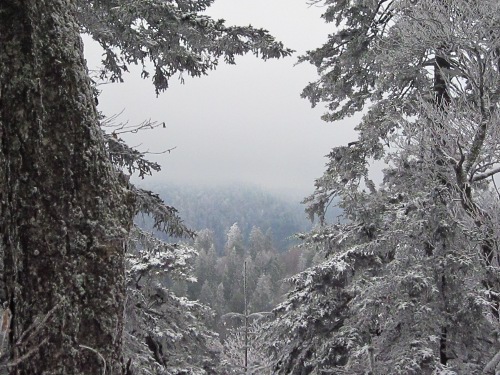 A frosty view from Charlies Bunion trail before the clouds broke.
Total trail length for the trip: 35.7 miles