Voyageurs National Park trip, September 17-29, 2004
Traveling to Voyageurs National Park so late in the season was a bit of a concern for us initially. We were pleasantly surprised to be treated to relatively warm and mostly sunny weather. This suited our plans for hammock camping very nicely. We wanted good weather not only for ourselves, but for Dan and Dee who would be joining us for an outing later and who were new to kayak and hammock camping.
Voyageurs is located in northern Minnesota, between International Falls and Boundary Waters Canoe Area. Canada forms the northern border. It is a boater's park, with most of the campsites and trails accessible only by water. The shorelines are wild and the lakes quite large. The numerous islands make route planning easier in high winds--it's not hard to find wind blocks. Our marine radio was most useful for obtaining weather forecasts. We also found that many outfitters and lodges monitor some of the channels, so help is readily available should the need arise.
We arrived at the Ash River Visitor Center on Saturday evening, having left Grand Rapids early Friday morning. Our initial plan was to get through Chicago before rush hour, but we got detained there anyway. We stayed at a hotel just east of St. Paul, MN Friday night (we stayed there again on our trip home). Once you get north of Duluth the landscape becomes pretty rural. We quickly found that there are no ordinary hotels in the Ash River or Kabetogama areas, and the resorts that are there are fairly pricey. We settled on the Ash-Ka-Nam resort, a newly renovated place with a delightful staff. The level of service offered there was amazing. It would become our home base between excursions.
Sunday we found the sky full of sunshine and temperatures in the 70's with winds at 10-15 knots out of the southeast--beautiful weather for our first excursion out on the lake. I had chosen Namakan Lake as our primary destination for this year's adventures based on recommendations from another paddler who had been there, the variety of places to see, and the protected routes available. We were uncertain how Kathy's shoulder tendonitis would impact her paddling, so we set our distance goals accordingly. There is a great launch site at the Ash River Visitor Center designated just for paddlecraft. Departing there, we made our way east. Crossing Old Dutch Bay with a 15 knot sidewind, we took a break in a small inlet just north of campsite N29. There we had what was to be the first of many eagle sightings over the course of the week.
We arrived at site N61 in the early afternoon and decided to camp there. Electing to forgo the dock and surrounding murky area, we landed on a shallow rock ledge instead. The campsites in Voyageurs are wonderful. They have picnic tables, bear boxes, tent pads, fire rings and privies (with a view). This site provided a great view down Moose Bay, and we pitched the hammocks to take advantage of it. Taking advantage of the sunshine, I took a quick swim in the cold waters--very refreshing. We fell asleep listening to loons call and winds fluttering the tarps.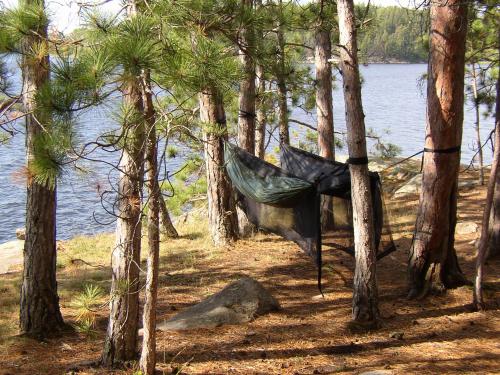 A room with a view
Morning brought a change in weather, with 20-25 knot winds out of the southwest and rain in the forecast. Moving our hammocks a little further inland for protection, we considered hanging out in camp for the day. We decided instead to pack the kayaks and look for a short break in the wind to escape our site. It started to rain just as we got in the kayaks, a rain that would last all day. We battled our way across the bay crossings back to the visitor center. Loading our wet gear into the truck, we headed back to our base camp at the lodge.
Tuesday we elected to tour the area, visiting the Kabetogama Visitor Center and stopping by some other resorts to see what they had to offer. We found a giant Walleye at the turnoff to Kabetogama that was too good to pass up as a photo-op. Another source of humor was the restaurant and bait shop sign.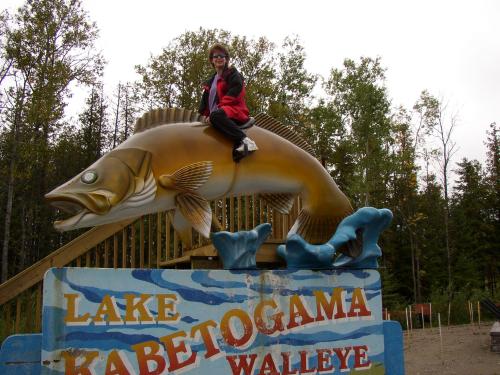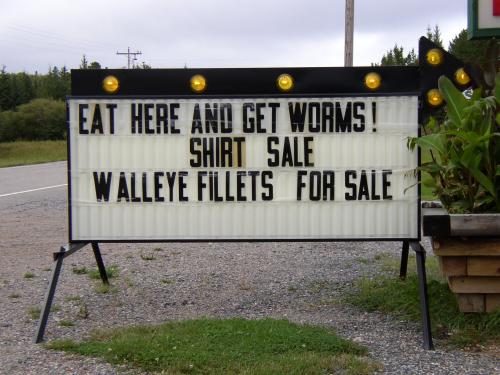 Later, walking on the dock at the Ash River Visitor Center, Kathy spotted something eel-like swimming in the water. It measured about six inches in length. After much discussion and conferring with the ranger, we discovered to our amazement (and horror) that this creature was a leech! Now, I've seen leeches, but never that big. We were a bit more cautious from that point on while wading in the water.
Wednesday we took a day paddle out of Ash River Visitor Center, crossing the lake to explore Lost Lake. A doe with two fawns about ran into me as I walked off the trail onto the beach to load our kayaks. Lost Bay was a quiet pretty little lake. I jogged the 0.25 mile portage to Long Slu to see what it looked like. After taking a break on the rocks, we paddled back across the lake to explore Blind Ash Bay. Back at Ask-Ka-Nam we awaited Dan and Dee's arrival, sharing cocktails with them in the bar.
We had enjoyed our campsite well enough earlier in the week that we decided to return there with Dan and Dee, using it as our base camp to explore nearby Moose and Hoist Bays. Temperatures were forecast to be in the 60's during the day and high 40's at night for the next few days, although storms were predicted for Thursday night. The trip to camp was relatively uneventful, although we had some excitement and laughs when Kathy felt something crawling on her foot shortly after snapping on her sprayskirt after a rest stop. Thoughts of giant leeches in her mind, she went through various contortions trying to get to her foot. Indeed, a leech was discovered, although barely a half inch in length. She managed to get the leech off her foot, but it stuck on her finger, apparently quite unconcerned about her gesticulations and screaming. Fortunately, a dock piling was within reach, and the leech was finally scraped free.
We arrived at camp in time to make sure our hammocks and tarps were pitched before any storms arrived. Dee and I dared to take the plunge for another swim in the afternoon. After dinner and a quick fire, we watched the storm front advance from the southwest, sprinting to our hammocks at the last moment. The winds and rain struck hard. Dan, in his new Hennessey Hammock, found the tarp to be inadequate, and a mistake on my part in pitching Kathy's hammock and tarp with an open end to the wind left her a little spray-covered. After the initial onslaught, I got out of bed and lowered the exposed end of Kathy's tarp. We rearranged the large tarp pitched over Dee's hammock to cover Dan's hammock, too. Poor Dan would serve as the target of Dee's uncontrolled fits of laughter for the next two days as she recalled his misfortunes, first with the leaky tarp, then with the complications he encountered with the bottom entry slot.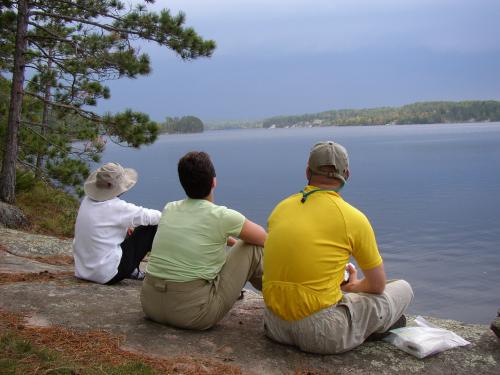 Watching the approaching storm
Hoist Bay should be renamed Eagle Bay. We encountered an incredible number of the regal birds as we paddled around the perimeter. We stopped to explore an old Youth Conservation Corps camp at the end of the bay. Later, at the Ash River Visitor Center, a volunteer mentioned that several of the old buildings in the park were scheduled for demolition. I hope the old wooden building we saw there is spared. Its original purpose is a mystery to us, probably something from the logging era, but it is interesting to explore it and speculate about its use. [A website visitor, Dave King, reported that the building was an ice storage facility. They would cut ice from the lake in large blocks and store it in that building, he wrote. Another visitor, Benjamin Nyboer, reported he grew up on the Bay, in a cabin just to the right as you come into the bay. He confirmed that the building was the original Ice House for the loggers when they worked in Hoist bay. Benjamin also explained that the pilings at the end of the bay near Munson's camp--it was a resort--were from the old railroad that came in and stopped at the ice house. Logs and ice would be loaded on the train and shipped back the opposite direction. Unfortunately, Benjamin's family lost the cabin when the government forced them off the land.]
The old building at the YCC camp
Moose Bay was our next destination. Not as pretty as Hoist Bay, but the river at the end of it holds promise as an interesting quiet place to paddle in hopes of seeing wildlife.
Camp was much quieter that evening. The winds had dropped off to nothing, and we were treated to the howling of wolves. We enjoyed Dan's campfire, shared some great conversation and a lot of laughs. The trip back the next morning was enjoyable. Dan spotted a doe drinking on the shore. She was relatively unconcerned about our passing.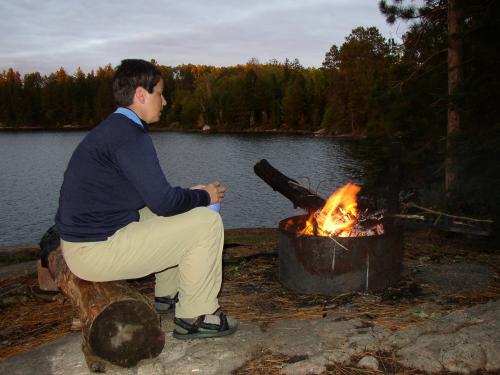 Dee enjoys the campfire
Dan and Dee headed for home early the next morning. Kathy and I had breakfast then disassembled and packed the kayaks in preparation for a leisurely trip home. The road to Ely was pretty with the hills, winding course and changing leaf colors. Piragis has a great store in Ely; we stopped to investigate it and spend some money. We also found a good spot for lunch. From Ely we headed to the Lake Superior shoreline for a view of the great lake and the Split Rock lighthouse. Our next destination was Spring Green where we enjoyed touring Frank Lloyd Wright's Taliesin.
Monday we stopped in Galena, Illinois, a historic town known for its shops. I found a sunny place to sit and read while Kathy explored the shops. After an Italian lunch, we headed for home, arriving in Grand Rapids around midnight to claim 'Stache from his boarding spot at the clinic. All-in-all a very enjoyable vacation.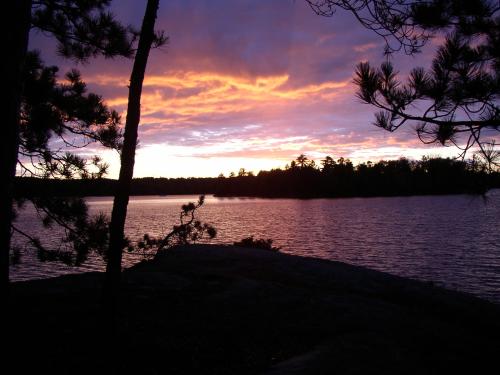 Sunset over Moose Bay