Ouray, Colorado, September 5-18, 2012
Our trip to Ouray would be different this year for a couple reasons. First, we would be taking a camping trailer, and second, Craig and Lora would be joining us in our adventures. They had never been to Colorado, and we looked forward to showing off the beautiful country around our favorite town.
Well, the camping trailer would be our first challenge. We had just picked up the cargo trailer at the end of our family gathering in late August, so the pressure was on to get it converted into a usable camping vehicle in just a few short weeks. That occupied much of my available time on evenings and weekends, but we managed to throw it together, and it worked fairly well. Towing it was another issue. I significantly underestimated the additional time it would require to haul it out to Ouray. Fortunately, our schedule had the flexibility to add another 2/3 of a day going each way.
Having Craig and Lora join us was a real pleasure. They, of course, enjoy the outdoors like we do, and were quite flexible with plans and expectations. We had fun together, and a lot of laughs.
Anyway, here is the story from my journal notes:
Wednesday, September 5, 2012
We left Grand Rapids around 05:10, hitting a downpour in Chicago a few hours later. Kathy got her chance to learn to pull the trailer once we got out of that and traffic thinned a bit. Definitely slower traveling with the trailer and the truck drinks more gas. Found out the bed likes to travel forward; eventually solved that issue with a line tying it back to the rod for the rear door.
Spent the night in a Holiday Inn in York, NE. There was an attached Applebees, where we had a Margarita before hitting the hay.
Thursday, September 6, 2012
Up at 5:00 and on the road by 6:15. Stopped in Kearney for breakfast. The Nuvi (our GPS) says we won't hit Ouray until 20:30 tonight, and that's not including stops! Maybe we won't make it all the way.
Well, we didn't make it. In fact, we found ourselves searching for a campground in the Gunnison area as the sun was getting low in the sky. I was exhausted from driving. Kathy had taken the helm to Denver, but didn't want any part of pulling a trailer through the mountains. We took the 285/24/50 route rather than I-70, and it was a nice change, but still a lot of climbing as we conquered at least three mountain passes. We hadn't planned on looking for a camping site around Gunnison, so I had no idea what to recommend. As we passed the Curecanti Recreation Area in the Blue Mesa Reservoir, we passed several camping areas. Finally, we elected to try the Elk Creek site, and were glad we did. There were few campers present, and the views of the mesas were beautiful in the setting sun.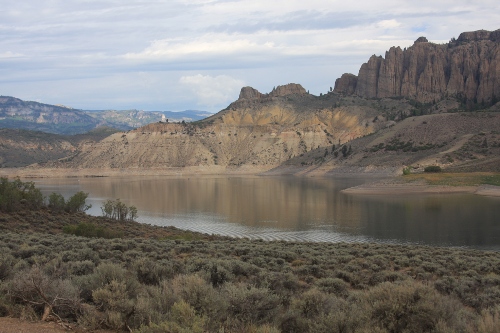 Mesa views in Curecanti Recreation Area
This was our first attempt at setting up camp in our new trailer, and we were clumsy as one might expect. It didn't help that we were so tired. We got the trailer parked, only to find out we couldn't get it off the hitch! Apparently, after we loaded the trailer and back of the truck with gear, it settled the hitch low enough the trailer jack wouldn't swing down properly. After some contemplation, I pulled out the jack from the truck and raised the tongue until we could swing down the tongue jack--we'll have to do something about that in the future!
Then there was the disaster of having stored stuff all over the place and trying to create some sort of order out of the chaos. It seemed we couldn't find anything we looked for--it was either in the truck or stored in a box under the bed, but never convenient when we needed it. A place for everything, and everything in its place clearly didn't apply for us yet.
We cooked a quick meal of sausage and greens, then attempted to eat by lantern light. Well, the lantern was turned up a bit too much, and just as I noticed it was smoking a little, the smoke detector went off! I was trying to extinguish the lantern and shut up the detector at the same time.
Then there was the fly hatch. Apparently some sort of hatch occurred on the water of the reservoir, and there were flying insects everywhere. That made it difficult to open a door without the little buggers getting in. Fortunately, they didn't bite.
We finally got settled in bed and had just gotten to sleep, when it started to thunder and rain. Up again to shut the windows. I would open and close them several times throughout the night as the waves of light rain passed.
Friday, September 7, 2012
We broke camp, again not too smoothly, and were on the way by about 09:00. We decided to eat breakfast whenever we could find a place. That turned out to be in Montrose, and it turned out to be lunch. We stopped by a grocery store to pick up a few things we needed, including matches to light the stove (the ones I had were the REI waterproof matches that burn like a torch until they decide they're done--great on the trail, lousy in a little trailer with a smoke detector), WD-40 to silence a squeaky door, and a squeegy to help the sink empty properly. Finally, we decided to hit El Jimador, our favorite Mexican restaurant in Montrose, and they didn't disappoint us. The margaritas and food were excellent as always.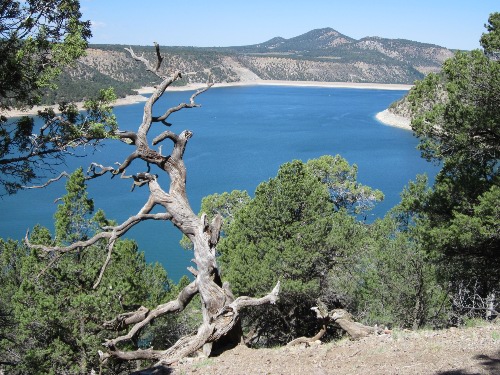 A view of the reservoir at Ridgway State Park
We stopped by Ridgway State Park to evaluate it as a camping spot. Turns out, it is a really nice place. We picked a site (#126) and reserved it for two nights, then left the trailer there and headed into Ouray. Our first stop in Ouray was the Visitors Center to confirm that we would be able to leave the truck and trailer parked there when we went backpacking. Roger, the volunteer on duty, was very friendly and quite knowledgeable about the area trails. He showed us where we could park when we went backpacking, and in answer to my questions about who we needed to notify, he replied, "This is Ouray; we don't worry about things like that." Gotta love small towns!
Next we thought we would check out the Amphitheater Campground for a possible future place to put the trailer, but quickly ruled that out when we saw how tight the area was and how few sites were available. We also wanted to get in a quick acclimation hike, so chose the Upper Cascade Falls trail out of the Amphitheater Campground. Oh, the pain of the first hike at altitude! Anyway, we got in a short (3.4 mile), but nice, hike and headed "home" to our trailer for dinner. We were a little more organized tonight, but still have a way to go.
Saturday, September 8, 2012
We slept in this morning, which we both really needed, then whipped up some breakfast. I boiled some eggs for later meals, then we took a short walk around the park before testing out the showers. Craig and Lora were to arrive at 16:12, so we headed into Montrose, where Kathy did some shopping before going to the airport. The plane arrived on time, and after gathering their luggage, we headed back to El Jimador for dinner then provisioned at Walmart.
Craig and Lora set their tent set up at our site, then Craig, ever the pyromaniac, purchased some firewood from the campground host, and we enjoyed drinks around the campfire.
Sunday, September 9, 2012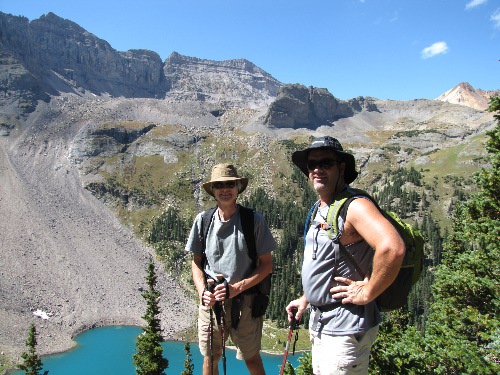 Steve and Craig above Lower Blue Lake
We arose early, ate and headed off to the Blue Lakes Trail head. It turned out to be a beautiful day, and we enjoyed a great hike. After reaching upper Blue Lakes and having lunch, Craig and Lora headed off to try their hand at scaling Blue Lakes Pass, while I took a nap and Kathy explored the upper lakes area. Craig and Lora ran into the same issue I had two years ago, as the trail literally disappeared and left them feeling very precariously balanced on the steep slope. They were forced to turn back before reaching the top, but had a nice hike anyway. On the way back down, Craig spotted three deer, a nice buck with two does. We were all pretty tired by the time we returned to the truck.
Back at the campground, we wasted no time grilling burgers for dinner. Then it was off to the showers and a brief campfire before turning in for the night. There should be no problems sleeping tonight.
Monday, September 10, 2012
We decided to stay another night at the Ridgway State Park. Today's hike would be Sutton Mine Trail, with a portion of the Perimeter Trail to show Craig and Lora Box Canyon. Ice cream was in order when we got to town, then Kathy and Lora walked around Ouray while Craig and I retrieved the truck. After a short walk to view Lower Cascade Falls and a little shopping, we had Margaritas at Buen Tiempo, then headed back to camp. We had put in about 5 miles today, with some good climbs.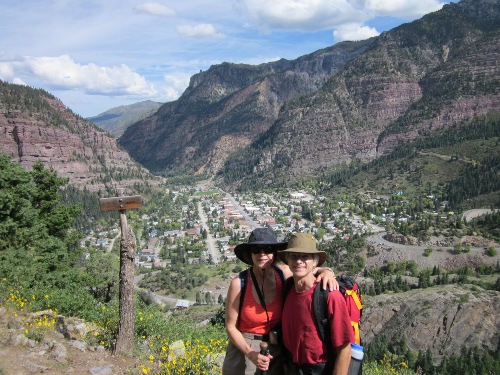 The Ouray overlook on the Sutton Mine Trail
Tuesday, September 11, 2012
We packed up in the morning and headed south to show off the Million Dollar Highway and explore Silverton. The forecast called for rain, and they weren't wrong. We dropped the trailer off at South Mineral Campground, so we wouldn't have to deal with it in town. Lunch was at Handlebars Food & Saloon, where we had great burgers. The weather wasn't looking very good, so we decided to drive out to Animas Forks to show Craig and Lora the old mining ghost town. We encountered a sheep round-up on the way up, stopping and enjoying a sea of some 1200-1400 head of sheep travel around our truck as the ranchers drove them down out of the mountains. After we returned to the trailer, we gathered inside for drinks and munchies to visit and stay out of the rain. It rained most of the evening.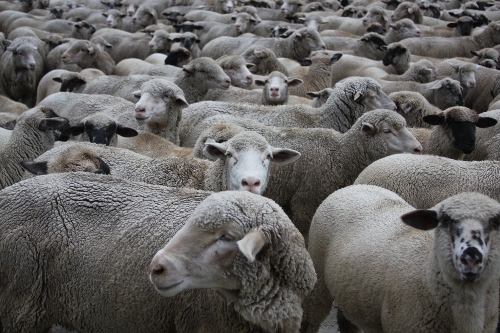 A sea of sheep on the road to Animas Forks
Wednesday, September 12, 2012
Ice Lake was our destination today. It was a beautiful hike up, but it started to rain just before we got to the lake, and it didn't let up until we got home. We ate an abbreviated lunch at the lake, huddled behind a rock under our ponchos for protection from the wind and rain. We intended to go to Island Lake, but with the rain and wind, it was getting pretty cold, so we retreated to lower elevations.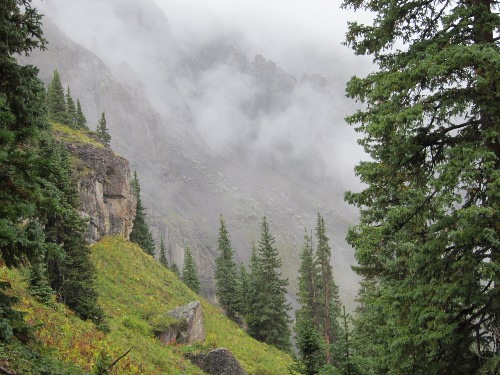 A rainy mist in the mountains of Island Lake Trail
We stopped in Ouray on the way back to Ridgway State Park for dinner at the Irish Pub. Then we showed off Mouse's Chocolates by engorging ourselves on truffles. Back at camp, we showered and prepared for backpacking tomorrow. The forecast is calling for no rain, so that is promising.
Thursday, September 13, 2012
After a quick breakfast, we packed up the trailer and headed into Ouray, where we first dropped Kathy and all our packs off at the Bear Creek trail head, then returned to the Ouray Visitors Center to drop off the truck and trailer. Craig, Lora and I walked the back road of Ouray to the Ice Park Trail and followed it to where a bridge crossed the Uncompaghre River. There we picked up the Hard-Rockers Trail (no signs, just a rock cairn). The little-used trail took us up almost to road level, then back down to the river before finally climbing to the trail head where we left Kathy. Lora set a blazing pace, and we had made it back to our destination only an hour and forty minutes after depositing Kathy.
Following a snack and rest break, we started up Bear Creek Trail. Kathy was relieved to find the trail much improved over the last time we took this hike (thanks Ouray Trail Group). At that time, some minor landslides had made the narrow trail a bit challenging in places. We found ourselves climbing for the rest of the day, until we reached Yellow Jacket Mine, the site of our first night's camp. We made camp, and Craig got right down to building a fire. It got down to freezing that night, but we all slept pretty well after the day's exercise.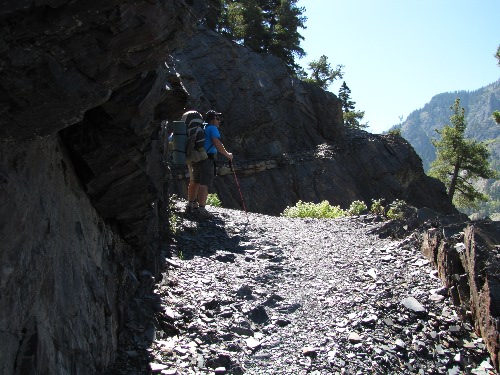 Craig on the precipitous Bear Creek Trail
Friday, September 14, 2012
It was cold in the morning, but a hot breakfast helped warm us up. We broke camp and continued up Bear Creek Trail to its junction with Horsethief Trail. The junction was easy enough to find and identified with signs, but Horsethief became somewhat confusing to follow in places. A little scouting around and referring to the map quickly set us back on course, and we headed into American Flats, a beautiful high plateau behind the Amphitheater. We spent the day crossing the high plateau, marveling at the life present in what initially appeared to be a barren place. We had spotted multiple deer early in the day, including a couple bucks. There were plenty of hawks, chipmunks and marmots to entertain us. Finally we descended to the tributaries of Difficulty Creek, where we were to camp, but the terrain was no place to set up a camp. We went off-trail along the second tributary, descending almost to Difficulty Creek Trail and discovered a great campsite created by horse campers, complete with a fire ring.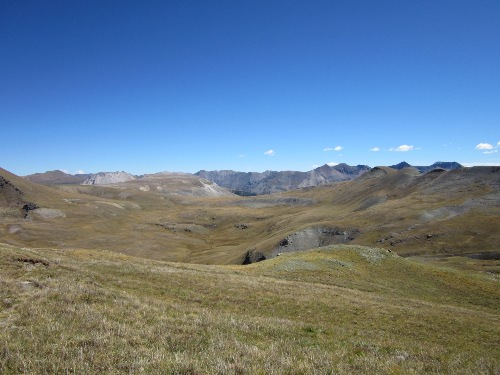 The almost moonscape-like appearance of the high-altitude American Flats
We were tired, and went to bed early, although not until we had first enjoyed another nice campfire. We would be awakened three times by the barking of some creature that sounded almost like a dog, but the barks ended in a whining sound like a coyote. Later conversations with folks more expert than I would confirm this was most likely a coyote. Well, it wasn't happy we were camped where we were, or maybe it just thought we wanted evening entertainment.
Saturday, September 15, 2012
Breaking camp went considerably smoother this morning, as Kathy found her "camping legs" and re-discovered the patterns of backpacking. It had gotten down to freezing again last night, but we warmed quickly as we climbed toward the day's climax: Bridge of Heaven. This was the third cloudless day in a row, and the view from the top was magnificent.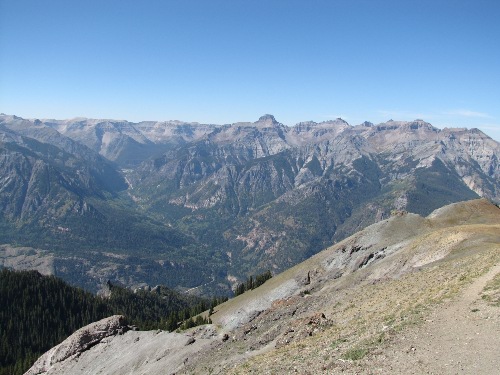 A view from the Bridge of Heaven
The decent started smoothly enough, but as we veered off on Old Horsethief Trail, the slope became more dramatic and the footing less secure. Our knees and legs were screaming as we slowly worked our way down to Ouray. It seemed to take forever to get there; we had a lot of altitude to lose.
I had the unpleasant surprise of a parking ticket waiting on the truck window when we arrived back at the parking lot. Apparently the police didn't agree with the Visitor Center's recommendations for our parking site. I went into the Center, only to discover Roger's last day was Wednesday, and he was headed back to Arizona for the winter. They recommended I try the police office, which we did, only to discover it closed.
Lora's birthday is tomorrow, so it seemed only fitting to celebrate both her birthday and our successful week of hiking with drinks and food at Buen Tiempo. We walked back to the truck, and as we were getting ready to leave, a police officer pulled up. He turned out to be the one that wrote the ticket, and was very friendly and understanding when I explained what had transpired. Unfortunately, he couldn't void the ticket once it was submitted, but he offered to speak to the court and requested I write them a letter explaining my position.
We took Craig and Lora to their hotel in Montrose, so they could catch their early flight the next day. Kathy and I picked up some supplies at Walmart (including another hitch with two inches less drop, which proved to be a major improvement in clearance for the trailer) and headed back to Ridgway State Park, arriving after dark. The showers there felt great.
Sunday, September 16, 2012
Kathy and I slept in today--it felt great! Then we slowly gathered ourselves and shoved off for Salida, CO. I tried to find a spot at the Arkansas River Headwaters Recreation Area, but all the signs only led us to the headquarters, which had no place to park with our trailer! No sign of them on the map either. So, I tuned in to TripAdvisor and found out the local Super 8 got raving reviews. We stopped, and the reviews were correct, so we signed in. A nice 1.5 mile walk took us downtown to the Boathouse Cantina, where we had a nice dinner.
Monday, September 17, 2012
Kathy wanted to try a different route out of Colorado, so we headed toward Cañon City. The trip from Salida to Cañon City was really pretty, with a drive through Bighorn Sheep territory through the Arkansas River gorges. Entering Cañon City, I spotted a Tarantula crossing my lane (yes, it was big enough to identify from the cab of my truck traveling at 40 mph!), guaranteeing I will never camp in this area!
Then we were on to Pueblo, Colorado Springs and back up to Denver. The Pueblo area is pretty desolate, but Colorado Springs was pretty with the constant view of the mountains to the west. We finally called it quits in North Platte, Nebraska. We thought about stopping in Ogallala, but the TripAdvisor ratings of hotels there were pretty dismal. There were ravings for a small older hotel, Americas Best Value Inn, in North Platte, so we headed there. Dinner was at Tempura Japanese Restaurant, a 0.3 mile walk away.
Tuesday, September 18, 2012
Well, we expected to make it home today, but it wasn't to be. By the time we reached eastern Iowa, we were too tired to continue, so I started researching hotels and found the Quality Inn & Suites in Davenport. We walked to the local Cracker Barrel for dinner.
Wednesday, September 19, 2012
More driving! The traffic through Chicago was predictably crazy. By the time I made it to the Michigan Welcome Area, I was more than ready to turn the rest of the driving over to Kathy. We were glad to finally make it home. Now would come all the unpacking, but that could wait until we were rested. All-in-all, another great vacation!
Link to Craig's blog and story