Our Cargo Trailer Conversion
When Kathy and I started looking for a camping trailer, we had several requirements:
Light weight: For me, that meant something under 4000 pounds, and lighter if possible. I wanted better gas mileage and easier trailing.
Maximum length of about 17 feet: again, it's all about the easy handling
Good ground clearance: The places Kathy and I camp are often well off the main roads. I've read too many stories of RV's disintegrating after long rides down rough dirt roads. Apparently their interiors aren't built to handle that kind of wear and tear.
Dual axles: yes, a little extra weight, but better and safer towing. I also wanted electric brakes.
Standing headroom: this was a must on our boat, and now that we have it there, I wouldn't give it up.
Minimal power requirements: we wanted to be capable of being off the grid, without a lot of power-sucking devices to shorten battery charge. We're used to backpacking and rustic camping; the "extras" only seem to bog one down.
Good quality build for strength and water-tightness without excessive weight: quality is important.
Insulated roof and walls; walls finished: I didn't have the time before our first trip to start with a completely bare trailer.
Sleeps two, Queen bed (60 x 80): The Admiral laid down the law here.
Shower and toilet: I had to agree with the Admiral here, although I would have settled for an outdoor portable shower/toilet set-up.
Simplicity (minimal complexity): This should really be the first requirement. I like things as uncomplicated as they can be. Complexity only leads to trouble. How much time have I seen people spend waiting for systems to be fixed on sailboats and RVs, because they broke down and were too complicated to be fixed by the owner? Complexity adds expense and unreliability. We don't need luxury anyway.
We had to rule out all the commercial hard-sided trailers right off the bat. They were too heavy, and didn't offer a Queen size bed in a small trailer. We looked at some pop-up trailers that came real close to fitting our requirements, but we didn't like the set-up time or the less-than-ideal critter proof nature of these trailers.
The idea of converting a cargo trailer to a camping trailer appealed to me for several reasons:
I could get exactly what I wanted
It could be dual use, if I made the components either easily removable or kept the bulk of the interior fittings out of the way for use as a cargo trailer.
It was certainly cheaper than a commercial trailer.
I found a great manufacturer in RNR Trailers in Three Rivers, MI. I explained my needs, and ended up with one of their all aluminum 17-foot V-nose trailers. I had them install a roof air conditioner, AC outlets, RV door, front access door, two opening windows, styrofoam insulation and finished walls. They pulled a wire so I could easily install a house battery. I had them install a Fan-Tastic vent in the ceiling, too.
The trailer was ready for delivery just as our annual family reunion was finishing up at our place. Our first trip was planned for a mere few weeks later--a trip all the way to Colorado. It was clear we would not have time to finish out the trailer in its final form. The plan, instead, was to make a primative build-out, sufficient to get us through the trip and allow us to identify what we wanted in a final build.
Build v1.0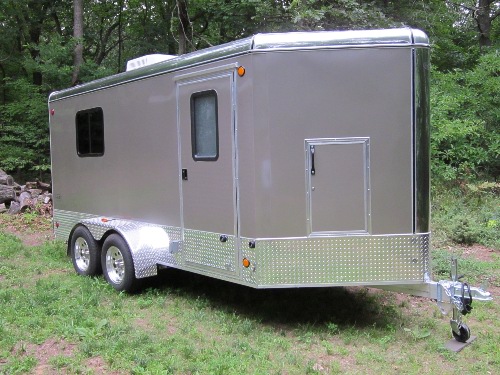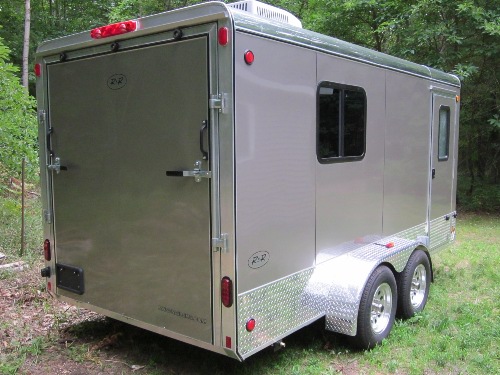 The first step was to get a floor covering. We don't know what we will ultimately end up with, but a rubber rolled flooring would be waterproof and easy to clean. We found G-Floor Garage Floor Protector to be an ideal solution (hat tip to Gadget Man on Teardrops n Tiny Travel Trailers forum); Menards had the best price. Meanwhile, Kathy found a queen-sized memory foam mattress on sale at Costco. Her mom, Betty, got busy making curtains for the trailer. I modified a slatted platform bed frame plan I found online to make it stronger, wider between the upright posts and taller (for extra storage underneath).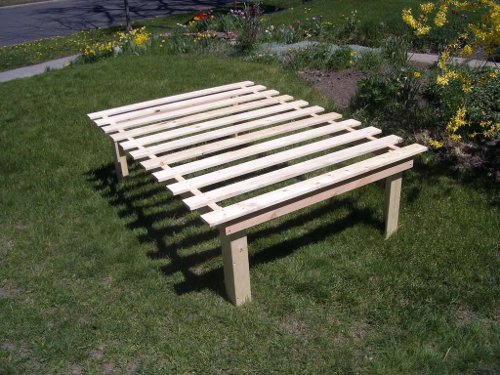 The bed frame as designed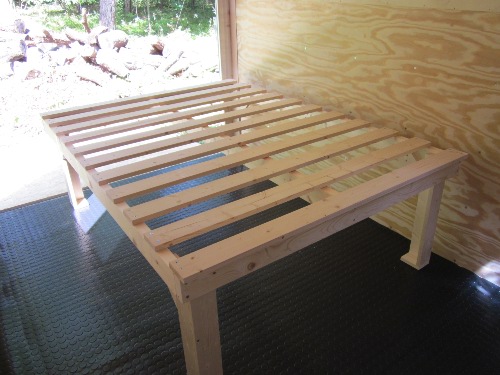 The bed frame as built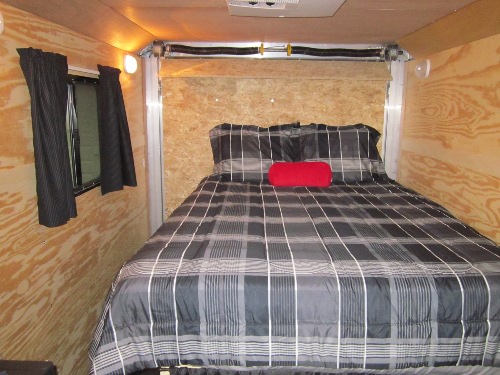 The finished product
We had an old group-27 battery lying around that we had used for the motor on the Windrider. I had kept it charged, but had no idea of its storage capacity. We elected to use it anyway. I wired it into the existing wiring and added a GUEST ChargePro 10-amp, dual battery charger. It would allow me to add a second battery in the future.
I wanted a cooking surface that could be used inside or out, and a Coleman propane stove would serve that purpose. I originally planned to build a cabinet for it, but Kathy located a plastic cabinet that would work well (made by Enviro Elements and purchased at Lowes). By storing some cast iron pans in the bottom, it became very resistant to falling over.
The sink area gave me headaches for a while, trying to decide what to do that would be quick and inexpensive. Finally I found a portable plastic dual sink on Amazon.com that would make a great countertop when the legs were folded up, and could be moved outdoors, if we so desired. All I had to do was to build a base cabinet. I planned to have a shelf in the cabinet and doors on it, but time ran out. We made curtains to cover the opening. The fresh water and gray water tanks would be stored beneath along with the battery. Coming from our sailing background, a Whale foot pump served to deliver water to the faucet. I had ordered a marine faucet, but didn't know how to best install it on the plastic table with two sinks, so elected to make a temporary faucet out of a piece of copper pipe and a wooden frame. It could be moved where it was needed.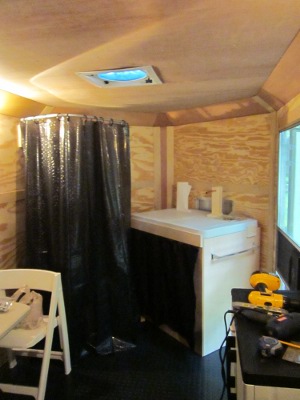 Kitchen and bath
To create a private bath area, I originally thought of a PVC-based design, but a friend with some welding ability bent some conduit to form a shower rod and made a mounting to attach it to the walls. We found a rubber basin to serve as a base for a shower, and I rigged a pressurized sprayer to use for a shower. A Luggable Loo served as a simple but sufficient toilet.
For a dinette, we elected to use plastic folding chairs and tables we already owned. We could deploy them or store them as needed. One folding table also serves as an outdoor cook surface.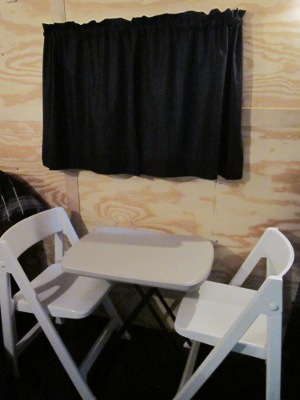 Our temporary dinette
Update (September 2013)
In anticipation of our Fall vacation to Michigan's Upper Peninsula, I made a bench seat for the trailer. It was to serve two purposes: seating at the portable table and additional interior storage space. It worked well for both. The seat was constructed of 1x4 lumbar with 1/2" oak plywood sides and top. The top lifts out for interior access. Kathy's mother made the cushion to match the existing color scheme. I think I will rebuild the sink area in the future to make it lighter, using the 1x4 framing rather than the 2x4 framing it currently has. I'll likely also go to one sink rather than the double (we just don't use the second side much), but keeping the counter space.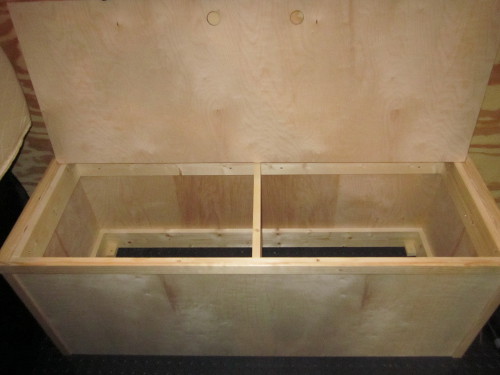 Our bench seat provides seating for the table and a lot of storage below
We have found that we tend to use the shower facilities at State Parks, so we've left the shower curtain around the bathroom area pushed back and placed a curtain that runs the width of the trailer just in front of the bench seat. When closed, the forward portion of the trailer provides a roomier private area than the tiny space created with the bath curtain.
Update (June 2014)
This Spring I finally got around to rebuilding the sink area. I liked the 1x4 construction of the bench from a weight and strength perspective and decided to employ it for a full-fledged kitchen cabinet. I also expanded the cabinet from just a sink area with storage below to a complete cabinet with doors and overhead storage. I really liked the results, although we did spend more than intended by the time we found a sink and faucet combination we liked. I stained the bench seat and kitchen cabinet to match and then used spar varnish to protect against water spills.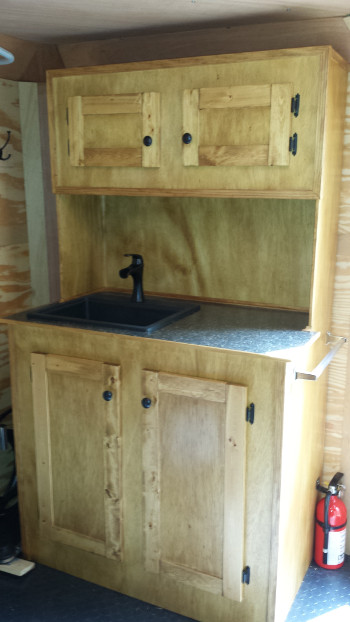 The new kitchen cabinet
Update (July 2014)
Many times at night, Kathy and I will relax in the bed, with our backs against the wall. We each have a light over our shoulder, perfect for a little reading or computer work. I decided to add a drop-down table there to hold our cocktails and store reading material. The table surface is made of left over laminate from the kitchen counter. I raised the trim around the top to provide a recessed surface on which to store glasses, a flashlight, cell phone or whatever else we want at hand when we're sleeping.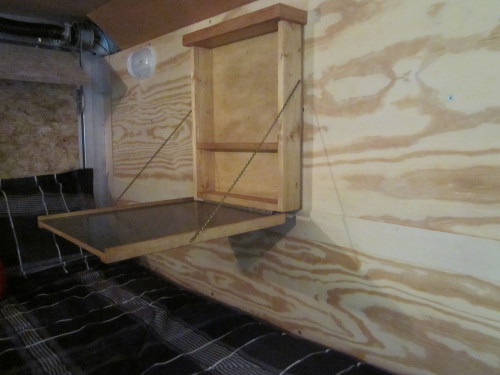 A drop-down table over the bed makes for a convenient place to set our drinks while we read at night.
To do...
Hang a mirror over cooking cabinet
Change present lighting to LED lights
Add a narrow hanging locker (closet) between the bench seat and toilet/shower area