Stokely Creek Lodge, February 7-10, 2003
I stole Kathy away for a surprise trip to Stokely Creek Lodge in Northern Ontario for a little relaxation, cross-country ski and snowshoe touring, and general exploration. When we arrived at the lodge parking lot, we were met by a snow mobile pulling a trailer. Our luggage was loaded on the sled, and we were taken to our room in a chalet adjacent to the lodge. After settling in and taking a brief tour of the immediate area, we headed to the lodge for hors d'oeuvres and wine followed by the first of many fine meals. All meals are served family-style, which allows the guests to get to know one another and share stories of the day's adventures. The lodge doesn't have a liquor license, so everyone brings their own bottle to dinner.
Friday morning was cold--0° F--when we headed to breakfast. The sun came out and the temperature got to 14° while we took a morning ski. The conditions were great for skiing. They had 60" of snow on the ground with 20" of base on the groomed trails. There are over 120 km of trails spread over 11,400 acres of land.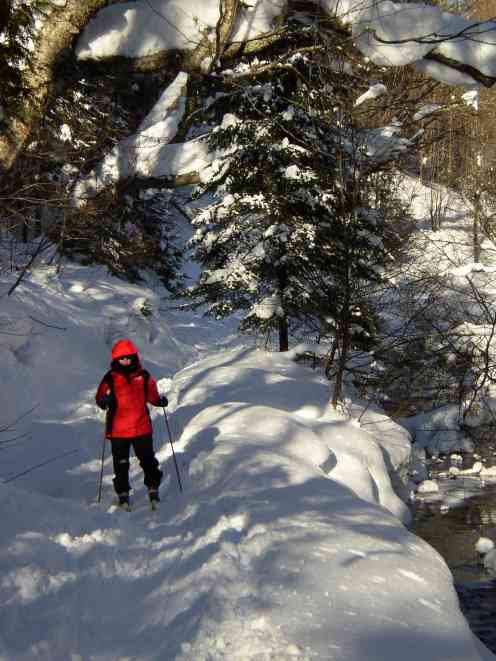 Kathy on skis along Stokely Creek
That afternoon we changed pace and headed off across country on our snowshoes. We soon discovered that, even in snowshoes you could sink to your hips if you got in a particularly deep drift. King Mountain rises 1000 feet above the trails out of the lodge. There is a ski trail to the top (one long climb), but we stuck to more sane routes. We snowshoed along the base of the mountain, climbed a couple lower ridges and discovered a frozen waterfall coming off one of the high ridges.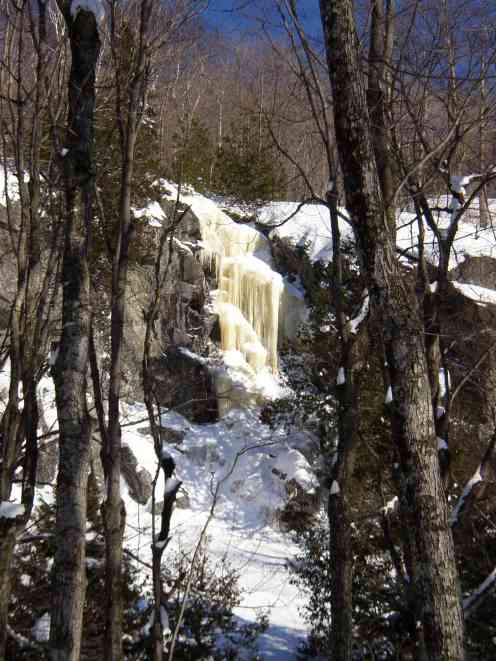 Frozen waterfall
Day Two--Snowshoe trip in Lake Superior Provincial Park