Day Two--Lake Superior Provincial Park
Saturday was a bit warmer (14-20 degrees). It was snowing in the morning, but the sun came out again for most of the day. We headed north to Lake Superior Provincial Park to explore some trails on snowshoe. We've seen a lot of the park backpacking and hiking in the Fall, and I was eager to see what it looked like in deep winter. The roads leading to the trailheads were only plowed about 50-200 feet, so the length of our trails was increased significantly. We explored the Agawa Rock Indian Pictograph trail first, slowly making our way to Lake Superior through the deep snow of the untraveled trail. The lake was frozen, and the broken ridges of ice glowed blue in the bright sun. I saw what I think was a river otter out on the ice (it looked like a Fisher, but I can't imagine what one would be doing out on the lake).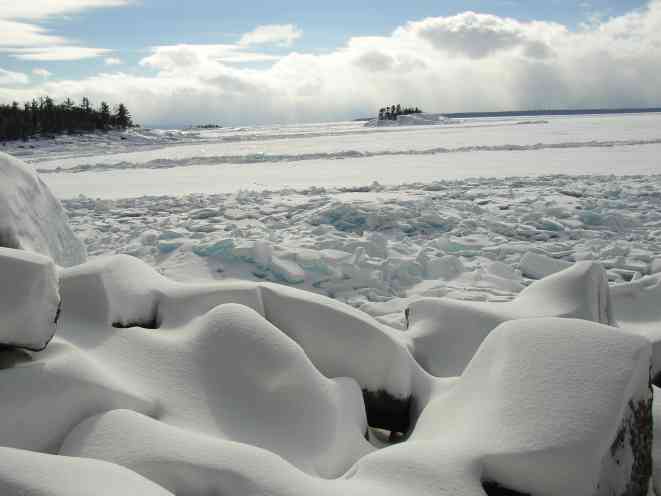 Frozen Lake Superior--the ice edges glowed in the sun.
Kathy making her way up a fissure in the rock
With little time left and even less energy, we drove up to the Sand River to explore the Pinguisibi Trail. The river was mostly frozen over, but we found a waterfall bursting through the ice.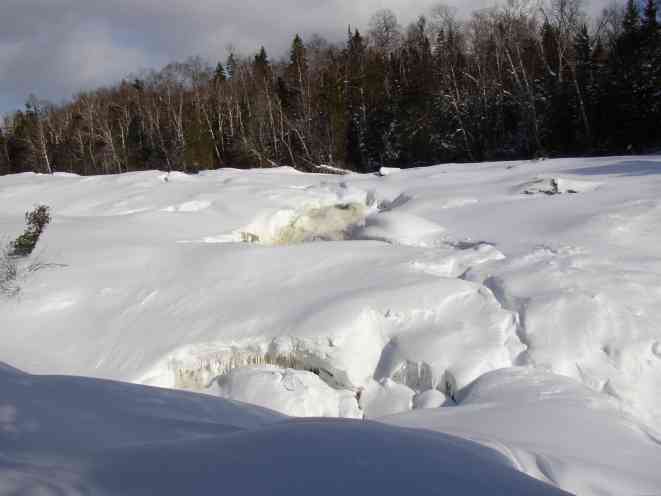 Waterfall on Sand River forcing its way through the thick ice and snow
That evening after dinner Mike, the owner of Caribou Expeditions a local kayak outfitter, gave a slide presentation on kayaking in Canada. Some of the slides were of the area Dad and I had explored by kayak north of Old Woman Bay in Lake Superior Provincial Park a few years ago.