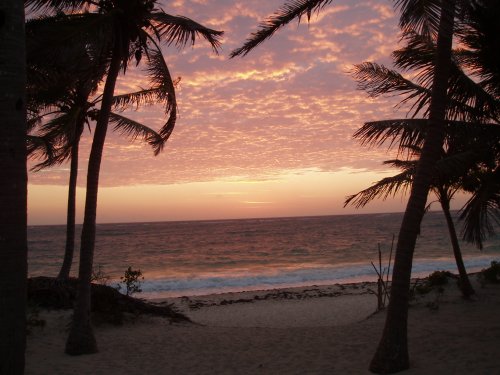 Sunrise over the Caribbean at Caphe Ha
Kayaking, snorkeling and Mayan ruins in the Yucatan, March 15-22, 2008
Our trip to the Yucatan was organized by Living Adventure Inc., a kayaking tour group based in Bayfield, Wisconsin. During the winter months, they arrange trips to a small rancho in the Sian Ka'an Biosphere Reserve, conveniently located on a narrow strip of land (actually a long island) between the Caribbean to the east and an extensive system of lagoons to the west. Our trip was to combine kayaking, snorkeling and a tour of local Mayan ruins.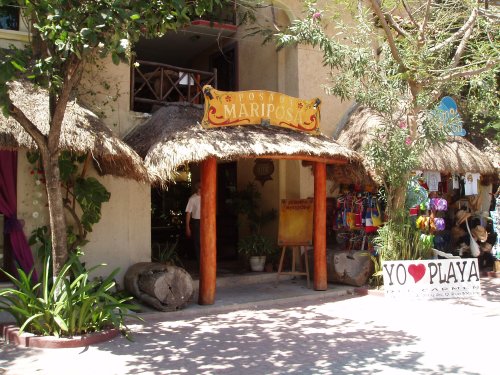 The Posada Mariposa in Playa del Carmen
We flew into Cancun Saturday morning, where we met up with our friends, Jane and Paul, at the airport. From there, we caught the Cancun Valet to Playa del Carmen, where we spent the first night at a small hotel, Posada Mariposa. The Posada Mariposa is a quaint hotel in the style of old Mexico. The rooms were simple, yet sufficient and clean. Fortunately, they also had air conditioning, although it took me a while to figure out how to get it working (not only did you have to put the key in a wall mounting to activate it, but there was a remote control that operated the machine). The staff was extremely friendly and helpful. We walked the streets of Playa and took in the warm sunny weather and Mexican gift shops. It was a little strange to walk past a military guard in flak jacket carrying an Uzi--after a while, we just took it in stride. I guess they just have a different method of dealing with street crime! We walked down to the beach, but didn't spend any time there, because it was crowded with Spring Break folks, and we were going to have a full week of private beach time. That evening, we met our guide, Brian, and the other members of the group (there were eight of us) for and excellent dinner at La Quinta Pasion, near the hotel.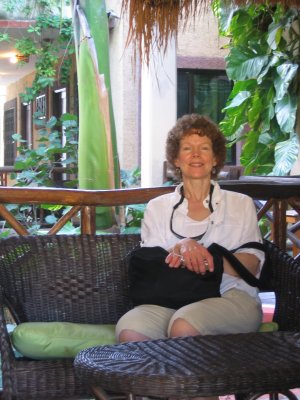 Kathy relaxes at the Posada Mariposa
The next morning we headed south to Tulum, the last outpost of civilization, to buy some critical supplies like tequila and margarita mix, before traveling down the dirt road to Rancho Caphe Ha, the little rancho that would serve as our home base for the week. We met our chef, John, and the secondary guide, Alissa, and toured the facilities. We were assigned our rooms. Kathy and I were in the upstairs room of el Castillo, which assured us of nice breezes and had a balcony that became the place to enjoy cocktails in the evening when the winds were too high to be on the beach side. The facility was an interesting blend of rustic, with shared bathrooms, showers and limited electricity, and the luxury of private beach bungalows, a fantastic chef and guided tours. (Bathrooms are interesting in Mexico--you don't flush toilet paper down the toilets. Paper is thrown away separately.)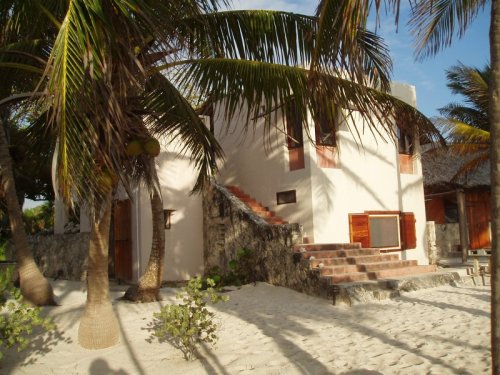 El Castillo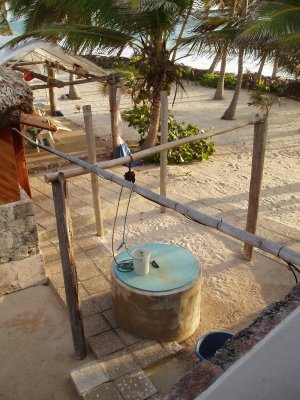 The well where we "bucketed off" after playing in the surf and rinsed off our gear
When the winds and waves were too high to kayak on the ocean, we had a huge lagoon area on the opposite side of the road to explore. The lagoon was shallow enough to observe fish and rays underneath as we paddled and full of bird life. Apparently, it is also home to a species of salt water crocodile, but it remained elusive, even after we spent one morning kayaking six miles around to a beach area on the opposite side of the lagoon deliberately trying to find the critter. Both our guides were certified kayak instructors, so I took advantage of the opportunity to advance my rolling skills and surfing skills. Needless to say, I spent a couple of nights with sore muscles.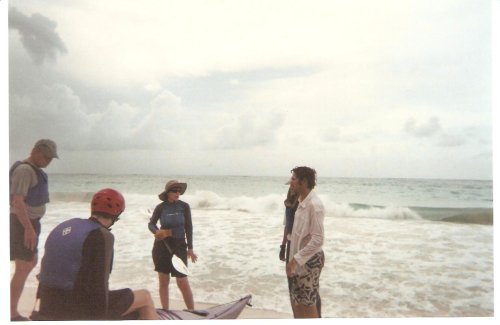 Steve prepares to challenge the surf in his kayak. It would be several days before he could get all the sand out of his hair afterwards (photo by Bonnie Pehrson)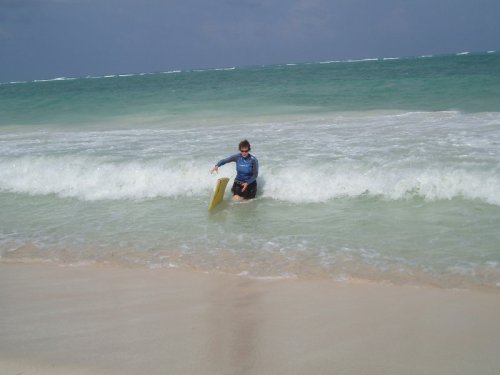 Kathy loses her Boogie board after surfing a wave
We took a field trip on Wednesday to tour some lesser known Mayan ruins, the Muyil archaeological site. Brian connected us with a Mayan descendant, Ishmael, who was also an historian, and he provided us with an interesting commentary on the ruins we toured. That afternoon we snorkeled in Dos Ojos, a large cenote, which is one of a large number of interconnected fresh water springs, essentially a series of caverns, both above and under water. That was really interesting. That night, Kathy might have witnessed a drug drop on the beach. Two large connected spherical objects washed ashore. She woke me up to see them. We watched for a while, and nothing happened. Then about a half hour later, she checked out the window again and they were gone. The next morning there was no evidence of them down the beach. The area is patrolled regularly by "Federales", who walk the entire coast with automatic weapons, because that portion of the Yucatan is a natural landing area for craft coming up from Columbia with illicit drugs.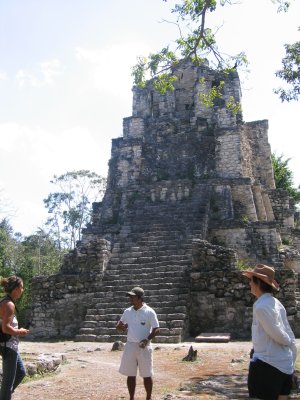 A temple at Muyil
On our final day, the sea was calm enough to allow us to paddle out to the reef, about a half mile offshore, where we rafted up the kayaks and jumped overboard for some very nice snorkeling. Apparently the worst of the sharks stay on the ocean side of the reef, so we stayed on the inside edge where we wouldn't be confused with appetizing bait. The Mesoamerican Reef is the second largest barrier reef in the world. Our little section of it was repleat with sea fans, brain corals and brilliantly colored fish.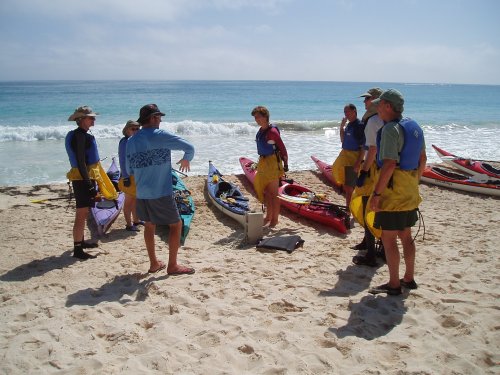 Our group prepares to kayak out to the reef
Each night, we convened for margaritas (Paul served as the official bartender) and discussed the days activities prior to dinner. Most of the time we were able to eat outside on a covered porch by the beach, although a couple of meals were forced indoors due to high winds that threatened to take our food off our plates. The timing of our trip was fortuitous in that we got to have a progressively fuller moon each night that lit the area and reflected off the Caribbean beautifully.
All our flights were comfortable, we just got messed up with the Spring Break traffic in and out of Cancun and ended up missing our connecting flight home out of Houston. Fortunately there was a Marriott at the airport, so we spent the night there. Immigration also provided us with some entertainment. Coming back into the country, the officer scrutinized my passport, compared it with his computer screen, then asked if I had ever been arrested. I told him no, which prompted him to immediately call for an officer to escort me to a back room for further interrogation. Poor Kathy got sent on down a hallway with no explanation at all. I had visions of wash boarding and rubber bats, but hey, the ocean couldn't kill me, so these government thugs couldn't be much of a threat! They sat me in a little room then two of them conferenced over a computer. Finally, the lady told me I was free to leave and that surely I knew what the issue was. I replied that surely I did not and, furthermore, was most interested in knowing just what the "issue" was. Then she told me that only I knew the details of the court order against me, to which I replied that I didn't even have a traffic ticket to my name. So, back into the little room we went. They convened over the computer again, then asked me if I had been married at one time. I corrected them that I was most certainly still married, supplying them with Kathy's name. There was some mumbling about having the wrong guy, then they asked if I had lived in Charlotte, NC. Wrong again! I pointed out to them that the purpose of a passport was to provide a unique identification of each individual and that clearly their system was screwed up. They weren't amused, but couldn't disagree. Then I asked how I could get the information corrected and was told it couldn't be corrected! I explained they didn't need to correct it, just give me the name of the bureau that could handle it. They explained there was no such department. Only the government could be this screwed up. Anyway, I can apparently expect this treatment every time I enter the country for the next five years. At least I'll know what to expect the next time!
Our trip to the Yucatan was thoroughly enjoyable, and we highly recommend Living Adventure Inc.
June 6, 2008 Postscript: Our guides, Brian and Alissa, are planning to circumnavigate Lake Superior by kayak this summer. Their adventure can be followed on their blog, Superior Session.