2004 Father-Son Trip: Great Smoky Mountain National Park
The trip
This year Jim and Dan joined Dad, Craig and I for our annual Father-Son outing. Credit is due them, for this year's route was a bit more challenging than usual, with multiple elevation changes and many water crossings. The increased difficulty led to slightly longer hiking days and less leisure time. The steep downhill sections also really worked-over poor Jim's knees. The night before the hike, we did our traditional shake-down of packs, both to make sure everyone had what they needed and to make sure they weren't carrying unneeded weight. Dan would arrive too late for the shake-down, but having backpacked with him before, I wasn't concerned--he was a seasoned hiker. Craig had become significantly more trail savvy after our two previous adventures. His only problem seemed to be forgetting to bring things he had carefully prepared for the trip--at least his closet at home was well stocked. Jim had some nice new gear (including a cool blow torch of a stove), recently acquired from a buddy in the retail business. We trimmed his extra gear, but somehow he snuck some of it back into his pack. Our first hint was the muffled sound of a bear bell ringing from the depths of his pack.
The weather was forecast to be dry and warm--not quite accurate. It started out that way as we loaded up our gear and made our way out of Cades Cove. Prior to hitting the trail, Dad found one of his park volunteer buddies to take our group picture. The climb to Russell Field was relatively uncomplicated, with enjoyable views of Anthony Creek along the first section. Our first significant climbs were on the last half of Russell Field Trail as we worked our way to the top. Arriving at Russell Field we enjoyed a lunch of sandwiches and freshly baked brownies--not your typical trail food. We had unknowingly crossed the water source for Russell Field Shelter on our way up, and decided not to hike back down to it for a water refill. We knew another shelter, Mollies Ridge Shelter, would be along in another four miles, so we all donated to Craig's water supply to reduce his anxiety of being shy on the precious liquid and headed out.
Our planned campsite for the first night was not actually a campsite at all. We did have reservations at Birch Spring Gap in case we were energetic enough to make the additional three miles and a 700 foot climb over Doe Knob, but the energy ran out, as did our remaining daylight. So, we stopped at Ekaneetlee Gap, where an ancient Cherokee Trail passed. Finding a suitable site amongst the steep hills and tangled underbrush proved a little challenging. The site we finally chose was up a fairly steep hill from the spring (our water source) and not exactly level. Further, it was covered with a fairly nice crop of briers. The first step out of our hammocks onto a hill covered with briers was precarious to say the least, especially when executed at night. By now, the sky had become rather overcast. Craig and I debated the merits of pitching tarps over the hammocks. Recalling the wonderful forecast, I made some comment about trusting the weatherman. No sooner had I finished my bold (and foolish) claim, and the drops started falling. We had to laugh at the incredible timing. Who would have thought the rain gods would be so sensitive to an off-the-cuff comment about their meteorologist representatives? The intermittent rain, uncomfortable site and lack of fire ring canceled any plans for a campfire that night. Having dinner, a Scotch (or two) and some brief conversation, we hit the hay early. Dan, in his newly constructed hammock, seemed considerably more comfortable than during his kayaking adventure with the hammock that kept spitting him out the bottom. Jim, in Dad's bivy sack, slept free from fears of snakes, but had minor issues with condensation.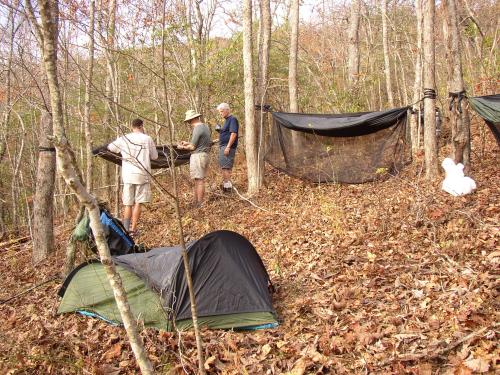 Jim and Dad examine Dan's newly constructed hammock among the briers
With rain threatening again in the morning (that rain god sure holds a grudge), we decided to postpone cooking oatmeal until we had a more comfortable site, packed up and headed over Doe Knob. The rain and fog settled in, precluding any views from the Knob. By the time we arrived at Birch Spring Gap, the rain had stopped. We collected water and set to having a proper breakfast.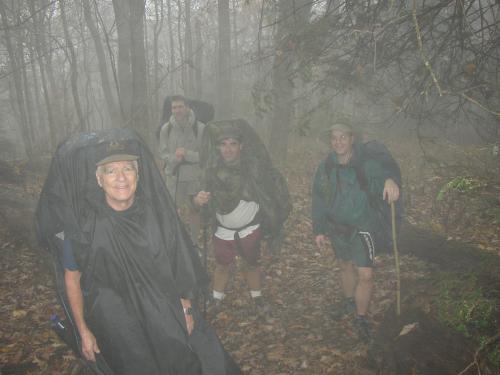 Fog and rain on Doe Knob
Lost Cove Trail proved to be a viciously steep trail, and we were glad to be headed down rather than up. Jim's knees may not have been so glad, this being probably their first major insult of the trip. The trail bottomed out at Lost Cove Creek, joining up with the Lakeshore Trail soon after, with views of the junction of Eagle Creek and Fontana Lake. We crossed Lost Cove Creek some 13 times, but most were easy rock-hops. The final two were a little wetter, but nothing compared with the wading we had in store for us going up Eagle Creek.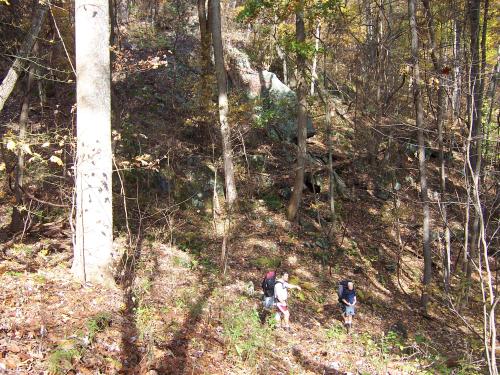 Descending Lost Cove Trail
The Lakeshore Trail was level and easy, as was the first part of Eagle Creek Trail, but the latter contained at least 15 fords of the creek. In high waters, the crossings would have been impossible. As it was, we only got wet up to the knees as we cautiously navigated the slippery rocks in the swift current. We hit another short rain shower, which was abruptly brought to a halt by dawning our rain gear. We stopped at one of the early crossings to indulge in another lunch. While four of us munched on trail mix and jerky, Jim dined on a chemically heated MRE meal of ravioli, which he heartily endorsed. Eagle Creek Trail seems to be a favorite for the wild hogs that inhabit the Smoky Mountains. Although we never saw one of the beasts, they left plenty of torn-up land and large droppings for us.
Jim savors his MRE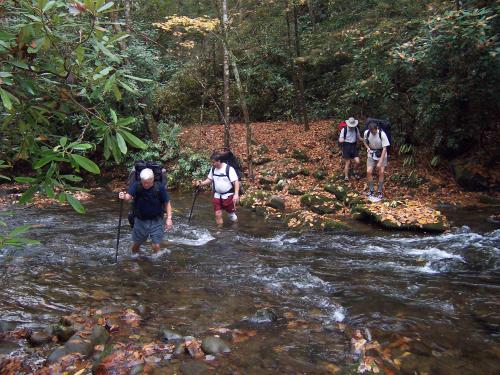 One of many Eagle Creek crossings
Campsite #97 was a nice site, situated on Eagle Creek, with plenty of trees and no briers. We spread out, searching for trees in which to hang our hammocks. Dinner was more comfortable this evening with level seating and no rain. The Scotch flowed again. Due to the afternoon rains having soaked all available downed wood, we were again denied a campfire, and as we watched a full moon fight with passing clouds, my comrades slowly headed off for bed.
The next day proved to be beautiful weather-wise. After another oatmeal breakfast we started an ever steepening climb back to the Appalachian trail at Spence Field. The final couple of miles were very steep, leaving us huffing and puffing. Within 50 yards of one another, Dad's, then Craig's packs decided to have minor breakdowns. Fortunately, the repairs were easily made, and we headed on. The spring at Spence Field Shelter was a welcome sight, signaling the end of our ascent. We savored another leisurely lunch at Spence Field before tackling the final leg of our journey.
Bote Mountain Trail, rocky and steep along the upper half, just about finished-off Jim's suffering knees. Using my trekking poles for crutches, he managed to keep up a good pace anyway. Mercifully, the trail became less steep as it approached Anthony Creek Trail, and it wasn't long before we found ourselves back in Cades Cove, our trip all-to-soon behind us.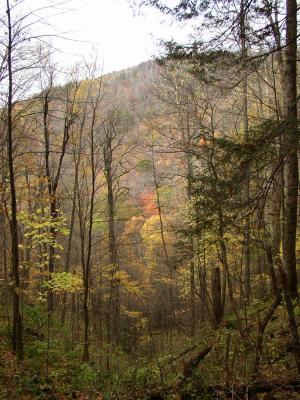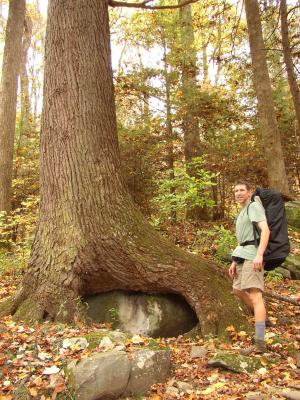 Scenes along the trail
Analyzing out trek over some Scotch and a hot grill a few days later, Dad noted that this year's course was significantly more physical than the past two. Two years ago, we started our trek low, climbed to the Appalachian Trail then returned to lower elevations. Last year we started at the top (Clingman's Dome), headed down toward Fontana Lake, then returned to the top. This year, we started low, went high, went low, returned high, then finished back low againólots of elevation changes. We'll have to keep this in mind in the future and vary our mileage according to the difficulty of the course. That way we'll have plenty of time for lazy lunches, camp conversation and, maybe, a campfire for Dan and Craig.