Our 2008 Fall Vacation, Colorado, September 2008 (page 2)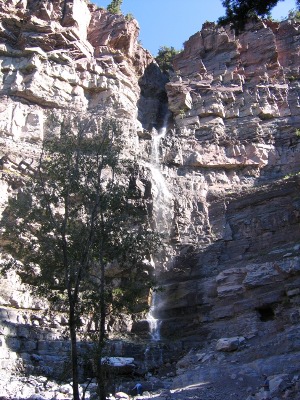 Lower Cascade Falls in Ouray
Sunday, September 14, 2008: Ouray Perimeter Trail, 4.4 miles. We had a casual start this morning. After breakfast we headed out to see the new trail created by the Ouray Trail Group. It's a nice trail, although it could be better marked in places. Fortunately we were equipped with two different descriptions of the trail which helped with route-finding. After lunch, we took a drive toward Yankee Boy Basin, stopping along the river to sit and read for a little while.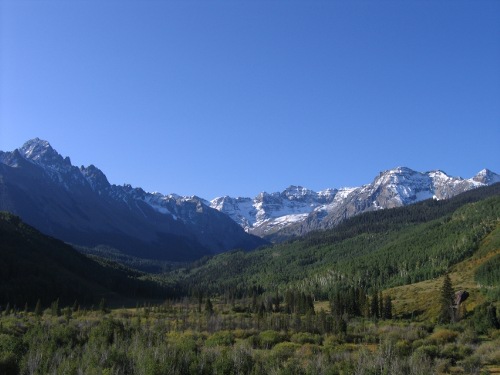 The San Juan Mountains view as we approach the Blue Lakes Trailhead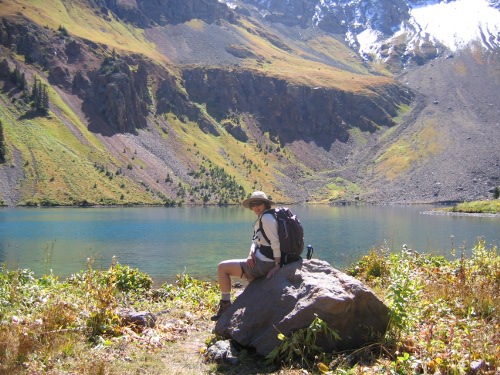 Kathy by Lower Blue Lake
Monday, September 15, 2008: Blue Lakes Trail. We left Ouray after checking out of the hotel and headed for the Blue Lakes trailhead. The drive in on the dirt county road was beautiful, and we stopped often for pictures. At one point, Kathy spotted something black by the road. We initially thought it was a bear, so I prepared to take its picture. As we drew closer, it seemed way too big for a bear. Then it raised its head--it was a cow! We got a good laugh. The hike was fantastic--great views, streams, waterfalls, lakes, even a glacier. This hike definitely ranks among the best in the area. Nine miles later we were happy to get a shower and dinner in Ridgway. We checked into the Ridgway Lodge.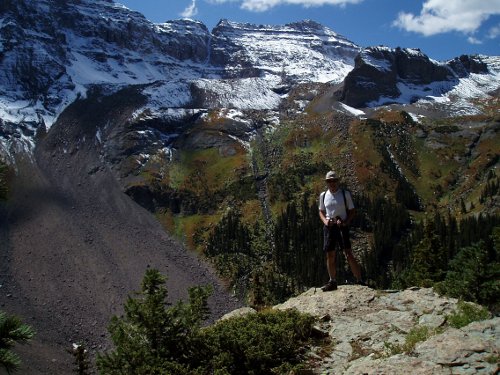 Steve "on the edge" above Upper Blue Lakes
Tuesday, September 16, 2008: Auto tour day. The Ridgway Railroad Museum was interesting, especially because the gentleman manning the post was very well informed. After some grocery shopping, we headed for Alta, a ghost town, but the road there appeared to be too rough, so we visited Ophir. Ophir appears to be a developing community, not much to see. Trout Lake was similarly disappointing, although they do have some beautiful views there. A dirt road along the South Fork of the San Miguel River made for a nice drive. We stopped at Sheep Corral Day Use Area for lunch out of the back of the vehicle. Returning to Ridgway, we headed south to Ouray then the Angel Creek campground were we sat by the river and read. Dinner was at the Adobe Inn in Ridgway, a very good restaraunt for such a tiny town.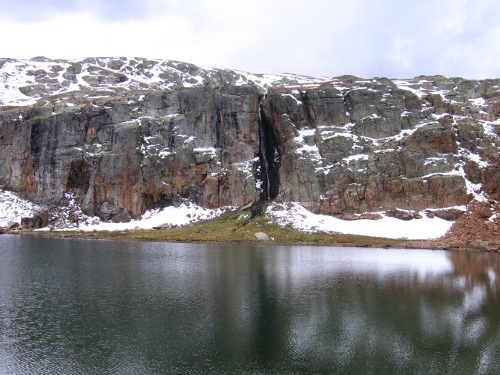 Bullion King Lake and Waterfall in Porphyry Basin
Wednesday, September 17, 2008: Porphyry Basin. After checking out of the Ridgeway Lodge, we headed to the Porphyry Basin trailhead. We added some 3 miles to the hike by not driving up the road--we were unsure of its condition and didn't know where there might be an opportunity to turn around. We enjoyed the hike, but weren't able to try one of the three optional passes, because the sky started looking threatening. As we started our decent, it started to show and sleet on us. We saw and heard storms pass north and south of us as we hurried down the trail to the car, but avoided the rain until just as we arrived there. We checked into our room at the Grand Imperial Hotel in Silverton. It's a neat old historical place, but in need of some repair. It felt good to shower. We got dressed and walked to Bistro LaRue, the new Italian restaurant in town, for a very good dinner.