Our 2008 Fall Vacation, Colorado, September 2008 (page 3)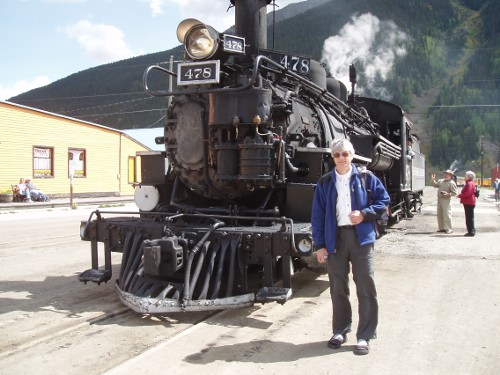 Steve in front of the Durango-Silverton locomotive
Thursday, September 18, 2008: Silverton hiking. Chances of showers and thunderstorms kept us from pursuing our originally planned hike (Columbine Lake), so we stuck close to town and took hikes to Idaho Mine, Lackawanova Mill and the Forest Trail to the overlook of the Mayflower Mill. By the time we got back to town and located the train depot (so we would know where to find it tomorrow), we had logged some six miles. Breakfast this morning was at the San Juan Grill across the street from our hotel. I had a great breakfast burrito (the Big Freda Burrito) while Kathy had a huge bowl of granola, yogurt, mango and melon. We dined on take-out pizza from Bistro LaRue for dinner. A hunter staying in the hotel took our two left-over slices of pizza. After dinner, Kathy checked out the local shops while I sat on a bench outside the hotel and read.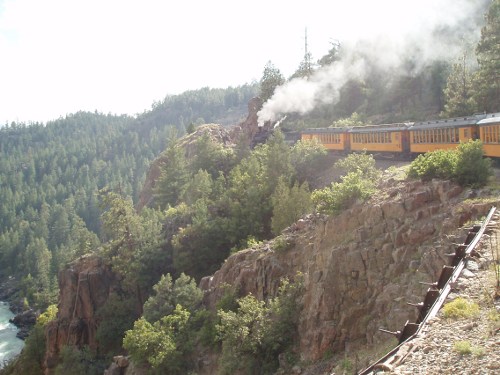 Scenery along the narrow gauge railroad
Friday, September 19, 2008: Breakfast at the San Juan Grill again--good food. We picked up our tickets from the depot and wandered around town until it was time for the train to depart for Durango. The Durango & Silverton Narrow Gauge Railroad was fun. The scenery was great. As we arrived in Durango, everyone onboard got a laugh as two kids at a road crossing "mooned" the train. We checked into the Strater Hotel, a very nicely maintained historic place. We ate a very good dinner at Cypress Cafe, where we had eaten three years ago.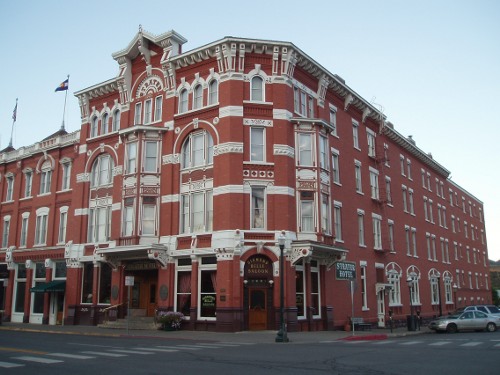 The regal Strater Hotel in Durango
Saturday, September 20, 2008: The Strater had a decent Continental breakfast, so we ate there before visiting the railroad museum. It was a brief, but interesting, visit before we boarded the train back to Silverton. We arrived just as did a rain shower, but we quickly drove out of it as we headed for Red Mountain Pass. It was sunny in Ouray as we checked back into the Victorian Inn. The Adobe Inn had proven to be so good when we were in Ridgway that we had made reservations for 7 PM this evening. It proved to be just as good tonight. A slow walk around Ouray was necessary afterwards to help settle dinner and put us in easy reach of Mouse's for dessert.
Sunday, September 21, 2008: It was rainy looking this morning, but the forecast called for only scattered showers. We really wanted to get in another hike, especially since we had to sit so much the past two days. The Silvershield trail was our destination, not too long, but still a good workout. We drove to Ridgway afterwards, checked into the Holiday Inn Express then returned the Explorer to Hertz at the airport. We both enjoyed a shower, then walked to El Jimador, where they served huge plates of food and mixed a potent Margarita. Then we were early to bed due to the early flight tomorrow. It was another successful Colorado vacation!